The Sulphur Springs City Council is scheduled to call for a run-off election for a Place 1 during a special noon meeting on Nov. 17.

The City Council will first be asked to discuss and act on canvass of the Nov. 3 City Council Election for Places 1, 2, 3 and 5 on the Sulphur Springs council.
Candidates in only two of the four election drew challengers. The special election was called to fill four seats on the council left vacant when four council members resigned from the City Council in December 2019.
While Gary Spraggins was the clear winner for Place 5, receiving 3,206 votes to Ricardo Chavarria's 1,294 votes, no Place 1 candidate received 50 percent or more of the overall vote, according to the unofficial election results.
Jay W. Julian received 1,943 votes, Mark Bradley 1,094 votes and Vanessa Diosdado 1,012 votes and Justin M. Brown 399 votes, according to the unofficial election results. Thus, a run-off between the top candidates is needed to determine who will win the seat.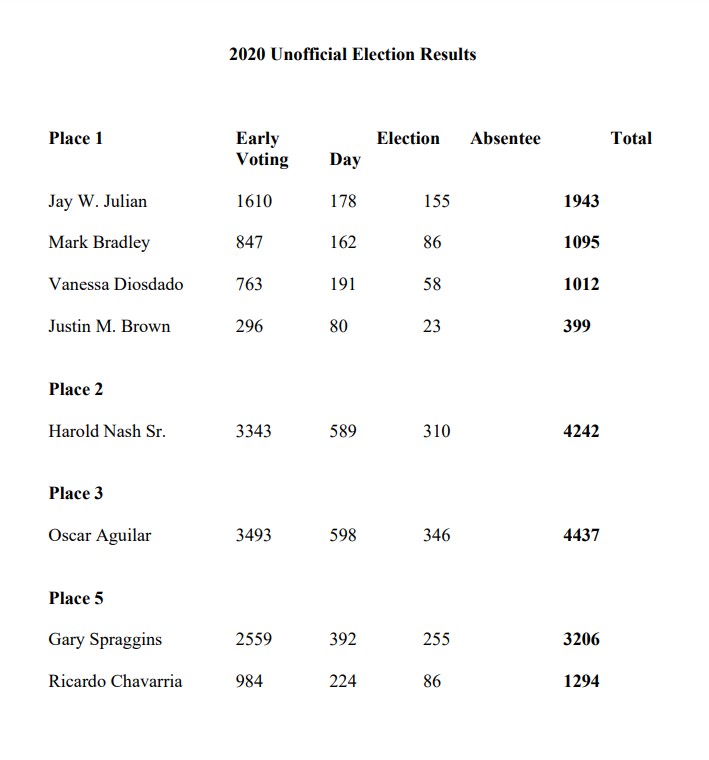 Although unchallenged, Harold Nash Sr. received 4,242 votes in the Nov. 3 Election for Place 2. Nash was appointed Dec. 13 to serve in the Place 2 seat until the election.
Oscar Aguilar, also unchallenged for Place 3 on the City Council, received 4,437 votes in the Nov. 3 Election. Aguilar was appointed to fill the Place 3 seat in May.
After the election canvass determination Tuesday, Sulphur Springs City Council the will be asked to consider approving a resolution calling for a run-off election for Place 1, to name election judges and set dates for early voting.
The noon meeting Nov. 17 will be conducted via Zoom video conferencing and streamed on the City of Sulphur Springs Meetings YouTube channel.