Hopkins County United Way is at almost 30 percent of the $150,000 goal to benefit 19 local agencies, halfway through the campaign.
Campaign workers turned in another $10,892.85 in donations and pledges from businesses, individuals, elected officials, healthcare professionals and agencies during Tuesday morning's campaign workers meeting. That raises the total collected so far to $42,694.42.
HCUW has scheduled three additional meetings in an effort to raise the $150,000 goal to benefit 19 local nonprofit agencies and organizations.
Charlotte Henderson turned in contributions from Super Handy and Joe Bob's convenience stores. Henderson noted Joe Bob's, a long time HCUW supporter, did very, very well in contributions this year.
HCUW Co-President with wife Beverley Owens, commended Scott Nottingham for making a very generous pledge for at Sulphur Springs Dodge.
CANHelp Thift Store was commended for doubling their amount. Donations of clothing, house hold items, furniture, electronics, and other items to the Thrift Store stay local and are either sold to raise money for CANHelp programs, or go directly to CANHelp clients when a need is identified. Many items that can't be used in our store, such as an excess in clothing and shoes, are sent to Charity Shoes and Clothing to be recycled and repurposed in third world countries.
Many volunteers and professionals representing the organizations allocated funding from the HCUW campaign also are involved in the HCUW as campaign workers.
CANHelp this year has been allocated $8,000 of the $150,000 campaign goal. CANHelp provides compassionate, comprehensive solutions to empower the underserved in the community to make positive, lasting life changes.
Tim Glenn turned in contributions from All World Travel, Schlotzky's and Sulphur Springs Livestock, noting the businesses to be faithful contributors to HCUW. He also reported City National Bank is scheduling meetings regarding HCUW and anticipated being ready to turn in donations and pledges from the financial institution in about a week.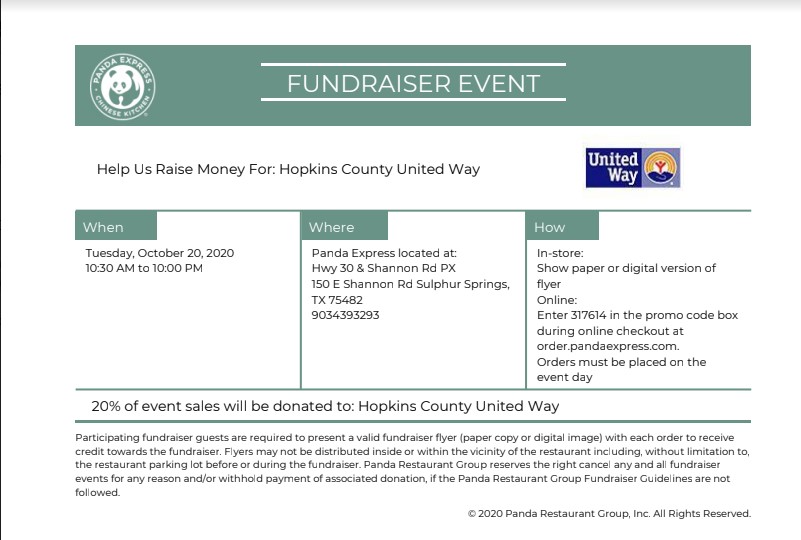 HCUW Executive Secretary Susan Berning reported donations were received from two individuals, including a generous contribution from a longtime contributor. Another individual made contributions through PayPal. She reminded that donations may be made online by following the Hopkins County United Way Facebook page and clicking on the Shop Now button to be directed to the donation site.
Campaign Chair Mike Horne reminded community members that Panda Express is holding a giveback event today, contributing 20 percent of sales from people who present a paper or electronic copy of the flyer, or who use the code 317614 when ordering online, on Tuesday, Oct. 20. Panda Express will be open from 10:30 a.m. to 10 p.m. Oct. 20. The dining room is closed for dine-in customers, but does have outdoor seating. The flyer (above) can be shared from the HCUW Facebook page.
"This meeting marks our halfway point through our report meetings. We only have three report meetings left, so we want to make sure we work those packets, continue working them so we can finish this campaign strong," Horne told the campaign workers.
Those who are interested in learning more about the organizations allocated funds from this year's campaign can also check the HCUW Facebook page for videos. The first posted features Hopkins County Christian Alliance.
Berning and Horne offered thanks to all of the contributors to the campaign as well as the campaign workers, Panda Express, and community and media partners.