Hopkins County United Way's 2020-2021 campaign is off to a "great start," according to Campaign Chair Mike Horne. At the conclusion of the first report meeting Tuesday morning, Horne announced $20,156.18 of the $150,000 campaign goal had been raised. Additional donations came in shortly thereafter, raising the total to $20,406.18.
Several businesses and a few local elected officers were recognized for making contributions to this year's campaign. No individual amounts donated were announced, nor whether the goal set for each was met this year. HCUW officers this year also made the decision that they will not post a "100% Club" this year either.
The HCUW officers this year also noted an upcoming "give back" event at Panda Express on Tuesday, Oct. 20. Guests need to present a copy of the flyer (see below) or show a digital version of the flyer when ordering. A code must be entered for all online orders.
"We are grateful for the opportunity they have given us to raise money for Hopkins County United Way!" HCUW chair Susan Berning said.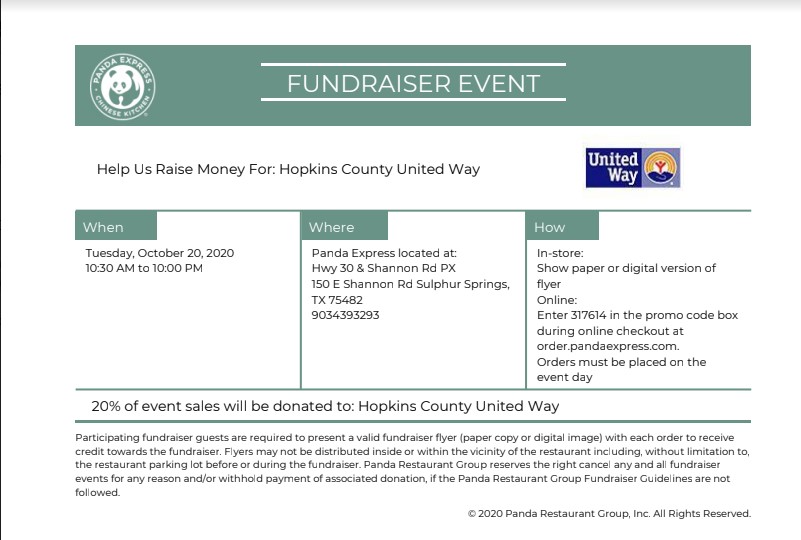 Hopkins County campaign report meetings will be conducted at Hopkins County AgriLife Extension Office, at 9 a.m.:
Tuesday, Oct. 13
Tuesday, Oct. 20
Tuesday, Oct. 27
Wednesday, Nov. 4
Tuesday, Nov. 10