Dispatch protocols and system were central topics discussed recently during the first meeting conducted between volunteer fire department chiefs and county officials since the coronavirus pandemic began in March.
Dispatch Protocols
Hopkins County Fire Department Chief Andy Endsley said one reason the meeting was called at the EOC/training center at the sheriff's office instead of its usual location at Hopkins County Fire Station was to address issues that have come up regarding dispatch protocols.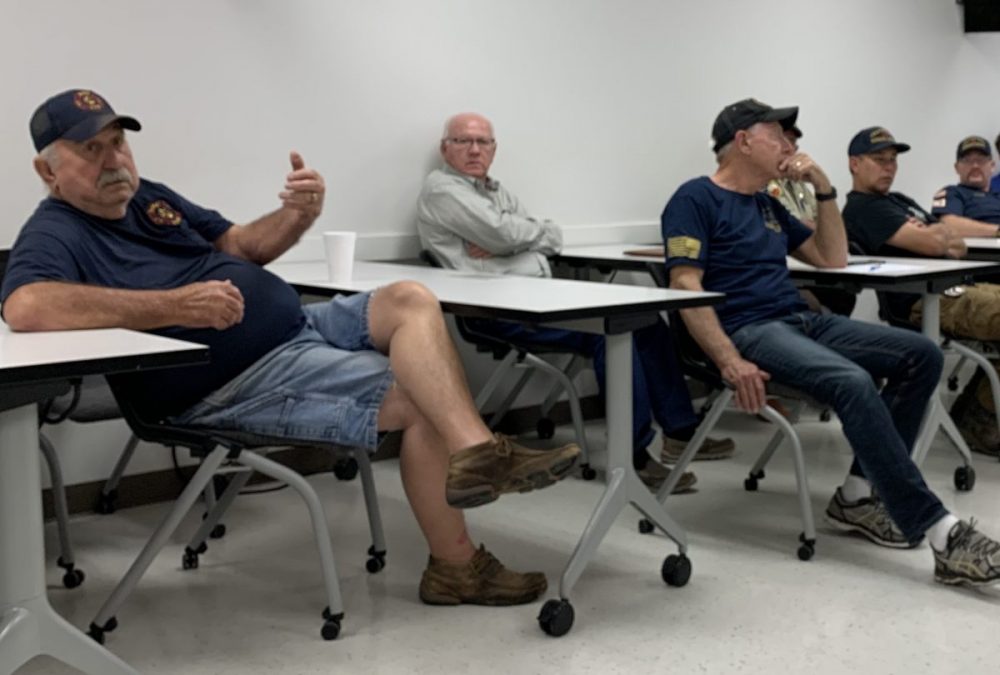 "Some people — other chiefs that aren't here tonight, and it's really just one individual — are having trouble with our dispatch protocols," Endsley said. "Of course, we know we sometimes have issues with our dispatch, but all dispatched have issues. We're human. We all make errors. But, we wanted to be sure you are all comfortable and feel good about the dispatch protocols put in place when [former HCFD Chief Kevin ] Yates left."
Endsley asked the volunteer fire department chiefs and representatives if they were all "good with" the protocols, if any of the protocols by which volunteer fire departments are dispatched to calls need to be discussed or if any need to be changed.
The HCFD chief noted that he had checked with the Ark-Tex Council of Governments representative who is over all of the Public-Safety Answering Points (PSAP), which governs how information is disseminated out.
The COG representative reported the fire districts each VFD is dispatched to, including which nearest station around is selected to respond along with each VFD, are checked annually. An agreement then is signed by each VFD and must be passed by the Commissioners Court. Those agreements can't be changed without being presented again for court approval, Endsley reported.
There are two PSAPs in Hopkins County, the dispatch center at the sheriff's office and one at Sulphur Springs Police Department. Hopkins County EMS is a ring-down facility, not a PSAP. Sheriff Lewis Tatum, Endsley said, is over every aspect of dispatch from law enforcement and fire to EMS for the county..
"There's a lot to it across the hallway in that room, how it gets dispatched out and how a call comes in, how it gets put out," Endsley said, pointing to the county's dispatch center, located across the hall from the EOC/training room. "If you've seen all the steps to how all that works, you can see where sometimes, mistakes are made."
"Fire dispatch is one small item that dispatch deals with. While they are dealing with your fire, they are running traffic for four or five deputies. They're running DPS, they're running jail and all incoming calls from complainants out in the county. That thing is like a beehive in there," Tatum said of the county communications center. "It's very, very busy. Considering, what all they go through, I think they do a very good job. I wouldn't do it — I couldn't do it. I wouldn't even know where to start up in there. They do go through a lot."
The protocols require VFD members to be "dispatched" or "toned" to a call. "Freelancing" or self-dispatching is not allowed, according to the dispatch protocols. If a call is dispatched and a VFD member thinks his or her department should also have been dispatched, the members may contact the dispatcher via the radio to be acknowledged or toned to the call, according to Endsley.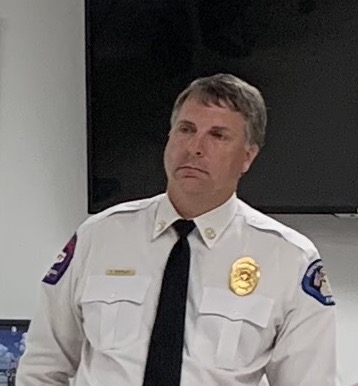 "That tone is your authority to respond. Without that authority to respond, if you have an accident, it is not good. They're not going to cover it or anything," Endsley said.
When an "all-call" is toned, it means just that. All available departments are allowed and encouraged to respond, the HCFD chief added.
Contacting a dispatchers to let them know a department is available, or that a fire department call is within the district of a VFD that wasn't toned to a call is acceptable, according to the protocols. However, deciding to go and doing so, without being toned to the call by dispatch is "100 percent freelancing," as is not disregarding when told to do so by another VFD in the call district or by HCFD.
"I will say, since we talked with [Communications Supervisor] David [Ray] that night, when a VFD requests another department through dispatch, it has gone smooth as silk since that day. They've not had an issue with dispatch at all," John Brian Beadle with Saltillo VFD said.
Another chief asked about a situation that occurred about a few month ago. He was on his way home, when another department very nearby gave a size up for a fire behind a church. He radioed that he was behind them and asked if they wanted him to grab a booster and respond. They gave an affirmative response, so he did. He asked, since no tones were ever dropped for his department, but he did respond, if that violated protocol.
Endsley said that the dispatcher may have missed that radio traffic, depending on how many other tings were going on, and, thus, did not drop a tone. Responding at the request of another department, with the request recorded over the radio is OK.
That, Endsley said, should also served as a reminder that everything voiced over the radio is recorded. Those responding should keep that in mind if they ever feel themselves loosing their cool on a call, and pause before reacting.
"We have a majority of the chiefs here, are we OK with dispatch?" Hopkins County Judge Robert Newsom also asked after some discuss on the matter of dispatch protocols."I don't hear any objection."
(The Arbala, Brinker, Miller Grove and Pickton-Pine Forest VFD chiefs were not present at the meeting; they attended heir own meeting, scheduled at the same time as the chiefs meeting with local official. Another PPFVFD officer did attend the meeting at HCSO, however.)
AG Sandifeer with Dike VFD asked for dispatchers to be clear on calls as to which radio tower responding VFDs should work off of and when the responding departments are to switch to that radio tower or channel.
"If you're going to be doing multiple calls, you've got to assign which tower we're going to be working off of," Sandifeer noted.
David Ray with HCSO (former communications supervisor) noted that assigning the different towers is relatively new for the dispatchers to have to do, so there have been a few who haven't immediately remembered to assign a tower on which responders to a particular call should communicate.
Ray also asked the VFD chiefs to please be patient with dispatchers when they are "working multiple fires on multiple channels."
"It may take them a minute to answer it, because they may have to go back and listen [to the recording of your radio traffic.]. Because, if two departments talk at once, they may not be able to tell who is talking, so it may take them a second to answer," Ray said.
Sandifeer asked also when departments are supposed to switch their radios to the tower assigned for a particular call. For instance, if Dike VFD, which typically works off of the north tower, is told by dispatch to switch to east, when, he asked, should Dike VFD switch to east?
Ray said the appropriate time is the moment "when you check in route. When you start the truck and go to that call, if you are going to east, you change to that channel and check in route."
"Go to that channel as you're leaving, check in route, that way the other departments or Engine 20 know you are in route," Ray said.
Sandifeer asked how another VFD member, who may just be around the corner, would know they were en route already, if they have already switched to the new assigned channel.
Ray said it would be appropriate to say on the normally designated channel, "Brush, 15, I'm en route, switching to east tower," then switch.
Hopkins County Sheriff's Office Chief Deputy Tanner Crump announced that David Ray will no longer be the dispatch supervisor at the sheriff's office. He will be handling other matters technical matters, including dealing with radios. A current dispatcher has been selected to serve as a working supervisor. Crump encouraged anyone who has any problems with dispatch to follow the grievance protocol for dispatch; radio issues should be addressed to Endsley using a work request form that will be made available to the VFDs soon.
Endsley reminded the VFD officers that the grievance protocols require all complaints about dispatch to be made to County Judge Robert Newsom, not over the radio, phone or directly to the dispatcher. After the complaint is made, the appropriate county officials will be notified to investigate complaints.
Tatum said the sheriff's office also has a protocols in place for deputies to follow if they have a complaint about a dispatcher.
"If [deputies] say something to them about their problems, out of line, they will be in there dispatching. I'm not going to put up with it," Tatum said. "Those individuals go through a lot in there. It's not an easy job at all. I've never been a dispatcher, but I have been in there and I've seen what they go through. It is a very, very difficult job and I just want everybody to understand that there's a whole lot more going on in there than what you hear. Anytime you'd like to come up here and sit through something, can come up here Saturday night and see what they go through. It is a lot. I've seen days where three people couldn't handle it."
New Dispatch System
The sheriff's office plans to begin training county dispatchers in use of the new $200,000 CRIMES (Criminal Research, Information Management, and Evaluation System) computer-aided dispatch system starting Monday, with the program projected to be online and in use at the sheriff's office within
The system could then be phased into the fire department apparatus, which would allow responders to see where a call is, and notes from dispatchers containing sensitive information responders need to know, but that does not necessarily need to be broadcast across the radio.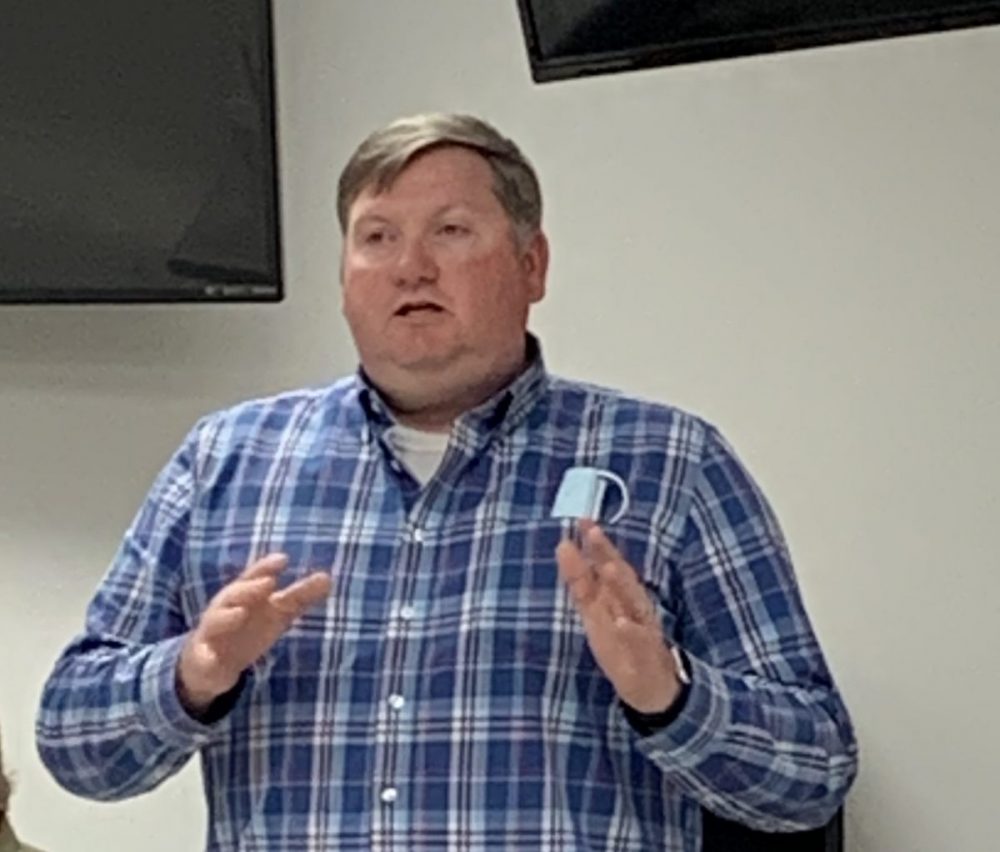 "It's just really going to help out tremendously. It will automatically queue who should go. There's no question. Those fire protocol dispatches are programmed into it. It's already putting into the queue and already telling the dispatch who to dispatch. It takes a lot of human error side out of it," Endsley said.
Newsom asked what it would cost to put the technology in each fire engine, to allow dispatchers to see on a map where each responding unit is during a given call.
Crump said there are several options for outfitting each county apparatus with the GPS needed for dispatchers to be able to track all units responding, and keep track of apparatus.
Crump said sheriff's patrol vehicles are outfitted with either a laptop or tablet. GPS runs through the device to send a signal to CRIMES of where the vehicle is at.
"There are other options if you just want in fire truck just to show and not have a computer that you have to turn on each time. There are going to be ways we can just have GPS on the AVL or the map that dispatchers can see. There's different price options, so you're not necessarily having to put a computer in every apparatus," Crump said.
"One thing is if you do want to put a computer in your apparatus, there is a yearly fee called Netmotion. It's an access portal to the system. I want to say it's around $250 a year per device," Ray said.
"That's going to help you with your audit also, on when that truck leaves the station and when it's on the air or not," Beadle noted.
"I think it will really be good if we can get it to the volunteer departments," Newsom said. "I'd like to see somehow to get those on the trucks. I believe it's a step up for us. We can do more with less."
Precinct 1 Commissioner Mickey Barker asked if the GPS system could be put on the members cell phones.
"There is a possibility. Crimes is its own thing. CRIMES is its own server and all the software on the server. Then there's all kinds of other software that has that capability, like an app or a GPS on a truck. They'll make that information talk to AVL maps system. So anything is possible," Crump said.
"So, it's could be in the future, near future, that all of the departments could see all the trucks headed in their direction, or where they are broke down at or what have you?" Barker said.
Ray reported that the system is Windows-based, which Crump said, means they don't currently work well on Apple devices.
Crump said one option could be to purchase some cheap Windows tablets with a Sim card with Internet, that would allow the system to run off that tablet, and put one in every fire truck. That would allow them to see the location and information on a tablet in the truck. Ray estimated the "whole set up" could probably be purchased for $2,000-$3,000 per truck, including the mount.
Another option would be a "tattletale system like you put in a big truck," that would would simply report the location of the apparatus to dispatch, but would not provide any information to the personnel in the truck. That system, Crump and Ray said, would be a lot cheaper.
One VFD officer pointed out that having technology that provides information to firefighters in trucks would free up dispatchers to respond to the other calls coming in, instead of answering requests for directions from multiple responders.
Endsley noted that the county currently uses e-dispatch, a call system that firefighters receive phone messages to text or call in for information about a call. More than 150 names were supplied to county officials to be added to the e-dispatch system. The county will soon switching to active 9-1-1.
Sandifeer compared the e-dispatch alert system to the old beeper call alert notification system; both have delays from the time the call goes out until the firefighter receives it.
"Instead of just telling you to text, call or ask for it, when it drops, it will tell you what the call is," Endsley aid of the active 9-1-1 system. "It will give you a map of how to get there, so your location is at the exact time."
"When they start generating in the calls for service in the CAD system, then when they hit submit, it'll send it out through active 911 with the address, wheat the call is and it'll pre-map," Ray said.