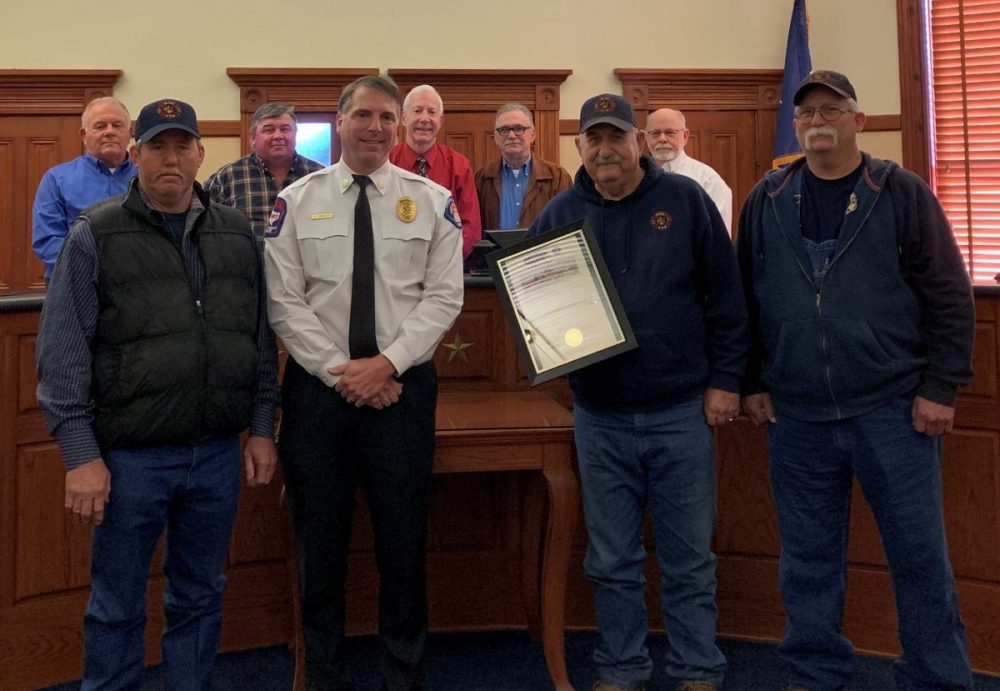 Hopkins County Commissioners Court and Fire Chief Andy Endsley recognized Dike Volunteer Fire Department as part of Hopkins County Fire Department's year-long 20th anniversary celebration. Each month a different volunteer fire department is recognized for their ongoing contributions to the community, responding alongside county firefighters.
"Dike has always been there, like the ones we've honored throughout. We have one more VFD left. We didn't start this celebration until the end of January, so we're still in that year's scope of time to get all of these departments in there," HCFD Chief Endsley said.
Hopkins County Judge Robert Newsom, when presenting a framed proclamation to three members of Dike VFD Monday morning, gave a brief synopsis of the department's history.
Dike VFD's first station was built by Dike residents G.R. Romans, Pat Potts, Archie Collins, Scott Tubb and others.
Gerald Hazelwood, A.G. Sandifeer, Ricky Massey, Jay Sandifeer, Daniel Eppars, Joel Pace and Archie Collins were the first members of Dike VFD, with Collins as the first chief.
Currently, Dike VFD has nine members — Fire Chief A.G. Sandifeer, Assistant Chief Joel Pace, Jack Towers, Clint Rubb, Ralph Calhoun, Allen Nelson T.G. Sandifeer, Chad Jones and David Joslin.

Dike VFD's first fire apparatus was an old fire truck donated by North Hopkins VFD. Dike later received a one-ton chassis cab purchased by Hopkins County. Department members fully equipped the chassis cab to operate as a brush truck for the community of Dike. At present the department has four fire apparatus.
Initially, all calls were received by telephone. The phone was later replaced by beepers, and radios are currently used by Dike VFD members to communicate with dispatchers.
"You can always depend on Dike to show up. I don't know that I ever recall them missing a call. One of these guys are always there. Once there, they are very good help. We appreciate all they do for Hopkins County," Endsley said.
Precinct 3 Commissioner Wade Bartley to extended personal thanks to the members of Dike VFD for their continued dedication.
"No matter what time day or night they are there. I appreciate it and the community does too. But, I don't think everybody realizes how much time they devote to the volunteering. Guys, I just want to tell you I appreciate appreciate it very much," Precinct 3 Commissioner Wade Bartley said.
Newsom encourages all county citizens to join HCFD and the Commissioners Court in applauding "the outstanding efforts of the Dike Volunteer Fire Department," recoginzing "the dedication in their perseverance to provide protection for each citizen and their property" and, offering "heartfelt appreciation for the servanthood of each one."
"Thank yall for this. We've worked a long time for this. We've been doing this for 30-something years and we hope we continue to help the community. Thank you," said Dike VFD Chief A.G. Sandifeer.