The number of new COVID-19 cases reported for Hopkins County in September nearly doubled Sept. 10. Hopkins County/Sulphur Springs Emergency Management officials reported 17 new positive COVID-19 cases had been confirmed on Sept. 10, increasing the number of active cases in Hopkins County from 54 to 71.
No recoveries were reported on Thursday. That's only 11 recoveries so far in September – 6 on Sept. 1 and 5 on Sept. 8. Of the cumulative 278 Hopkins County residents who've had COVID-19 since March, 207 have recovered from the virus.
Four patients were reported to be in the COVID unit at CHRISTUS Mother Frances Hospital-Sulphur Springs on Sept. 10, the same as on Sept. 2, Sept. 7 and Sept. 8. That's down from five patients on Wednesday, Sept. 9.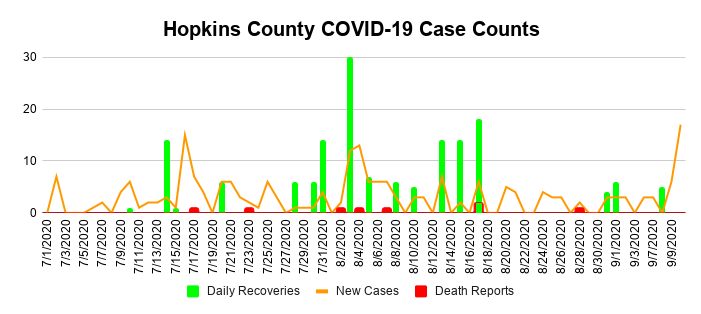 Since there were no new COVID-19 deaths assigned to Hopkins County on Sept. 10 by Texas Department of State Health Services, the total of Hopkins County residents who have died as a result of COVID-19 remains 8.
Texas Health and Human Services reported there continued to be two active cases among Carriage House Manor employees on Aug. 27. No COVID-19 cases had been reported among Sulphur Springs nursing home residents from March through Aug. 27, according to the Sept. 10 THHS nursing homes report.
THHS on Sept. 10 also reported no active COVID-19 cases among either residents or employees at Sulphur Springs assisted living facilities on Aug. 27.
There were no active COVID-19 cases reported at any Hopkins County child care centers on Sept. 9, according to the THHS child care centers report.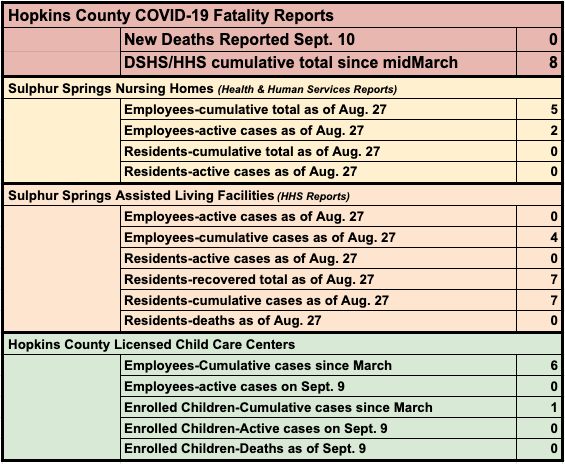 ---