Hopkins County/Sulphur Springs Emergency Management officials Tuesday afternoon, Sept. 8, reported 5 Hopkins County residents have recovered from COVID-19, increasing the overall number of recoveries to 207 and leaving 48 active cases.
There were no new positive COVID-19 cases reported for Hopkins County in the last 24-hours, so the cumulative count of confirmed positive COVID-19 cases reported since March remains 255.
For the second day in a row, CHRISTUS Mother Frances Hospital-Sulphur Springs had four patients in the COVID-19 unit.
On Sept. 7, there were 58 molecular COVID-19 tests conducted for free at Hopkins County Regional Civic Center. Free testing will continue to be offered from 9 a.m. to 5 p.m. Sept. 9 and Sept. 11-12 at the Civic Center. Anyone can be tested, regardless of age, city or county or residence or symptoms, provided they register online at GoGetTested.com.

Texas Department of State Health Services at 4:55 p.m. Sept. 8 had not assigned any new deaths to Hopkins County on the agency's COVID-19 case counts dashboard, so the total stands at 8 deaths from COVID-19. According to the DSHS County Case Counts report, two Hopkins County residents died Aug. 17 from COVID-19. One additional fatality was reported on each of the following days: July 17, July 23, Aug. 2, Aug. 4, Aug. 7 and Aug. 28
Texas Health and Human Services reports showed no active cases among either staff or residents at assisted living facilities in Hopkins County as of Aug. 25. All 11 previously reported cases, 4 employees and 7 residents, are recoveries, according to the Sept. 8 HHS report.
A Sulphur Springs nursing home did report two active COVID-19 cases among employees as of the Aug. 25 report; no positive COVID-19 cases were reported among residents of the facility at that time, however. The nursing facility is the second in Sulphur Springs since March to report any cases, employee or resident, at the facility; the three employees at the first facility had all recovered from coronavirus, according to the HHS nursing home report.
Reports for nursing homes and assisted living facilities are typically 2 weeks behind the current date, due to steps in the verification and reporting process.
There were no active cases of COVID-19 reported at Hopkins County child care centers as of Sept. 7, according to the HHS report.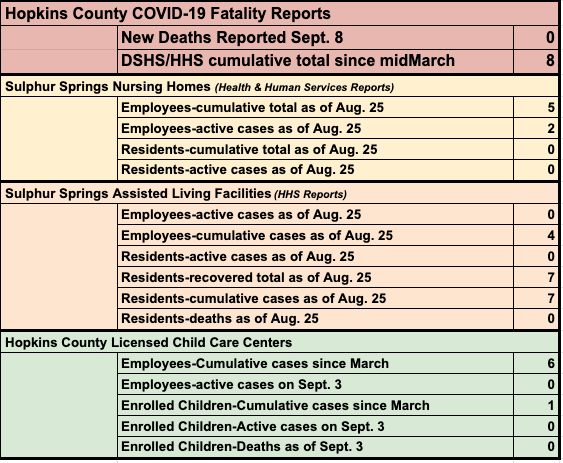 ---