'Jenny V. Glasscock of Bright Star' Role Portrayal Enjoyed at Historical/Genealogical Event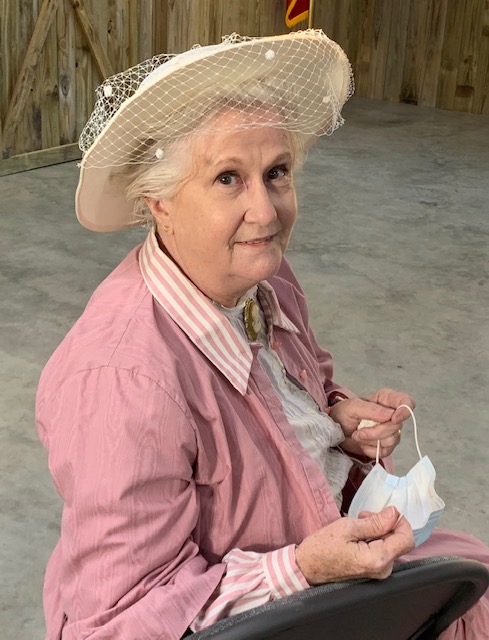 Socially distanced inside the Winnifred Building at the Hopkins County Historical Park on August 27, 2020, a sizeable crowd was treated to an entertaining role portrayal of a leading citizen of Hopkins County's past. Paula Altenbaumer presented the colorful and ambitious Jenny V. Glasscock, costumed as she might have been as an 1860's hotel owner. Jenny's husband Thomas J. Glasscock pioneered the tourism trade once he settled in the growing town he had chosen.
"Back when my husband was first attracted to Texas, he kept hearing about this thriving place called the 'Camp on the Sulphur', so after his Civil War service and after we got married, we made our way here to 'Bright Star' from Jefferson. It truly was an exciting place! People were coming into town from all directions, largely due to word of mouth about the healing springs found here. We eventually built a hotel on Main Street for people to stay in, and later a bath house next to it,  right above the "boiling spring". My husband also put in a stagecoach line to provide transportation for travelers. The livery stable on this end was located near the corner of today's Davis and Main Streets, and we owned a similar livery and office in Mineola. It was actually my mama's money that first put my husband in business! I was in my 20's when we married, and he was 16 years older than me!"
Actually, Thomas J. Glasscock first took over management of the El Rancho 2-story downtown hotel in 1868, and later built "The Glasscock Hotel" and furnished it elegantly. Frequent guests included traveling actors who appeared at the two opera houses in town. All guests got the hotel's royal treatment. The Glasscock Stage Line served to boost the economy by not just transporting visitors but providing a "fast mail route", where mail and deliveries between the two towns was received daily. The mail bags were taken to the Bright Star Post Office, then located where the "standpipe" was on Main Street. Dr. Davis could be heard shouting, welcoming passengers as they stepped off the stage, across from today's Pioneer Cafe. As the decade ended, the town which would become Sulphur Springs was thriving!
"During this time, however, the Northern Army had a presence here, headquartered at a garrison constructed near downtown, bordered by Connally and Main Streets, and my lane, JV Alley.  The Yankee soldiers did not enjoy the same warm welcome from us citizens as the visitors and tourists did! The soldiers  finally left in 1870 but Yankees who heard about our town kept crowding in, visiting the bath houses and some actually settling here".  Altenbaumer concluded, "my husband was Mayor and a leading citizen. Our daughter Cora Belle was our pride and joy, and grew into an accomplished young lady. In 1877, she won the Equestrian Award during the Agricultural and Engineering Fair held here. A few years later, Cora got the measles, then died from pneumonia. I didn't live much longer myself; I got sick in 1890 and passed away a year later at the age of 48. My husband remarried soon afterward but passed away in 1898, with our family fortune divided between various nieces and nephews."
An interesting aspect of the story was added by genealogist Pat Chase. He explained the importance of horses during the era, and how stage travel was governed by the physical capabilities of horses. As the Glasscock Stage Line left Bright Star at 7am from downtown, and the four-horse hitch sped to a location near Reilly Springs. There the stage acquired a fresh team and sped on south to Stormville, Texas. Meantime, another stage had left Mineola at 7am and headed northward to Quitman for a change of horses before traveling on to the rendezvous point at Stormville. (According to a clarifying comment by W.G. White, Stormville was a community located along what is now CR 2225, near where FM 515 and State Highway 154 intersect today). At the rendezvous point, passengers switched coaches, and the drivers turned and went back the way they came, stopping again for fresh teams to finish out the daily journey. Some photos show a 6-horse hitch which a coach might require when roads were muddy or boggy. Altenbaumer added colorful details to the account, saying that 'late in the day, when the incoming stage topped "Fisher Hill", the hill that is in front of Brookshire's today, a bugle was loudly blown to signal that the stage was coming in, so the stable boys downtown would be ready to unhitch and care for the horses'.
Host for the annual meeting was Rick Wilson, President of the Hopkins County Historical Society's Park and Museum. Emceeing the event was John Sellers, President of the Hopkins County Genealogical Society. Altenbaumer, a member of both societies, began doing role portrayals of historical figures a few years ago, following a pattern set by a fellow member, the late Lavyn Cisco. The audience included members of both societies and their guests.