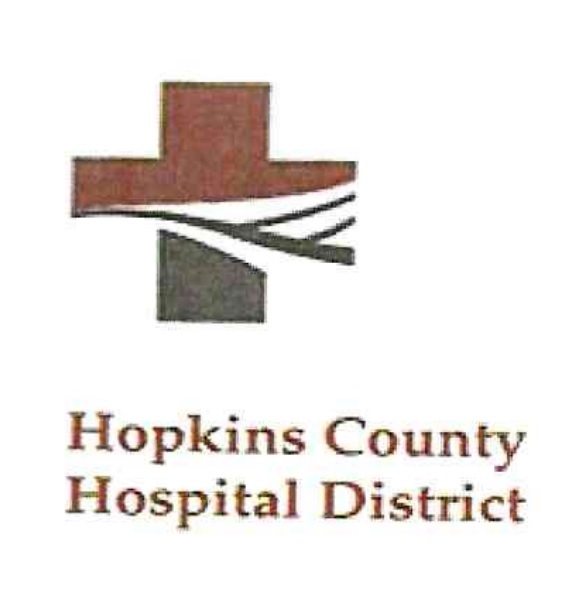 Hopkins County Hospital District Took action Tuesday evening on three items toward construction of a new EMS/Hospital District Building. Hospital Board members were also sworn in and officers selected at the 6 p.m. meeting June 23.
Board Election
Hopkins County Hospital District Board of Directors at the close of filing had only 4 candidates for 4 seats – Dr. Bill Dietze, Tim Kelty, Kristi Shultz and Chris Brown. Thus, the board was able to cancel the spring election.
Shultz, Brown and Dietze again took the oath of office Tuesday to continue serving on the board for a full term. Kelty wasn't present at the meeting.
Dietze and Kelty have served prior terms on the board. This begins the first full term for Brown and Shultz, who were appointed in May and August of 2019 to fill vacancies created with the resignations of Dan Roper and Suzanne Bankston Thomas.
HCHD Board also at the June 2020 meeting voted for Kerry Law to continue serving as president, Dr. Dietze as vice president and Dr. David Black as secretary.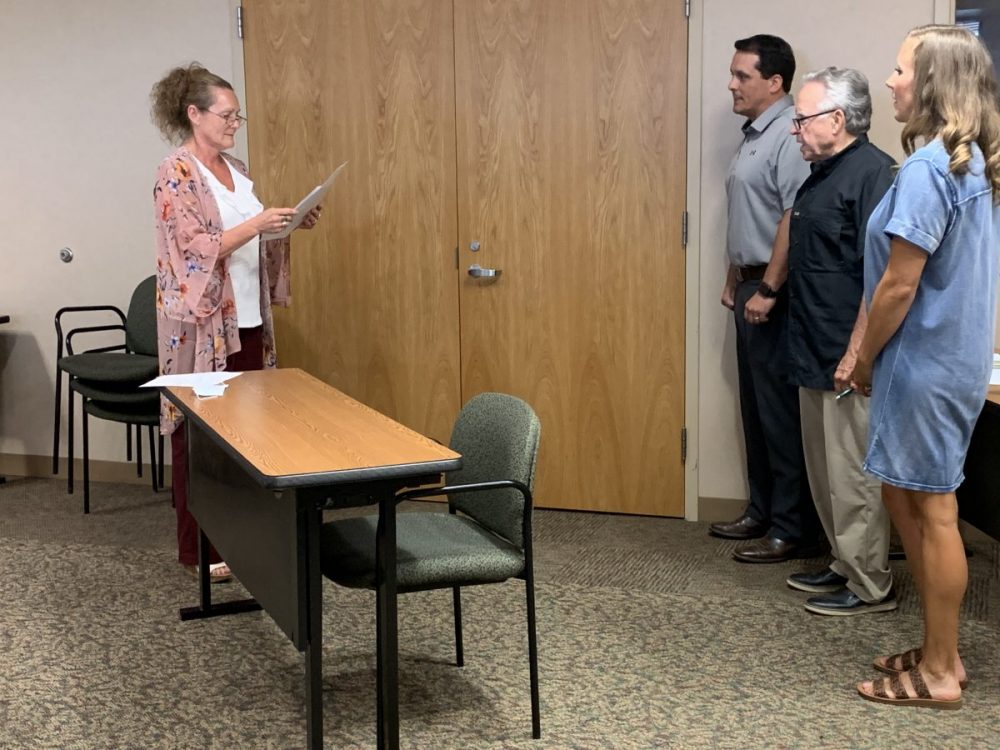 EMS Station
A contract of $37,904 was awarded to Garrett for asbestos mitigation for two houses on Airport Road. The hospital district board at a February meeting approved Garrett Demolition of Burleson for demolition of three dilapidated houses on Airport Road on district-owned property for $37,875.
After asbestos evaluation, two of the houses were found to have asbestos, which must be removed before they can be demolished.
"They bid it out internally and they sent us the lowest bid," HCHD COO Brent Smith explained to the board.
Board member Chris Brown asked if records for all three bids had been submitted.
"We picked these guys (Garrett) and then now they're coming back and saying, 'OK we're going to do the demolition but we've got to get the asbestos removed first,'" said HCHD Board President Kerry Law.
Brown noted that in his role as executive director of Ark-Tex Council of Government, 3 bids are required when spending public money. He asked attorney Tommy Allison if the regulations were the same for the hospital district as ATCOG.
Allison said it would be a good idea to document that there were 3 bids.
Brown made the motion to accept the bid as presented by Garrett, with proof of the other bids. Board member Bill Dietze seconded the motion, which receive unanimous approval of the board.
The board also approved a resolution appointing board members Shultz, Dietze and Brown to represent HCHD Board of Directors on a subcommittee for planning design and construction of a new EMS headquarters/HCHD building. Since HCHD Board of Directors only meets regularly every other month, authority was also granted to HCHD CEO Ron Folwell and Board President Kerry Law to execute related agreements related to those processes between board meetings.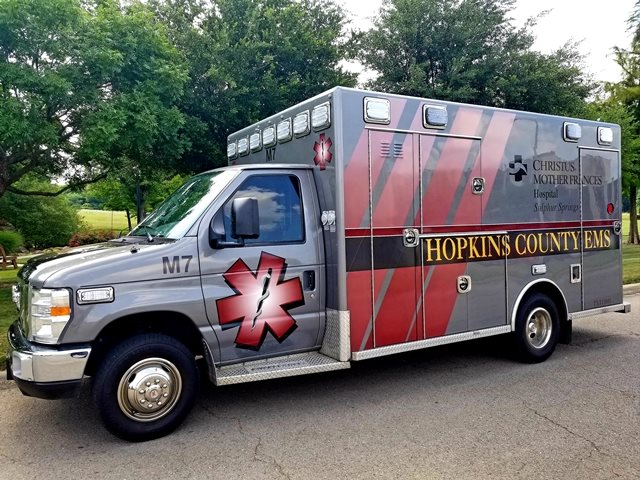 Rees was also approved at the February meeting the HCHD Board as architect for the project, provided an agreement could be reached regarding the firm's fees. At the June 23 meeting, HCHD board reviewed and approved Rees Architectural and Engineering Service fees, which includes consulting services, as well as cost plus 20 percent for transportation and lodging related fees.
Due to COVID-19, Smith reported a teleconference has been held with Rees representatives to discuss details of what the new EMS facility needs versus wants. Smith, who also serves as Hopkins County EMS director, said the EMS leadership team had met to discuss space and functional needs and requirements for a new EMS headquarters/facility. They have run ideas by their staff as well, and the shift crews are excited about the new building, Smith noted.
Among the topics discussed were needs for male and female locker areas and showers, living quarters and common areas to be shared by EMS and HCHD administration and need for different office spaces, the HCHD officers reported.
Smith said the area where the houses are being demolished logistically appears to be the best location for the new EMS headquarters/HCHD administrative offices.
The area by the current EMS station has also been pitched as a possible site for the new building. However, that property is in an area that frequently floods and would require a lot of dirt work to elevate it to prevent flooding and water retention. That property also has a large gas pipeline spanning across the front of the property, which would require paving over in order to build the station,
The property on which the dilapidated structures is at a higher elevation. It also already has access for utilities, the HCHD officials pointed out.
"Rees did give us a proposal. It was $12,000 to do site survey of the two different sites, $12,000 encompasses both. Where they would come in, look at the utilties, survey, those kind of things. We don't have to do that. That's something that if we want to do that, just tell them and it's a $12,000 price tag. They'll evaluate both locations and tell which is more suitable to build on," Smith said.
"I'm happy with committee making that decision," Law said.
Brown said with a survey and information, he feels confident the committee can make that decision.
Law said he initially supported building on the site nearest the current facility but, after learning of the large gas pipeline running across the front of the property, had concerns. The site across the street, does seems like a more suitable location,
Allison asked what the area on which the property sits is zoned by the city, and suggested verifying that the EMS station and offices fits the zoning, and if not to ascertain what if any additional steps would be needed so that it meets zoning requirements.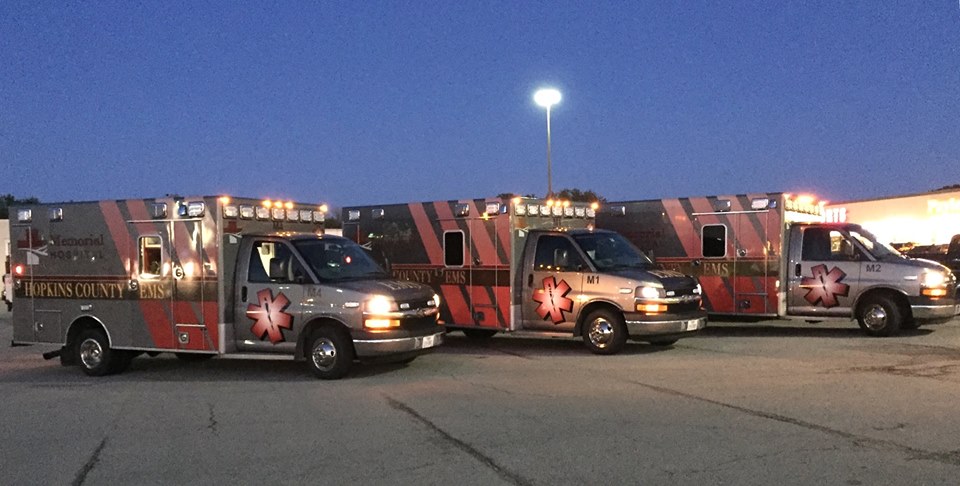 ---