Retirement Benefit Limits For Hopkins County Employees To Be Discussed During Work Session
Hopkins County Commissioners Court are expected to extend the second amended disaster declaration, in addition to authorize a major equipment purchase and two others items related to county road repair, and roofing contract for the probation office.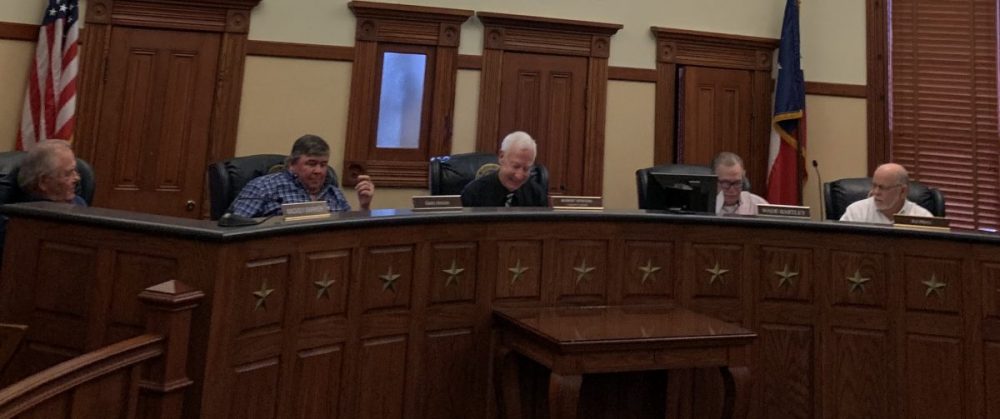 Hopkins County Judge Robert Newsom, following the Governor's latest orders related to COVID-19, amended the county's public health disaster declaration a second time to match the governor's orders. The court will be asked on Monday to consider approving a proclamation extending the second amended county disaster declaration.
A contract for roof replacement at the probation office located at 228 West Hinnant St. is also up for consideration by the Commissioners Court.
At least three items on Monday's 9 a.m. Commissioners Court agenda have to do with county roads and repairs. The court will be asked to consider approving an agreement with MTG Engineering and Surveyors for an H&H study of FEMA Case #4416-County Road 3525, purchase of a Caterpillar reclaimer through Sourcewell Co-Op for Precinct 3 and an RFP for rehab and paving of county roads.
The court is asked to consider approving a Plat P Veneables A-1010 request and North Hopkins Water Supply Coroporation's request to be allowed to install a line extension in the county right-of-way on the west west side of FM 71 east at County Road 3605.
The Hopkins County Commissioners Court meeting will begin at 9 a.m. April 27, in the Commissioners Courtroom at Hopkins County Courthouse, 118 Church St.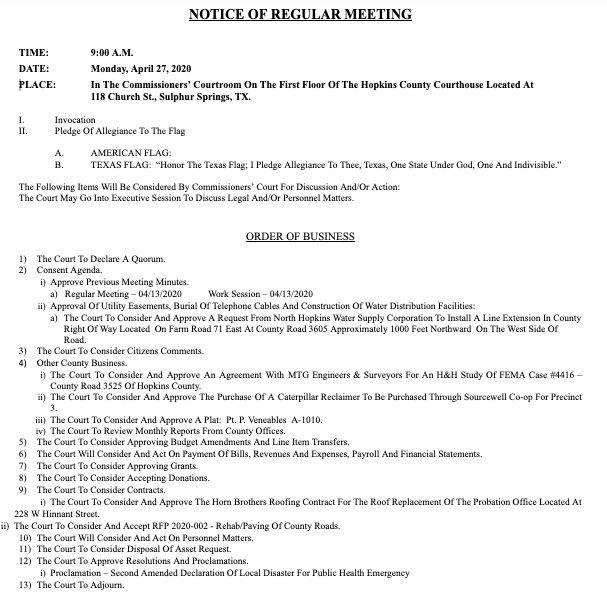 Immediately following the regular meeting, the commissioners court will enter into executive session to discuss retirement benefit limits for Hopkins County employees.
Also on the work session agenda are updates regarding the fire department, sheriff's office and Civic Center operations, including any relavant revenues and expenditures, proposed improvements and repairs or events; discussion on any environmental concerns; and budget work session as needed.
The work session is slated to be conducted in the first floor courtroom as well, which will allow those participating in the work session to observe social distancing guidelines.