[poll id="130″]
JOINT MEETING OF REGION C AND REGION D COORDINATION SUBCOMMITTEES
Here is the published agenda.
THE SULPHUR RIVER BASIN AUTHORITY BOARD OF DIRECTORS IN ATTENDANCE ONLY *
OPEN PUBLIC MEETING
JOINT MEETING OF REGION C AND REGION D COORDINATION SUBCOMMITTEES
TUESDAY, JANUARY 14, 2020 @ 9:00 A.M.
Hopkins County Regional Civic Center
1200 Houston Street, Hopkins County
Sulphur Springs, Texas
AGENDA
Call to order by the Chairman.
Presentation by Robert Gulley, Mediator for the Texas Water Development Board, regarding a proposal for possibly reaching agreement on the Initially Prepared Plans of the Regions C and Region D Water Planning Groups.RC
Public Comments.
Any person wishing to make an oral presentation to the Coordination Subcommittee must complete a registration form with the speaker's name, address and other relevant information. Speakers who have not completed a registration form will not be recognized.
Each speaker shall be limited to three minutes. Speakers may not trade or donate time to other speakers.
Facilitated discussions chaired by Robert Gulley between the Coordination Subcommittee of Regions C and Region D.
Discussion of future actions of the Region C and Region D Coordination Subcommittees.
SULPHUR RIVER BASIN AUTHORITY
DIRECTORS AND STAKEHOLDERS
ARE ENCOURAGED TO ATTEND THE OPEN MEETING BETWEEN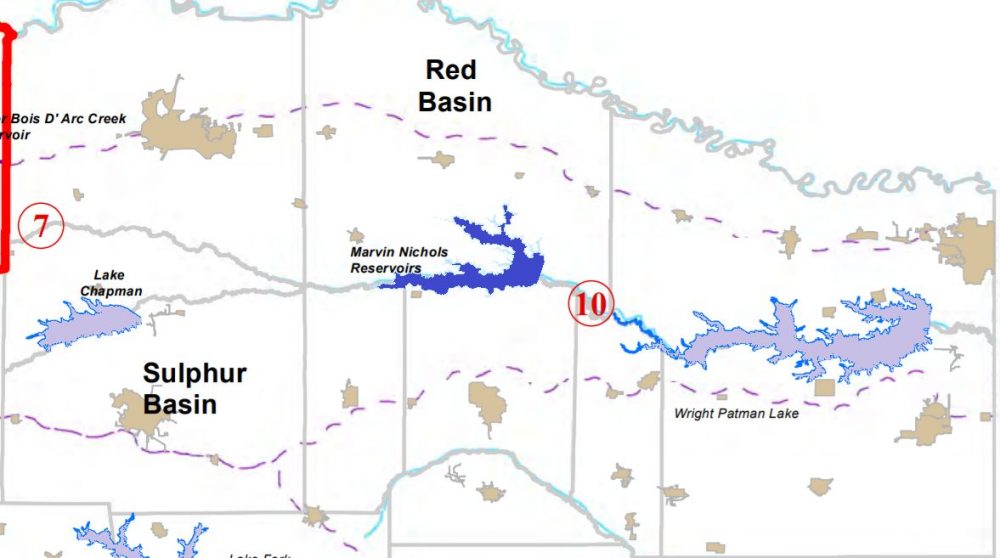 North East Texas citizens have voiced concerns in the past with a proposed lake on the Sulphur River. The Marvin Nichols Reservoirs is a portion of the recommendations made to help provide water for the DFW area into 2050.