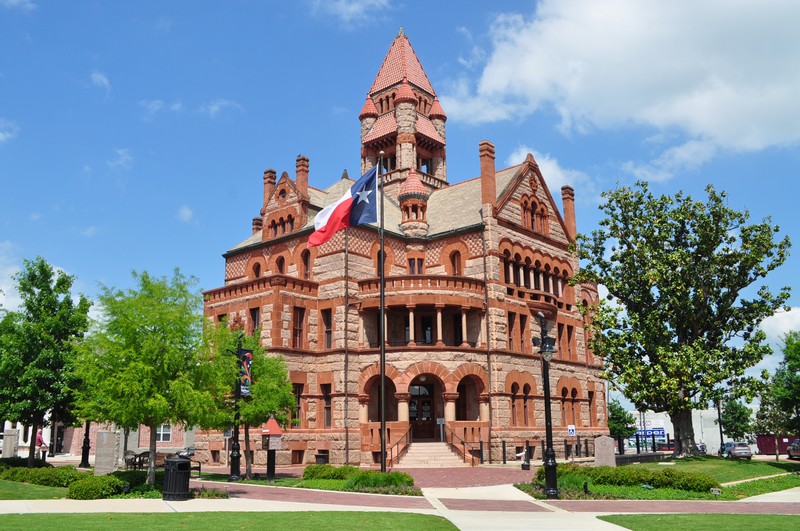 Dike VFD To Be Recognized Monday
Hopkins County Commissioners Court has a full agenda Monday, with several contracts, including for fire protection agreements with volunteer fire departments and for 2 solar farms, recognition of a volunteer fire department, a request for a subdivision replat and discontinued maintenance of two county roads among the items up for discussion and consideration.
Dike Volunteer Fire Department is slated to be recognized during the 9 a.m. meeting, part of Hopkins County Fire Department's year-long 20th anniversary celebration.
Any fire protection agreements returned by VFDs that have yet to return them signed in order to receive funding from the county will be considered at Monday's meeting.
The court members are also slated to consider discontinuing maintenance on County Roads 2449 and 2347, as allowed by Texas Transportation Code.
Two property matters are on the agenda: a request to re-plat land in Rock Creek Subdivision and financing for a land purchase in Precinct 3. At a November meeting, Precinct 3 Commissioner Wade Bartley explained that Precinct 3 has been leasing
Bartley, following a 13 minute executive session, explained that Precinct 3 is currently and has been leasing the land for several years for precinct work. It is located wih frontage on County Roads 3564 and 3602. It's held in an estate, owned by two brothers, one who owns 1 acre of land and one who owns the other 9 acres. The brothers live out of state and are ready to liquidate. Bartley proposed at the November meeting purchasing the land in two contracts, and seeking bids from local banks to make the purchase. Then, the note will be paid back out of the Precinct 3 budget over the next 7 years.
Bartley, at the November court meeting, said he could use some of the materials salvaged from the county building recently torn down on Rosemont and Houston Street to build an equipment shed on the property.
An agreement for a water main improvement for Cornersville Water Supply Co. is also presented for commissions approval.
Hopkins County Commissioners Court too will be asked to consider proposed solar farms to be located in Dike and Pine Forest communities. The court and economic development officials have been in negotiations with solar project officials to finalize details, which will be presented to the county Monday for consideration, the county officials noted during a work session last week.
Telios, a business with offices in Dallas, has asked Hopkins County, Como-Pickton CISD and the Hospital District for tax incentives to locate a 299.25 MW solar electric generating facility in Pine Forest community.
Telios has attained tentative lease agreements with landowners to lease land in Pine Forest, on which 995,148 photovoltaic panels and 95 central inverters would be installed. The Pine Forest Solar Project will require approval of a 2,265 acre reinvestment zone approved by Como-Pickton CISD, and would have a 299.25 MW capacity, Telios officials reported in a community meeting at CP school in October.
The availability of transmission lines make Pine Forest a desirable location for a solar plant, Telios and KE Andrews officials said during the informal community meeting at Como-Pickton school.
The Dike project, Hopkins County Energy LLC, is located within both Sulphur Bluff and Sulphur Springs school districts. School district, county and hospital district approval of tax incentives on the proposed projects are needed for the project to move forward.
Sulphur Bluff reportedly approved the project the reinvestment zone and tax value limitation for the project last week. Sulphur Springs ISD trustees, however, tabled all action on that project as well as the proposed Solemio Solar LLC after hearing concerns from community members and an executive session Dec. 19.
A cyber-security training agreement and other routine matters are also among the matters on the 9 a.m. commissioners court agenda Monday.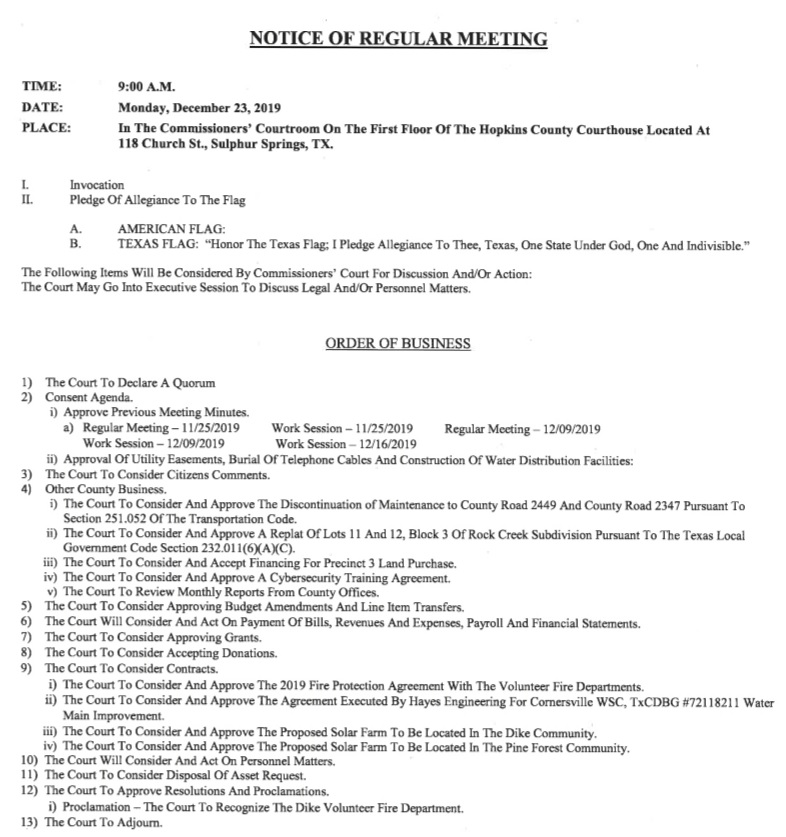 Following the regular court meeting in the commissioners courtroom on the first floor of Hopkins County Courthouse, the court will move upstairs for a work session.