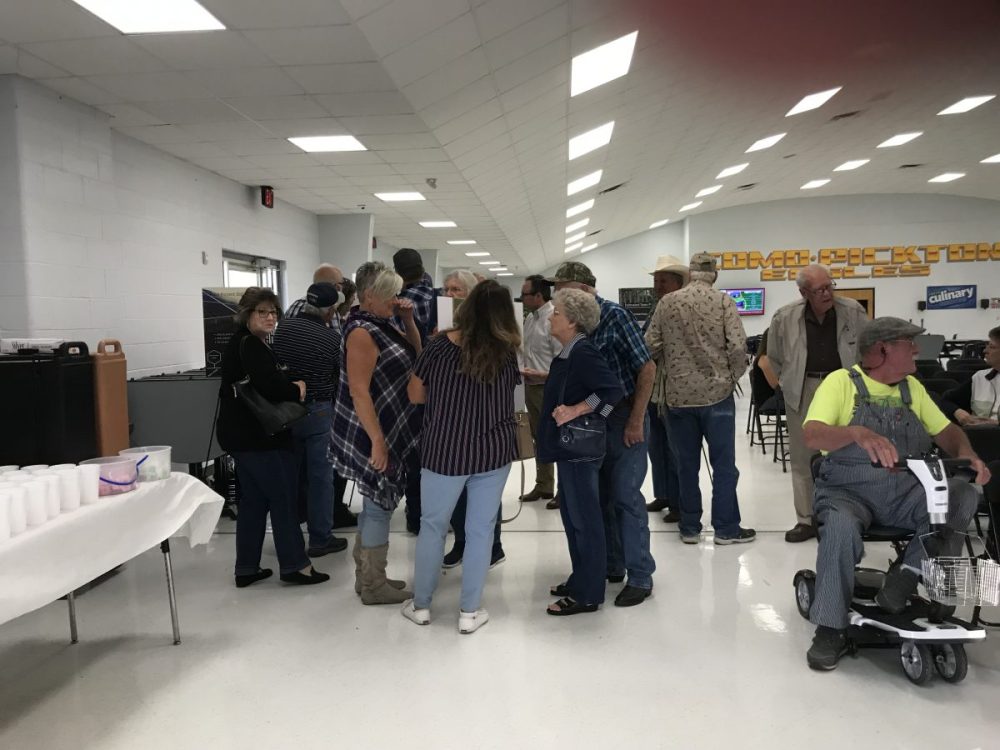 Como-Pickton CISD Board of Trustees, Hopkins County Commissioners Court and Hopkins County Hospital District Board will be asked in the near future to consider approving a request from Telios for tax incentives to locate a solar farm in Pine Forest.
Telios, a business with offices in Dallas, is focused in engineering, construction, technology and energy develop. Pine Forest is Telios' first proposed solar distribution facility.
However, Pine Forest is not the only site in the U.S. being considered by Telios for a solar farm. Other locations being evaluated for the establishment of the site include Oklahoma, Louisiana and New Mexico, according to the Chapter 313 application submitted for review by the Comptroller's office. Any other locations are still in very early development stages, according to Telios President Shannon McCall and information.
To give community residents a chance to talk with Telios and KE Andrews personnel regarding the project, an informal meeting was held Tuesday evening at Como-Pickton school. Several Pine Forest residents Tuesday evening expressed their concerns and opinions regarding Telios's proposed 299.25 MW solar electric generating facility. School and county officials to attended the meeting for additional feedback and information as well.
Community Input, Concerns
Pine Forest resident Bobby Bain said the project needs to be discussed more thoroughly.
Bobby and Blake Bain expressed concerns that the solar farm, which would be located on three sides of their properties, would cause their home value and that of the approximately 15 families with homes along the proposed project to drop. They said the Bain family has lived in Pine Forest since 1911. They said while they understand everyone has the right to do what they choose on their own property, those actions should be considered if the gain for a few comes at the detriment to other people.
"I signed up for it, want it to go on. They are leasing our land," said Ann Bain Rose.
Loren Vander Broek, Rebecca Hurst and James Patricia Fox said they've seen the impact of solar facilities in California. They said they moved to Pine Forest for the good farm land and nice country view. They too expressed concerns for what having a solar farm in their neighborhood might do to property values. They also asked what will happen if for some reason the company doesn't remain with the project the entire length of the project and leases. If the panels reach the end of their lifespan, they are concerned the panels will be left behind for the property owners to deal with.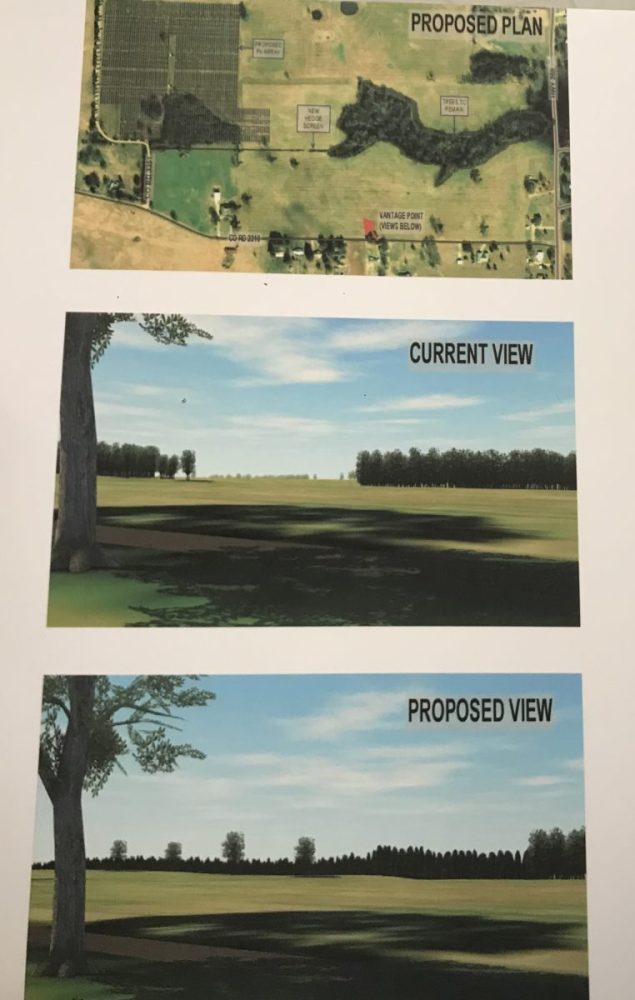 Vander Broek expressed concern having the solar panels would increase humidity; the sun typically is absorbed by the grass. They are concerned the solar panels will increase temperatures around it.
Hurst and Patricia Fox said they do not want solar panels so close to their homes. Concern was also expressed for wildlife in the area that might be displaced from the agriculture land they call home so the solar panels can be installed. James said he'd like to see the plant relocated somewhere else.
The farm should have no or relatively no affect on property values; installing hedges along the line should help conceal the solar panels, according to KE Andrews Property Tax Incentive Coordinator Jordan Christman.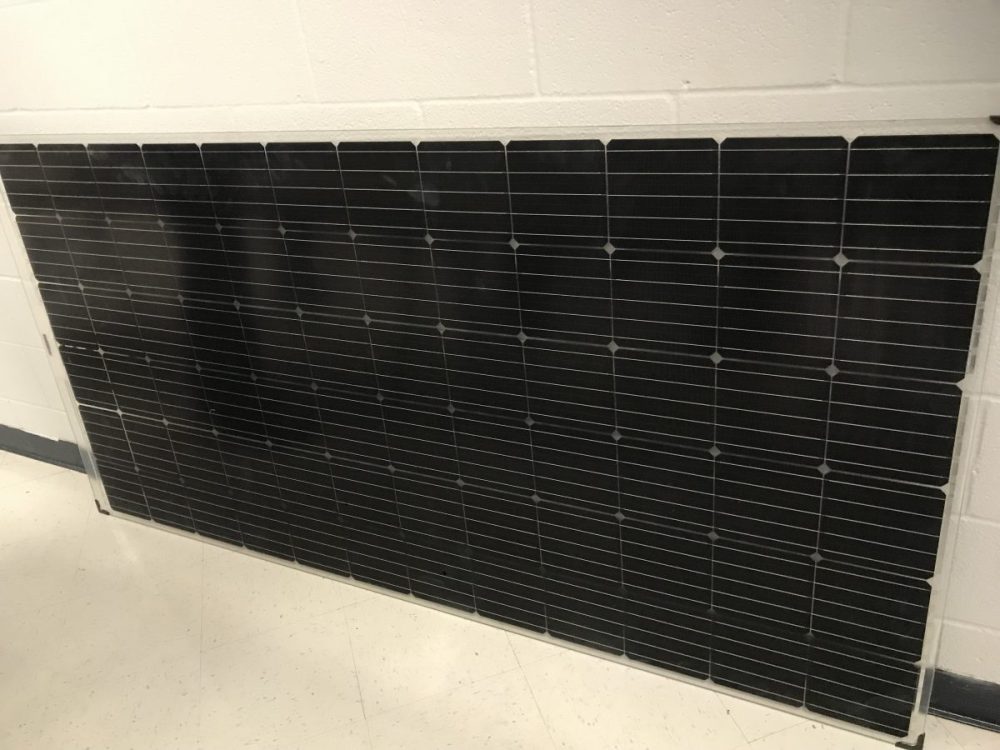 The Project
Telios has attained tentative lease agreements with landowners to lease land in Pine Forest, on which 995,148 photovoltaic panels and 95 central inverters would be installed. The project will require approval of a 2,265 acre reinvestment zone, which would have to be established by Como-Pickton CISD, and would have a 299.25 MW capacity.
The panels are made to withstand certain levels of wind and weather; they would be placed about 4 feet off the ground. A hedgerow is expected to be constructed to block the panels from view of neighboring residences.
According to Mike Fry, director of energy services for KE Andrews, contrary to what some think, there is no glare from the solar panel.
"It's quiet. It's a four feet tall, no noise, no emissions renewable energy option that will generate tax revenue for the county," said Telios president Shannon McCall.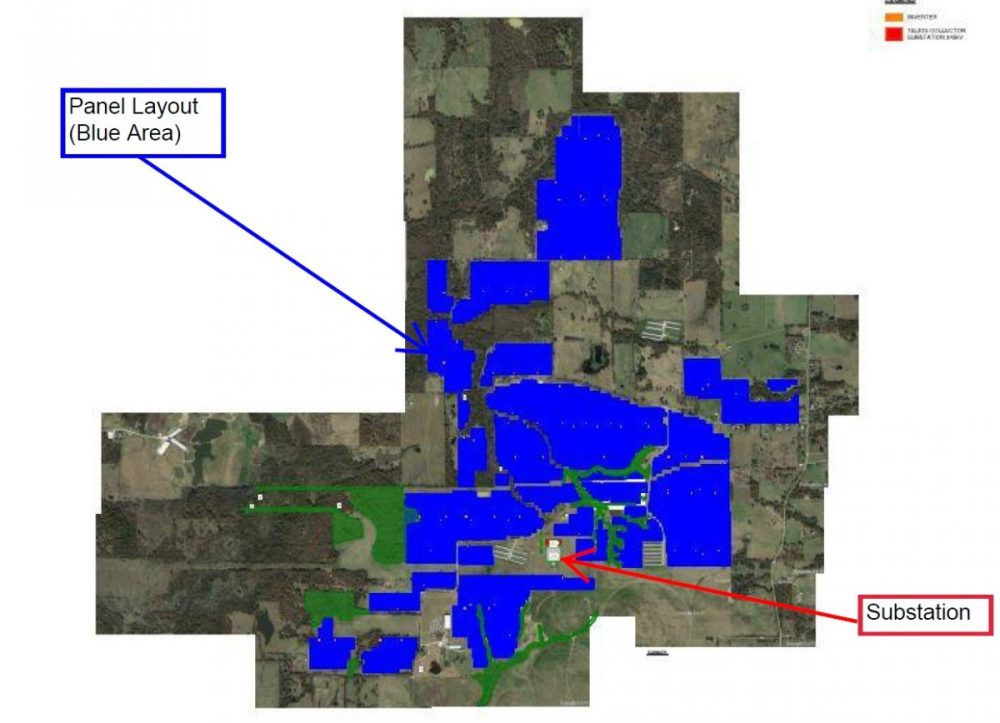 The availability of transmission lines make Pine Forest a desirable location for a solar plant, Telios and KE Andrews officials said during an informal community meeting at Como-Pickton school.
Project officials have been in negotiations with the electric service provider for a short while and hope to have a resolution to the permit process by the end of the year for the solar energy generated to go directly back into the power grid by connecting to their existing lines.
Approximately 300 jobs are expected to be generated during construction of the plant, which would begin in April 2020. The project is expected to be complete by May of 2021 and operational in June 2021. The project is expected to employ two full-time employees at a rate of $42,858.20 annually starting in 2022, according to Christman.
Tax Incentives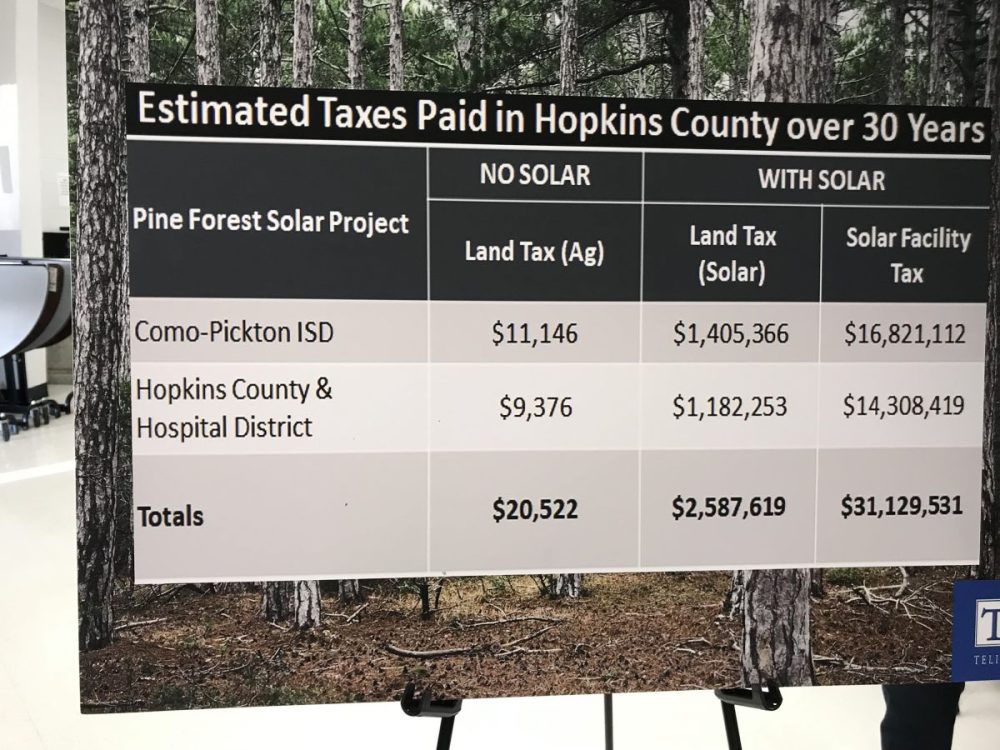 The Pine Forest Solar Project will require approval of tax incentives from all three taxing entities – Como-Pickton CISD, Hopkins County and the hospital district – to move forward, however.
An application for a Texas Property Tax Code Section 313 Value Limitation Agreement was submitted to the school district in September. As part of the process, the company is required to pay a fee, which covers the district's legal costs to make sure the application and all requirements for it are completed. Youngblood Powell & Taylor LLP is representing the school district.
The application has been submitted to Texas Comptroller's office for review to determine whether it meets requirements to qualify for a value limitation agreement. An approved application is expected to be presented to Como-Pickton CISD Board of Trustees for consideration for approval of a tax limitation agreement by Dec. 1.
If the project receives approval for tax incentives from the three taxing entities, the project would get under way in April 2020. New employees, commencement of commercial operations and start service is estimated to begin June 1, 2021.The qualifying time period would begin Jan. 1, 2021, with the first year of limitation beginning Jan. 1, 2022, according to the value limitation agreement application.
Telios plans to invest a total of $285 million in the project: $225 million in 2020 and $60 million in 2021. They are applying for a $20 million appraised value limitation to start in 2022, and last for 10 years. The value would floor at $50.3 million in 2030, according to information provided by Christman.
Telios is asking the county and hospital district to approve a straight 70 percent abatement, which means both would receive tax payments on 30 percent for 10 years, according to Christman and the local EDC director.
According to a chart provided by Telios, the estimated taxes to be paid over the next 30 years to CPCISD as agriculture land without the solar plant is $11,146; in land tax with the solar facility $1.4 million; and in solar facility tax is $16.8 million. The ag land, according to the Telios estimate, would net only $9,376 for the county and hospital district during that period; however, the solar land tax is estimated to bring in $1.182 million and solar facility tax another $14.3 million for the county and hospital district.