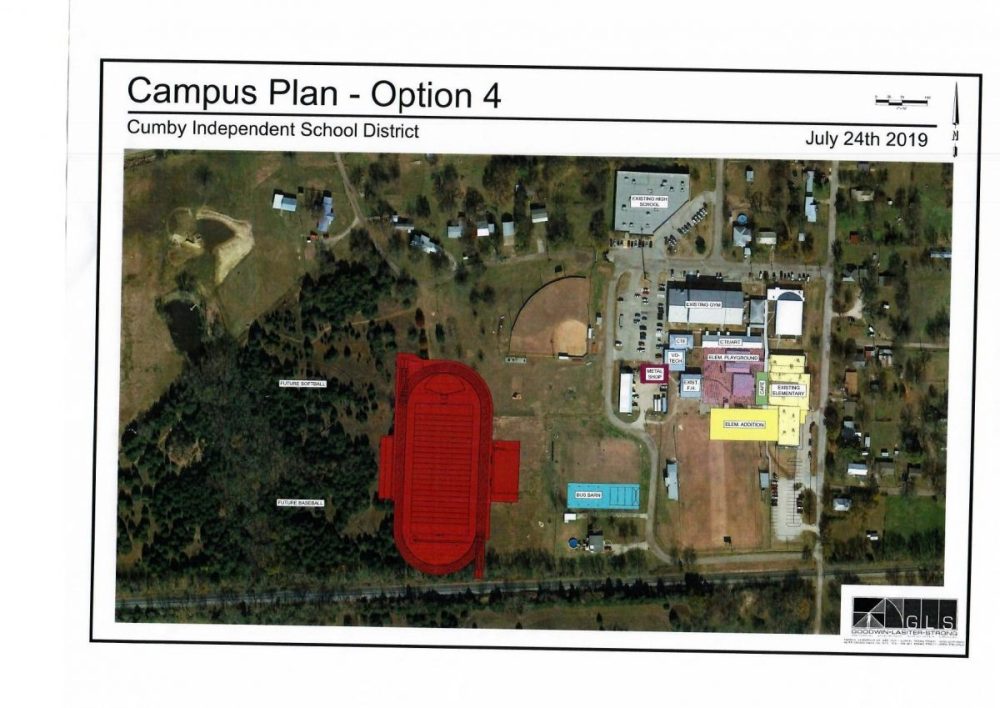 Voters within Cumby ISD will be asked this fall to cast their preference either in favor of or against a $6.2 million bond election to fund facilities improvements.
The bond proposal is at least 2 years worth of work by administrators trustees and a facilities comittee.
District administrators explained a facilities inventory and evaluation was ordered in 2017. Then, a 10-member facilities committee determined how best to meet district needs and what would be required to fund them. Wants and needs were assessed, with creation of a 20-35 year district facilities plan as the goal.
After considering many different plans proposed, trustees and school administrators feel they have one for the first phase of improvement.
The plan, identified as Option 4, would allow the elementary campus to be more secure. That includes an 11,200-square foot eight-classroom elementary addition at the end of the existing elementary building. A new enclosed playground would be constructed behind the expanded cafeteria. Drainage improvements, cafeteria expansion behind the elementary are also in the plan, secure entry, new parking and drives, sidewalks and canopies, interior renovations and secure entry are also in the elementary plan.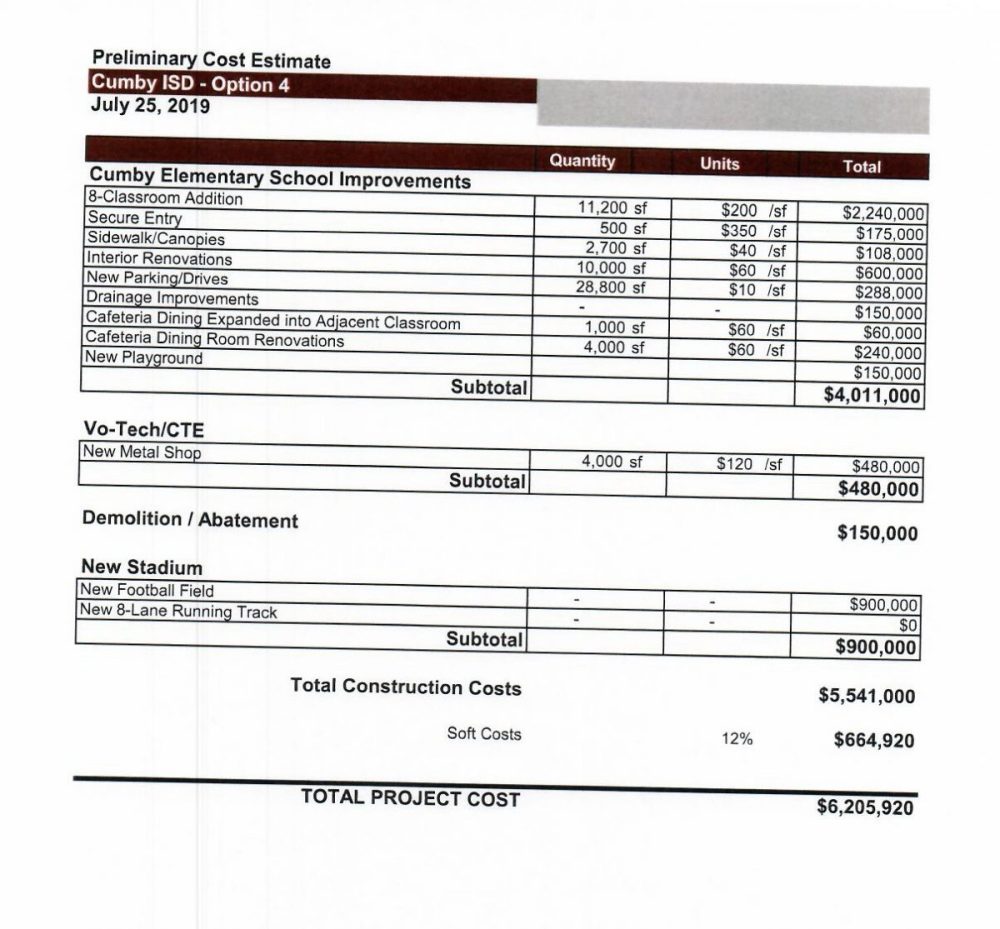 These improvement would not only allow for interior renovations, but make the campus more secure and safer for the district's youngest students. It'd also get them out of portable buildings, which have exceeded their intended life span by at least 8 years.
The overall improvements planned the elementary are estimated to be $4.01 million.
Because these improvements would be on the current football field, the field would need to be relocated; it'd be moved west of the current school facilities. It would have an 8-lane dirt track around it, which would keep students on the school grounds as opposed to running along the roadside in town, which some citizens had expressed concern about. The estimate to relocate the stadium is estimated at $900,000. A paved track is not included at this time due to the significant cost.
A new metal shop for vocational technology and career and technology classes would accommodate changes in education to provide more students with opportunities for more industry certifications and as many college and career credits as possible. That is estimated at $480,000
In order to repay the bond, the ad valorem tax rate paid to Cumby ISD would increase.
The current tax rate is $1.19, with $1.06 going toward maintenance and operations and 13-cents toward the existing debt. If the bond passes, that will increase the school tax rate by 37-cents per $100 property valuation. That'd make Cumby ISD's overall tax rate $1.56 per $100 of taxable assessed valuation; 50-cents would go to repay debts. Overall, that's just 1-cent higher than Cumby ISD's tax rate in 2014, the school officials noted.
Senior citizens who qualify for the 1-acre homestead exemption would still receive it, but all other property would be taxable. In other words, if a resident owns 40 acres, only the acre the home is on is exempt. The remaining 39 acres would still be subject to full school taxes. Any rules applied to agricultural land would be factored in as well.
After a 90 day period following passing of the bond, the design period would begin. Construction could potentially begin in the spring and span two summers. Fall of 2021 is targeted for students to start classes in the new facility. Construction on existing facilities would be conducted over the summer, during Christmas break or other lengthy school holidays. New construction could we done during the school year.