Two groups of students were recognized by Hopkins County Commissioners Court Monday for their outstanding performances at the state level during the spring semester.
Matthew Harper was recognized for not only being named the state champion. The SSHS Wildcat UIL competitor also had "the highest score of any student competing in any classification in Literary Criticism," at the May 3-4 state UIL contest.
Teammates Carissa Carter won third place honors, Andrew Westlund fourth and Lainey Whittle fifth in the state in literary criticism in May.
Hopkins County Judge Robert Newsom said the "harmony of team effort, enthusiasm and excellence paved way for Matthew Harper, Carissa Carter, Andrew Westlund and Lainey Whittle enabling them to achieve the title of State Champion Literary Criticism team for a consecutive fifth year."
In fact, May 20109 marked the sixth time in seven years the SSHS literary criticism teams have won at state, under the guidance of event coach Gail Herman. Harper is Herman's fourth student to be named individual state champion in literary criticism.
Also notable is that it was Carter's fourth year in a row to be on the state championship team, according to Herman.
Newsom Monday called on "all citizens of Hopkins County to join in the honorable recognition of the accomplishments of these young men and women in their outstanding presentation in the category of Literary Criticism of the 2019 UIL State Meet."
Whittle and Carter were unable to be at Commissioners Court Monday morning for the proclamation, as they were already starting the year at College, Literary Criticism Coach Gail Herman noted.
Sulphur Springs High School Wildcat academic UIL competitor Annmarie Gunn was also recognized for exhibiting "an inspiring framework of strong academic skills, talent and abilities empowering her to earn the title of Silver Medalist for her participation in the UIL Latino History Essay Contest," on May 3.
That's one of two events Gunn placed in; she also earned fourth place in ready writing.
Hopkins County Judge Robert encourages "all citizens of Hopkins County to join in celebrating the accomplishment of Annmarie Gunn for her success in attaining her place on the podium of the academic category known as the Latino History Essay Contest."
Breana Wooten, another SSHS Wildcat UIL competitor, was recognized for the "hard work and abilities" which "enabled her to achieve a third place standing from a field of 400 entries and receive the bronze medal for her participation in the Barbara Jordan Historical Essay Competition," on May 3.
Newsom urged "all citizens of Hopkins County to join in the worthy acknowledgment of the accomplishment of Breana Wooten in the academic category known as the Barbara Jordan Historical Essay Competition." Wooten also was unable to attend Monday's court session.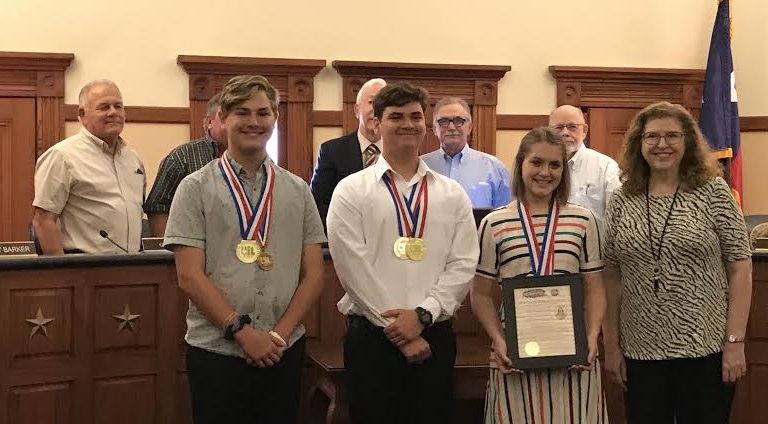 Hopkins County Commissioner Court also recognized three Miller Grove students for their athletic prowess in cross country and track events.
Miller Grove High's Jorja Bessonett was noted "in the initial straightaway of the 3200-meter run," to have taken lead to expand her advance throughout the competition at the UIL State Track Meet held at Mike Myers Stadium of Austin." Bessonett went shatter state meet record in the Class 1A 3200-meter run with a time of 11:19.92, naming the sophomore as the Class 1A State Champion for the Miller Grove Hornets.
Bessonett also crossed the finish line of the 1600-meter race with a time of 5:23.71, to earn a silver medal.'
Newsom Monday encouraged "all citizens of Hopkins County to applaud Jorja Bessonett for her extraordinary achievements which enabled her to receive a record-breaking championship title along a personal record earning her a strong second place while expressing a competitive spirit at the UIL State Track Meet of 2019."
Kobe Robertson, a Miller Grove Independent School District sophomore, "triggered a burst of perseverance and stamina in the final 25 meters to supersede his opponent and to finished with a time of 4:3o.23," in the 1600-meter track event of the UIL State Track and Field Meet held at Mike Myers Stadium of Austin May 10.
"The diligence, determination and commitment has earned Kobe a Texas state championship in the 2019 UIL 1600-meter race," Newsom noted. He then encouraged "all citizens in Hopkins County to heartily congratulate Kobe Robertson, acknowledging his competitive excellence in achieving a gold medal victory in the UIL Class 1A 1600-meter track event."
Miller Grove Hornet Isaiah Billingsley too was lauded for his "steadfast commitment to unshakable endurance," which not only enabled him to "persevere and earn a well-deserved second place on the podium with a time of 9:49.45 just 0.25 seconds short of the gold." The silver medalist's outstanding performance also set at new Miller Grove ISD record time for the 3200-meter event.
Newsom requestes "that all citizens of Hopkins County honorably commend Isaiah Billingsley for his determination and outstanding effort in striving to reach his goal and finishing strong in the UIL Class 1A 3200-meter track event."
Gary Billingsley was recognized as the coach for this group; Newsom noted the coach had the team running all summer and year round to remain in top condition for these events. The coach said he currently has the students running 30-50 miles already.
"We are honoring them for things that occurred last spring. They are already looking forward. We look forward to hearing more from Sulphur Springs academic and Miller Grove track and field competitors later this year. Congratulations again," Newsom said.