Does thinking about the 1980s, make you nostalgic for all of the wild colors and prints, not to mention the big hair and cassette tapes? Or maybe you're too young to remember the 1980s, but really enjoy the rad music? Are you a supporter of the fine arts in schools?
You are exactly the ones the SSISD Strings Booster Club is looking for this Saturday evening as they host a Springs Fling on Celebration Plaza, featuring the sounds of the '80s performed by the Sulphur Springs Independent School District Strings Program.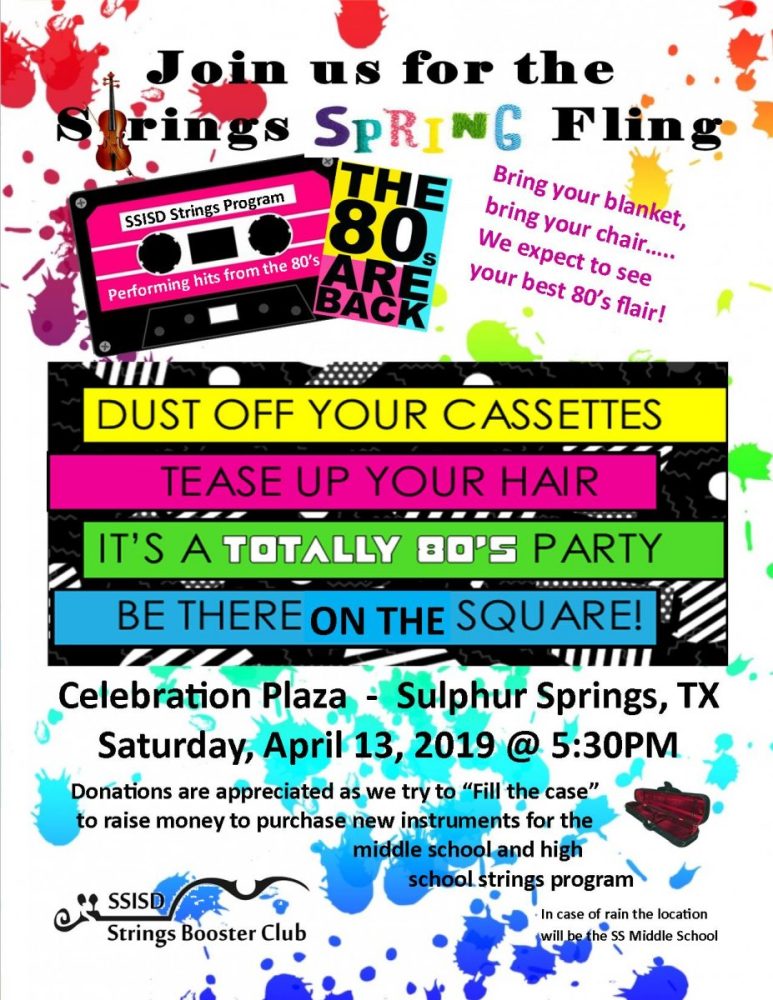 All are invited to bring a chair or blanket to sit on, show your best 80s flair and tease up their hair for a Totally 80s Party on the square starting at 5:30 pm. April 13. In the event of rain, the celebration would be moved inside Sulphur Springs Middle School. This will be the strings students' spring concert, where the those enrolled in the orchestra program (52 currently with growth anticipated) can show case their skills, which earned all first and second division ratings at UIL competition recently.
"After an evaluation of the current school-owned instruments we have discovered that the condition, approximate age and repairs needed are substantial. To keep our program strong and to continue to provide the same opportunities to all students we are reaching out to our local community for financial contributions. The goal of the SSISD Strings Booster Club is to raise $25,000 to purchase new instruments for the use of our talented student musicians," the booster club wrote in a letter to local businesses.
Donations to help "fill the case" will be accepted during the event to help raise funds to purchase of new instruments for SSMS and High School Strings Program. While any donation is welcome, SSISD Strings Booster Club also welcomes instrument sponsors or memorial donations as well. A bass costs $1,000, a cello $800, and viola and violin $500 each. Overall, the club has set at goal of $25,000 to purchase new instruments for these young musicians.
For more information,send an email to [email protected] or visit www.facebook.com/SSISDSBC.