Nine career and technical education students from Sulphur Springs High School strongly represented SSHS in their respective events at the Business Professionals of America 2019 State Leadership Conference Wednesday-Saturday, March 6-9, at the Sheraton in Dallas.
One student is advancing to the BPA National Leadership Conference May 1-5, another will run for a state officer position and two students were also named as alternates for the national convention, SSHS Career and Technology Education Director Jenny Arledge reported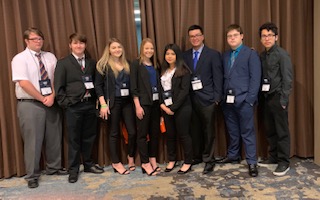 Genesis Zamora won fourth place in business law and ethics, qualifying her to compete in Anaheim, California at the national conference in May.
Recognized as a national officer candidate is Emily Atkinson.
Makayla Pullen and Christian Yanez have been designated as alternates for nationals, Pullen after placing four thin administrative support research and Christian Yanez after placing seventh in graphic design promotion.
Also recognized for their participation in the state conference were: Emily Atkinson, in administrative support research; Brayden Fisher, C++ programming; Jaci Glenn , medical office procedures; David Grinnan, advanced word processing; Dakota Soles, PC servicing and troubleshooting; and Daniel Soto, payroll accounting.
Business Professionals of America is a national organization for high school, college, and middle school students preparing for careers in business and information technology. The organization's activities and programs complement classroom instruction by giving students practical experience through application of the skills learned at school. BPA acts as a cohesive agent in the nationwide networking of education and business and industry. BPA is contributing to the preparation of a world-class workforce through the advancement of leadership, citizenship, academic and technological skills. Today's students. Tomorrow's business professionals