Wildcats Soccer Coach Alexi Upton Has Healthy Respect for Powerful Greenville Lions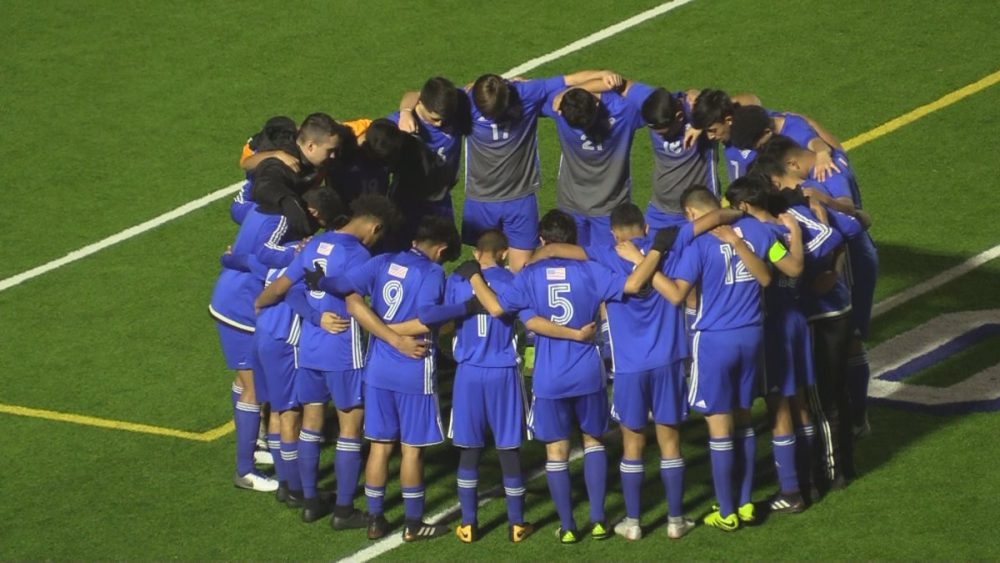 After the senior-laden Greenville Lions defeated the Wildcats, 5-1 in the district opener for both teams at Gerald Prim Stadium Tuesday night (February 12), Wildcats Soccer Coach Alexi Upton called the Lions incredible and out of this world. Coach Upton noted that top Lions' goal scorer Ian Miller would be playing college soccer at Furman. Miller had a three-goal hat trick Tuesday against the Wildcats. Coach Upton called Miller something else and phenomenal. He said the Wildcats would need to change some things when they play Greenville again. Coach Upton said the Wildcats would have to be more defensive minded and eliminate some of the mistakes they made Tuesday. Coach Upton also said Lions midfielder Payton Franklin was a phenomenal player. He said Kevin Zavala and Kevin Jasso work well up top with Miller. Jasso scored the first Greenville goal Tuesday. All of Greenville's varsity players are seniors except for their freshman goalkeeper Greg Just. Daniel Moreno scored the Wildcats lone goal. Coach Upton said he put Moreno in because he is physical and aggressive. He said the Wildcats need to bounce back Friday night at home against Lindale. Coach Upton called it a must win. Lindale is 1-0 in district play. They edged past Royse City at home, 3-2 on Tuesday.
Lady Cats Soccer Coach Joel Bailey Said Greatly Improved Greenville Team Bested Them Tuesday
Lady Cats Soccer Coach Joel Bailey said it was a much improved Greenville team that defeated the Lady Cats, 3-0 at Greenville Tuesday night (February 12). He said the Lady Lions had players who did well passing and moving the ball around, counterattacking and transitioning from attack to defense and from defense to attack. Still the score was 0-0 at halftime and Coach Bailey said each team seemed to have the ball half the time and each also had scoring opportunities. He said the Lady Lions scored a goal in the second half. Coach Bailey called it an innocent looking shot that found the net. A second and third goal followed and Coach Bailey said the Lady Cats made some mistakes and Greenville capitalized on them. He called it a tough loss adding the Lady Cats have been successful against them recently. Coach Bailey said the Lady Lions earned the win Tuesday night. The Lady Cats play Lindale Friday night at 7 p.m. Lindale is 0-1 in district play after an 8-0 loss at Royse City Tuesday. Coach Bailey called the Lady Bulldogs one of the district's teams to beat along with Mount Pleasant. Lindale's field is undergoing renovation so the Lady Cats and Lady Eagles match will be played at the Pat Hartley Complex at Tyler Junior College.