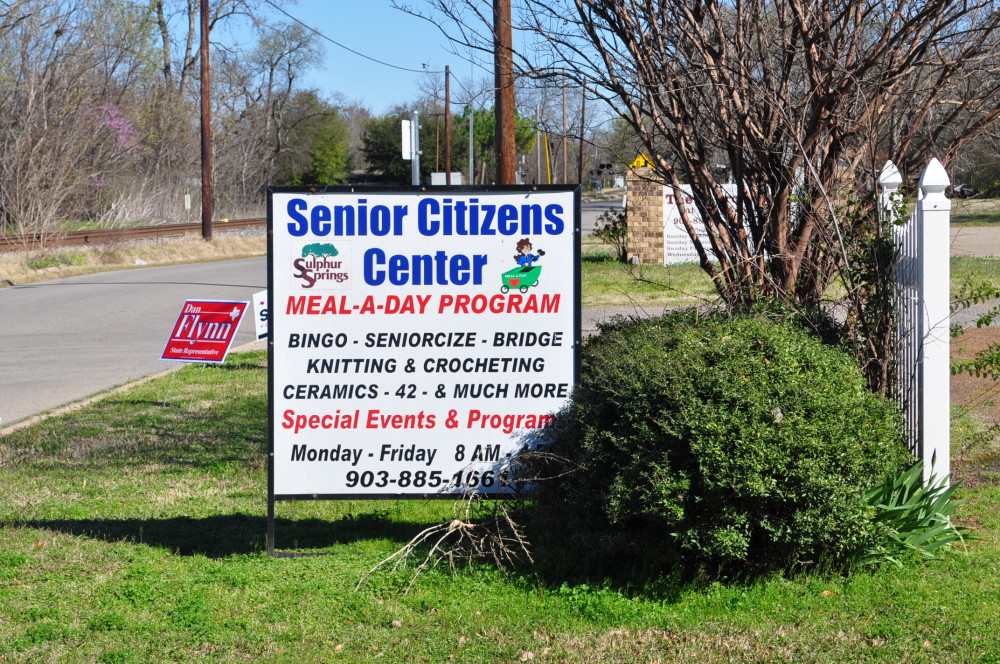 The senior citizen's center is trying to find Sponsors for the BACKS of the A Walk To Remember T-shirts.  With this $ 50.00 Sponsorship you will have your Company Name and Phone Number on the Backs of all the 200 A Walk To Remember T-shirts. You will also be able to set up a Booth at the BIG Walk on Thursday, October 4th at 6:00 PM at the CHRISTUS Mother Frances Hospital in Sulphur Springs.   Registration for the Walk is $ 20.00 and each person that registers gets a T-Shirt to wear.   On the Bottom of this email is a list of all of the MINI Walks prior to the BIG Walk.  These T-Shirts will be worn at all of the Mini Walks, too.    You are welcome to participate in any of the Mini Walks as you want.    I am sure that all of the Facilities would love you being there to support them.   If you would like to have your Name on the T-Shirt please call me let me know ASAP.  If you can't bring in your $ 50.00 Check or Cash Tammi Reardon, Terrific Tuesedays, Director will drop by your place and pick it up.  Just call her at:  (760) 580-2379.   All of the Funds from the "A Walk To Remember" go to Fund Terrific Tuesdays.    Our goal each year is $ 10,000.00.  There is a Spirit Award given out to the Facility that raises the most money each year.  We have a Perpetual Plaque that we put the winners name on and they get to keep the plaque hanging in their Facility all year.   Here is the Mini Walk Schedule:  
Tuesday, September 18th – Terrific Tuesday -10:00 AM
Wednesday, September 19th – Wesley House – 10:00 AM
Thursday, September 20th – Sunny Springs – 10:00 AM
Friday, September 21st – Sulphur Springs Health and Rehab – 10:30 AM
Monday, September 24th Open Date 
Tuesday, September 25th –  Senior Citizen Center – 9:30 AM
Wednesday, September 26th – Hopkins Place Assisted Living – 2:30 PM
Thursday, September 27th Open Date  Friday, September 28th Rock Creek 10:30 AM   Thursday, October 4th BIG WALK 6:00 PM    Below is the  Walk Flyer and a Registration Form. Feel Free to make copies to pass out.   We need all the participation that we can get.