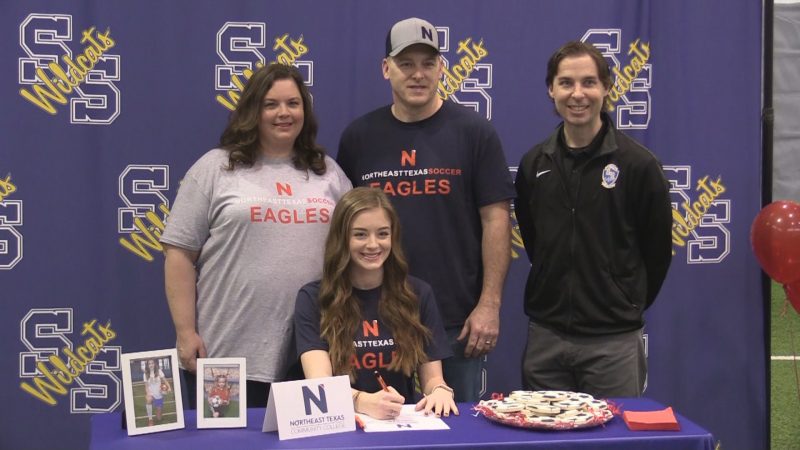 Gracie Boyer, a member of the Lady Cats' soccer varsity for four years, signed a letter of intent Tuesday morning to play college soccer at Northeast Texas Community College in Mount Pleasant. Boyer said she made initial contact with NETCC through their website.
She said the coach called a couple of days later and invited her to a practice. Boyer said she did that and she said the coach liked what he saw. Boyer said the campus is located out in the country near Mount Pleasant. She said it reminded her of home. Boyer said she watched a NETCC game last fall against Paris Junior College and she said the NETCC Eagles won by a good margin. She said NETCC wants her to play outside forward. It's her current position for the Lady Cats and Boyer called it her favorite position.
Boyer said she is undecided on a college major but she said she is considering a business degree. She said she expects to compete for a spot on the team. Boyer said the coaches need to fill an outside forward position. Boyer seems to be improving as a goal scorer. She has 14 goals this season. That's her most ever for a season.
Boyer said it was one of her goals to play college soccer. She has been playing since she was 4 years old. Lady Cats Coach Joel Bailey said he is very proud of Boyer. He noted that she is the fourth Lady Cat to sign to play college soccer. Coach Bailey said the signings send positive signals to younger players. Coach Bailey said Boyer is good with both her feet. He cited her leadership. Coach Bailey said she is experienced and has technical abilities.