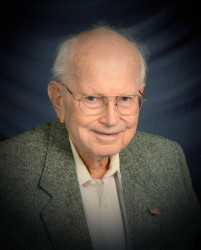 Mr. Olan W. Dykes, age 90 of Winnsboro, passed away on Friday, January 1st, 2016 in Winnsboro. He was born on May 24th,1925 in Winnsboro to the late Malcolm Dykes and Nellie Winchester Dykes. Olan served honorably in the U.S. Navy during World War II, upon returning home, he married the former, Juanita Bullard. He retired as a Salesman and Division Manager for Sears in Arlington after 40 years, he was a member and deacon at Walnut Street Baptist Church. He was preceded in death by his parents; brothers, Curtis, Weldon and Jerry Dykes; sisters, Lula Mae Albright, Lorena Green, Lollie McMullen, Carrie King, and Mable Mayo. He is survived by his loving wife of 68 years, Mrs. Juanita Dykes of Winnsboro; son Kevin Dykes and fiance Rebecca Jimenez of Arlington; daughter, Deena Brand and husband Steve of Tyler; three grandchildren, Sarah Brand, Brandon Dykes, Matthew Dykes.
Visitation will be held on Saturday, January 2nd, 2016 from 6:00 pm to 8:00 pm at Beaty Funeral Home-Winnsboro. Funeral Services will be held on Sunday, January 3rd, 2016 at Beaty Funeral Home at 2:00 pm , Bro. David Taylor and Rev. Wayne Johnson officiating, interment will follow at Smyrna Cemetery in Winnsboro , with Dwayne Mayo, Garland Dykes, Norvell King, Joe Glenn Dykes, Q.J. Smith, Clem Measures, Alt-Norman Green, Alt-Steve Brand serving as pallbearers.
Honorary pallbearers – Brandon Dykes, Matthew Dykes, Past and Present Walnut Street Baptist Church Deacons.