An early morning three alarm fire at Brian Toliver Ford, 1040 Gilmer Street destroyed the service department and did at least 80% damage to the showroom and office area. Fire Chief Eric Hill said all city fire stations and five rural volunteer fire departments responded placing approximately 35 firemen into the fight. When firemen first arrived, the blaze was at least 30-minutes to an hour old forcing a defensive stance for the first five firemen who responded. 
Explosions in the service area caused by gas tanks on autos and other flammable materials created even more difficulty for those who responded. The fire will  be investigated by local Fire Marshalls with assistance from ATF. The state Fire Marshall's office may also be called in depending on preliminary findings.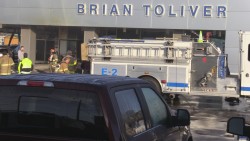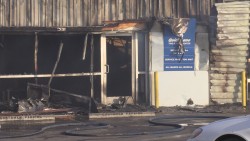 Stretching the fire hoses from fire hydrant across Gilmer Street created a detour for traffic and later a slowdown as service trucks, fire trucks, Sheriff's Deputies and emergency vehicles worked the scene.