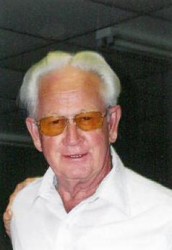 Funeral Services for A. Bearl Clark, age 92 of Sulphur Springs, will be conducted at 2:00 p.m., Sunday, January 17, 2016 at Davis Street Baptist Church with Rev. Tommy Hall and Al Davis officiating.  Visitation will be held from 5:00 – 7:00 p.m., on Saturday, January 16, 2016 at Murray-Orwosky Funeral Home.  Interment will follow at Rock Hill Cemetery in Yantis, with Matt Clark, Sam Clark, Ray David Grimes, Glenn Dixon, Rodney Bird, and Nick Theisburg serving as pallbearers.
Bearl Clark passed away on January 13, 2016. He was born January 10, 1923 in Van, to Preston and Delia Clark.  He married Jimmie N. Willis on September 22, 2000 in Emory.
He moved to Sulphur Springs in 1980.  Mr. Clark served in WWII, retired from Ford Motor Company and was a member of the Davis Street Baptist Church. He loved working with flowers, gardening and building his own workshop.
Survivors include his wife, Jimmie N. Clark; son, Glen Alford and wife, Susie; son, Gaylon Clark and wife, Rita; son, Ken Clark and wife, Deborah; step-son, Ronnie Willis and wife, Michelle; twelve grandchildren; nine great-grandchildren and numerous nieces and nephews.
He was preceded in death by his parents; former wife, Elva; daughter, Carolyn; three sisters and three brothers.
Arrangements are under the direction of Murray-Orwosky Funeral Home.