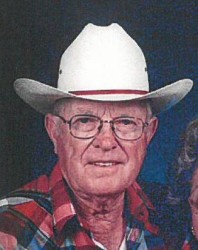 Funeral service for Thomas "Red" Childers, age 90, of Emory, will be held at
2:00 pm
,
Wednesday
, Dec..16, 2015, at Wilson-Orwosky Funeral Home Chapel.  Bro. Billy Smith will officiate. Visitation will precede the service, at
1:00 pm
. A private burial will be at Pilgrims Rest #1 Cemetery. Mr. Childers died
Sunday
morning at Senior Suite Care and Rehab.
He was born June 19, 1925, Emory, to Henry Hedrain and Sarah Rebecca Stephens Childers. Mr. Childers worked in aircraft manufacturing at LTV, now L-3, for many years. He was a cattleman, and pig farmer.  He ran numerous head of cattle in his operation. He married Betty Adair in Emory. Serving as pallbearers will be:  Josh Duncan, Billy Childers, Lynn Gilbreath, Brendan Gilbreath, David Gaston, and, Rob Killingsworth.
Survivors  include:  Brother:  Jimmy Childers of Whitewright;
Sister:  Ruby Williams of Leonard
Special friends:  Gary and Delores McAree
3 Grandchildren:  Lynn Gilbreath, Brendan Gilbreath, and Miranda Gotcher
2 Great-grandchildren
Numerous other loving family and friends
Preceded in death by:  parents, wife, 1 step-son, Melvin Gilbreath;
2 brothers, Albert Childers, and Bufferd Childers; and
1 sister, Ruth Bradford