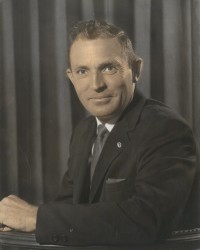 Funeral services for Cleo Tolleson, age 93 of Sulphur Springs, will be held at 10:00 a.m., Wednesday, December 9, 2015 at Murray-Orwosky Funeral Home with Rev. Tommy Johnston officiating.  Interment will military honors will follow at Restlawn Memorial Park.  Serving as pallbearers are Mack Phillips, Kenneth Goggans, David Kelly, Mike Heard, Charles Cromer and Brad Morris.  Honorary pallbearers are Jim Morris and Loren Sealey.  Visitation will be held from 6:00 – 8:00 p.m. on Tuesday, December 8, 2015 at Murray-Orwosky Funeral Home.
Cleo passed away on Monday, December 7, 2015 at Hopkins County Memorial Hospital.  He served in the U.S. Marines during World War II, was a member of the Oddfellow Lodge and then retired from the Carnation Milk Plant and Yellow Freight in Dallas.
He was born on December 28, 1921, the son of R.H. "Hobb" & Carry (Davis) Tolleson in the Ridgeway Community.  He married Argieree Heard on May 29, 1947 in Yantis.  She survives.
Other survivors include his daughter, Sue Keith and husband, Larry of Como; son, Brian Tolleson and wife, Ambie of Sulphur Springs; grandchildren, Robert Tolleson, Teresa Tolleson, Michael Tolleson, Lesli Davis, Lanny Keith, Branson Ledbetter and Courtney Tolleson; six great-grandchildren; brother, Richard Tolleson of Sulphur Springs and sisters, Dorothy Parker of Houston and Laverne Ford of Dallas.
He was preceded in death by his parents; one son, Robert Tolleson, one brother, James Tolleson and one sister, Patsy Burton.
Memorials can be made to the Sulphur Springs Veterans Memorial on the square.