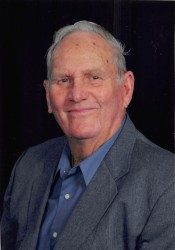 Funeral services for Billy Jack Allen, 83, of Sulphur Springs will be held at 10 a.m., Thursday, December 10, 2015 at West Oaks Funeral home with Rev.  Kenneth Rhoades, Rev.  Bruce Stinson and Rev. Tommy Burton officiating.   Interment will follow at Richland Cemetery with his grandsons serving as pallbearers. His honorary pallbearers will by Gerald and Sherri Walters, Billie Jean and Nancy Davidson, and his Sunday School Class at Central Baptist Church.  Visitation will be from 5 p.m. to 8 p.m.   Wednesday, December 9, 2015 at West Oaks Funeral home.   Mr. Allen passed away in his home on Monday, December 07, 2015 after a brief illness.
He was born on May 8, 1932 in Sulphur Springs, the son of O.D. and Una Faye Palmer Allen.  He was a graduate of Sulphur Springs High School in 1950. After graduation he worked in his father's family farm.  Mr. Allen served in the US Army in the Korean War.  He married Roxie Joy Cobb on June 3, 1957 in Hugo, OK. and started in the dairy business in November of 1958.  Mr. Allen was a well-known registered Holstein dairyman.  During his 43 years as a dairyman, he received numerous awards for his accomplishments and served on numerous board of directors related to the dairy industry. He received Holstein Association Progressive Breeder of the year for the years 1977 through 1988.  In 1979, he was honored by the chamber of commerce as the Hopkins County Farmer of the year.  After retirement, his favorite activities included attending Central Baptist Church where he was a member. He loved making angle food cakes for his family and friends, he was the State Homemade Ice Cream Champion for several years and loved spending time with his great-grandchildren on the farm.
He is survived by his wife of 58 years, Roxie Joy Cobb Allen and two sons and one daughter: Laura Burton and her husband Tommy of Troup, Robert Allen and wife Kathy of Combine, and Bill Allen of College Station, and daughter-in-law Chris Allen of Sulphur Springs. His grandchildren include James Allen, Richard Allen, and Christopher Allen, all of Sulphur Springs.  Mandy Burton of Ft. Worth , Sandy Burton of Texarkana, John Earl Burton of Mount Pleasant, and Anna Faye Craig and husband, Matt of Mount Pleasant. Colte McCorkle of Mineola, Connor McCorkle of Lewisville, Skyler Holley and wife Delane of Kaufman and Shana Lane and husband Eric of Flower mound. He also has great grandchildren Bailey, Machelle, Kyleigh, Kyrsten, Maci, Phoebe, Enoch,  Joni, and Sam.
Other survivors include a brother, Buddy Ray Allen and his wife Patricia of Houston and sister-in-law Kay John Plath of Tyler. He was preceded in death by his parents, O.D. and Una Faye Allen, one son, Jimmy Don Allen, and brother, Bobby Joe Allen.
In lieu of flowers, memorials can be made to the children's center at, Central Baptist Church at 840 Connally Street, Sulphur Springs, Texas;  Cypress Basin Hospice, 950 Main Street Sulphur Springs, TX, and Richland Cemetery C/O Joann Cross, 4553 FM 1563, Wolf City, Texas  75496.
Arrangements are under the direction of West Oaks Funeral Home.