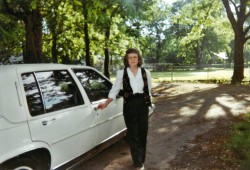 Funeral services for Patsy Mayhugh, age 79 of Sulphur Springs, will be held at 11:00 a.m., Wednesday, November 11, 2015 at Fellowship Baptist Church in Campbell with Rev. Jon Nesbitt officiating.  Interment will follow at North Hopkins Cemetery.  There will be no formal visitation.
Patsy was born on December 27, 1935 in Wellington, the daughter of Thomas Harden and Thelma Laura (White) Doebner.  She was a retired manager trainee for Toot-N-Totum convenience stores.  She was a member of the Fellowship Baptist Church.
She is survived by her daughters, Linda Kay Ramsey and husband, Joe of Jacksonville and Lyniece Ann Nesbitt and husband, Jon of Sulphur Springs; brother, Thomas Harden Doebner II and wife, Barbara of Buda; grandchildren, William Richard "Ric" Brooks and wife, Jamie; Michael D'Wayne Brooks and wife, Megan, Amber Lee Brown and husband, Tim, Rebecca "Becca" Ann Kincade and husband, Chris; great-grandchildren, Savannah Brooks, Lacy Brown, Mason Brooks, Aiden Brooks, Landon Kincade, Karson Brooks, Tristen Kincade, Presli Brooks and Harper Kincade.
She was preceded in death by her parents and daughter, Louella Sue McIntyre.
Memorials can be made to The Gideons International, PO Box 140800, Nashville, TN 37214-0800 or www.gideons.org.