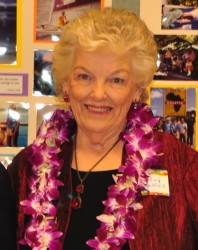 Patsy Paul Flippin Bradford, age 85 of Sulphur Springs, joined her husband and family in Heaven on November 6, 2015. She was a lifelong resident of Sulphur Springs, Texas, born August 7, 1930, to Paul & Merle Anglin Flippin. She was a 1947 graduate of SSHS and then attended Draughan's Business College in Dallas before becoming a secretary in Howard Smith's law office located above J.C. Penney on the downtown square. Down the hall was KSST and its new manager, W.E. (Bill) Bradford. Divine Intervention. They married on his birthday, November 5th, 1950, in Sulphur Springs; he preceded her in death on December 9, 2013, following 63 years of marriage. She was the bookkeeper and co-owner of KSST, but her priority was being a mom. She loved her church children and has either taught Sunday School lessons to/changed the diapers of a majority of the kids in Sulphur Springs.
Patsy is survived by a son & daughter-in-law, Mark & DeAnne Bradford of Bedford, and two daughters & sons-in-law, Kerry & Allan Gillan of Plano and Kelly & Dwayne Grimes of Sulphur Springs; three grandchildren, Andy Bradford & wife Jenna, Julianne Bradford, and Kerry Lyn Grimes; and great-grandchildren Conner & Tori; her brother & sister-in-law, Rex & Shirley Flippin of Sulphur Springs; niece Rexanne McCauley of Lafayette, Indiana, and nephew Tony Flippin & wife Beckey of Sulphur Springs; grandniece Sara Mellady & grandnephews, Matt McCauley, Toby Flippin and Josh Flippin. She also leaves behind Chad & Rhonda Young & her beloved KSST family and her Sunday School Class, Shepherding 4 of First Baptist Church.
A funeral service will be held 10:00am Monday in Spence Chapel of First Baptist Church followed by a graveside service in City Cemetery. Visitation will be from 5:00 to 7:00pm on Sunday at West Oaks Funeral Home. In lieu of flowers, the family has requested memorials be made to First Baptist Church, 116 Oak Avenue, Sulphur Springs, Texas 75482. West Oaks Funeral Home is in charge of arrangements.