Robert Bruce (Bruce) Alsobrook, 63, of Paris, TX, passed away on September 1st after battling multiple health issues for several years.
He was born January 27th, 1960, to Bob and Jackie Alsobrook, of Paris, TX. After graduating from North Lamar High School in 1979, he went on to study at East Texas State University, now Texas A&M Commerce, earning a Bachelor of Journalism in 1989.
He married Elizabeth (Beth) Blanton in November 1990, and seven years later, the couple adopted three children, Robert Wayne, Daniel Keith, and Laura Ruth Alsobrook. Bruce and Beth's marriage lasted 31 years until her death in January 2022.
Bruce worked his entire life, starting with the family's paper, the Paris Shopper, during his junior high years, a local print shop, and the Paris News.  After he obtained his degree in journalism, he began working as a reporter for the Sulphur Springs News-Telegram, was promoted to managing editor in 2001 and later became the editor of the Town & Country magazine.
In 2020 his health began deteriorating, and he began doing delivery work for a pharmaceutical company before becoming too ill to continue.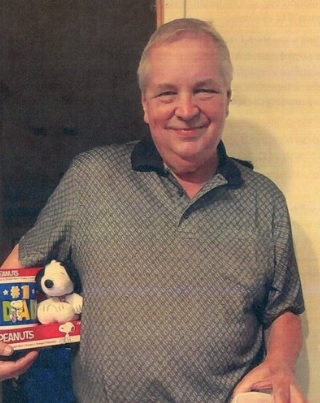 Bruce had a brilliant mind and a wonderful sense of humor. His editorial articles were laugh out loud funny, and hiswritings earned several Associated Press awards, including the prestigious Freedom of Information Award for investigative journalism. He loved movies and punk rock, was unfailingly supportive of others, especially his children, and always provided a sympathetic and understanding ear to anyone needing to be heard. He was generous, thoughtful, objective, kind-hearted and easy-going.
Bruce was preceded in death by his parents and his wife. He is survived by his sisters, Ruth Ann Alsobrook of Paris, Susan Kennedy of Dallas, his three children and his three grandchildren, Chasen Alsobrook of Sulphur Springs, VioletRose of Sulphur Springs, and Avery Alsobrook of Florence, SC.
A private graveside service will be scheduled in the upcoming days. In lieu of flowers, please consider a donation to help with the costs of Bruce's funeral at the GoFundMe site organized by his daughter, Laura Alsobrook: Click here for GoFundMe link.
---