August 28, 2023 – Do you say "Corn Dog" or "Corny Dog"? Order it either way at this year's State Fair of Texas and you won't be turned away from the Fletcher's concession stand. The correct term although for the State Fair mainstay is actually "Corny Dog". An annual must-have since 1942 for lots of fairgoers, although there are plenty of other options around the State Fair grounds.
On Sunday, August 27th, the 2023 Big Tex Choice Awards were announced. Winners were announced in three awards – Most Creative, Most Taste: Sweet and Most Taste: Savory – with five nominees in each of the sweet and savory categories.
The winners were as follows: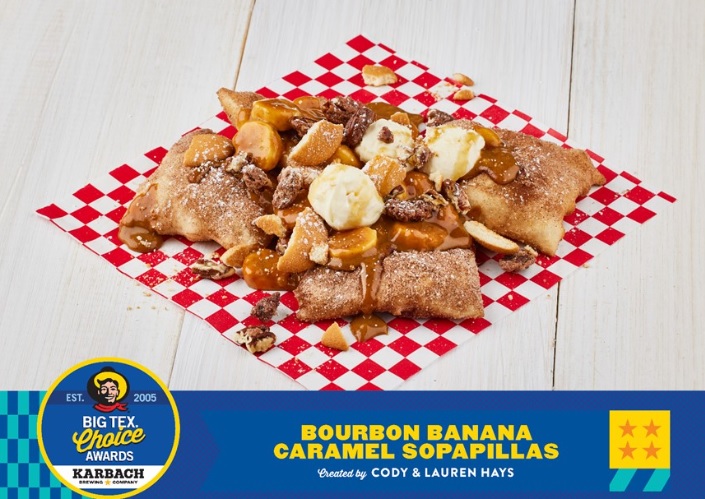 Most Creative: Bourbon Banana Caramel Sopapillas, Cody & Lauren Hays
Hot and delicious traditional sopapillas topped with vanilla-caramel-infused bananas, sweet bourbon syrup, crushed candied pecans, sweetened mascarpone cheese, crumbled Nilla Wafers, and dusted with powdered sugar.
Most Taste – Savory: Deep Fried Pho, Michelle Le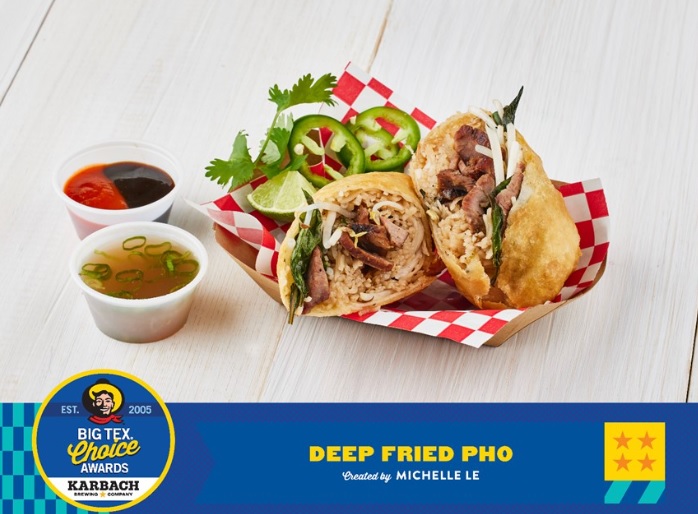 Bringing a southern flare to this popular traditional Vietnamese comfort food that is both rich and savory. Deep Fired Pho is handcrafted, rolled up, and deep-fried Texas style! This unique combination creates a perfect balance between flavorful and refreshing. With every bite, you get a harmonious and succulent mouthful of noodles, slices of beef, fresh herbs, bean sprouts, and a taste of aromatic pho broth that has been slowly simmered for hours. To tie this experience together, it is served with a side of pho broth for dipping, lime, jalapeños, cilantro, hoisin sauce, and sriracha for a spicy, fiery kick!
Most Taste – Sweet: Biscoff® Delight, Stephen El Gidi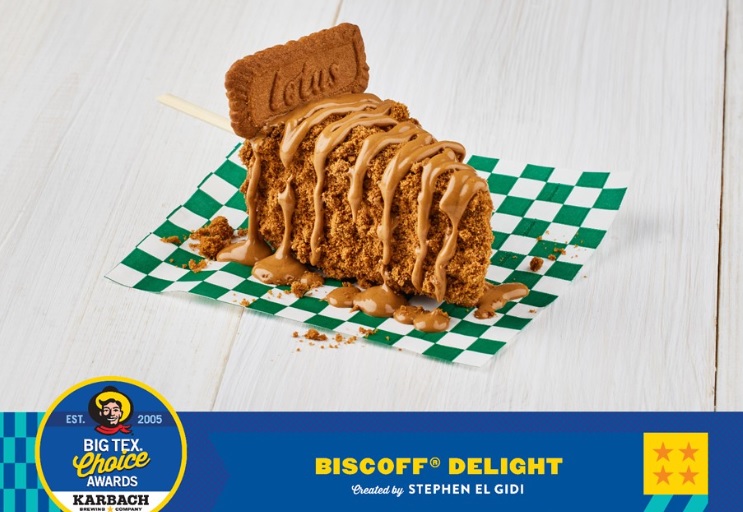 Immerse yourself in the realm of a classic New York-style cheesecake coated with Belgian chocolate. Each bite reveals the symphony of an outer layer adorned with crushed Biscoff® cookies, offering a delightful crunch. To elevate this edible artwork, a drizzle of Lotus Biscoff® spread cascades gracefully, imparting a caramelized touch. Finally, a crowning glory is bestowed upon this culinary marvel with a perfectly placed Biscoff® cookie that entices you to embrace pure indulgence.
You may have explore the Fair Park grounds to taste all of this year's winners and certainly all of the finalists. As for me, I will be enjoying a corny dog, with mustard, just one of the half million corny dogs Fletcher's will sell during this year's State Fair of Texas.