The B-24 Liberator known as 'Aire Lobo' was lost over the oil refineries in Ploesti, Romania. "Aire Lobo" was shot down during Operation Tidal Wave. The entire crew of ten men were killed in the August 1, 1943 battle. The refineries were the most heavily defended Axis target outside the Third Reich.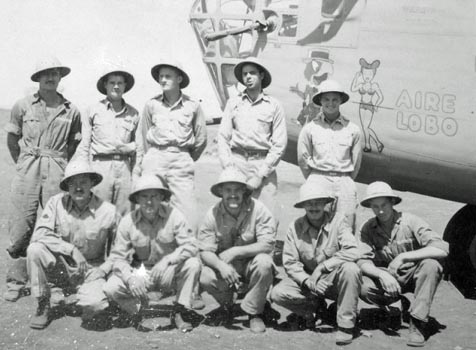 The aircraft took flak damage prior to releasing her bombs. Further damage was inflicted to the cockpit area after the payload was delivered. It is believed she hit the ground with the left wing first.
The bombing mission was intended to destroy 'Hitler's Gas Station'. It was the last 'low level' bombing missions ever attempted on the Germans. At altitudes as low as 50 feet, the bombers were easy targets for the German and Romanian forces. Many factors attributed to the heavy losses that day. After reports of the loss of airmen lives were evaluated, it was referred to as 'Black Sunday'.
Damage to the refineries was estimated to be around 45% of capacity, and probably returned to 100% within months. The huge risk to aviators was justified by the belief that destruction of the refineries would cripple the Fuhrer's efforts and save more lives by helping to end the war.