WINNSBORO, TX – In April 2023 the Northeast Texas Child Advocacy Center (NETCAC) will commemorate 25 years of service to nearly 11,000 children in northeast Texas who have been victims of child abuse. In conjunction with national Child Abuse Awareness Month in April, NETCAC will host a series of public events, co-hosted with community partner agencies, organizations, and elected officials to honor victims and celebrate their recovery and healing.
The first event will include a 25th Anniversary Open House and Celebration at the Winnsboro office with a dedication ceremony for the founding Board members and volunteers, facility tours, and light refreshments on Thursday, April 6, 2023, from 2:00 – 5:00 PM.
"The vision of our founding supporters made it possible to provide hope and healing for thousands of victims of child abuse," Executive Director Lauren Zastany said. "We welcome the community to join us to celebrate the many lives on which we have all made an impact and to honor those who made the dream of providing a place of healing a reality."
The public is invited to attend the Open House to show their support and learn how to get involved.
Located at 5920 N State Hwy 37, Winnsboro, TX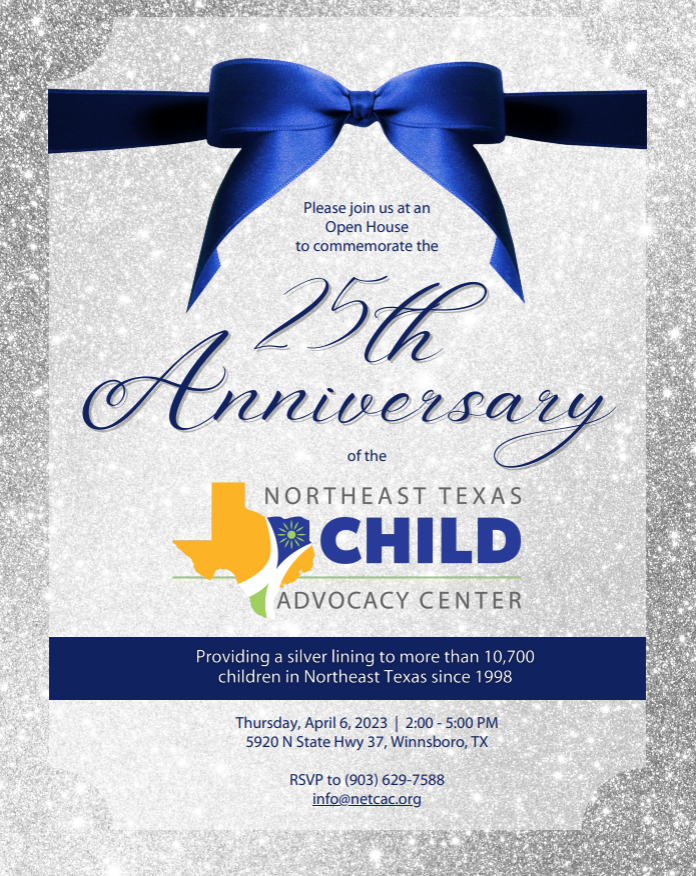 The mission of the Northeast Texas Child Advocacy Center to bring hope and healing to survivors while working together to break the cycle of child abuse.
NETCAC opened Winnsboro, Texas, in 1998 and is the only place for children ages 2-17 who have been victims of sexual abuse and physical abuse, or who have witnessed a violent crime or drug use in their home, to tell their experience to professionally- trained interviewers and advocates in a way that reduces trauma and begins the healing process.
NETCAC provides a safe, child-friendly environment where law enforcement, child protective services, prosecution, medical, and mental health professionals can share information and develop effective, coordinated strategies to meet the needs of each unique case and child.
NETCAC serves an eight-county area of northeast Texas including Camp, Delta, Franklin, Hopkins, Rains, Titus, Upshur and Wood counties. For more information, visit http://www.netcac.org.