April 28, 2023- TruVision Health LLC is recalling the dietary supplement products listed below because they contain the unapproved dietary ingredients hordenine and/or octodrine.
Hordenine is possibly unsafe when ingested orally and could cause several stimulating side effects such as rapid heart rate, high blood pressure, jitteriness, nervousness, nausea, vomiting or insomnia. These effects are more likely to occur in select groups of people, such as, pregnant women, and consumers with cardiovascular disease. Currently, hordenine is not an approved dietary ingredient in dietary supplements.
Octodrine or DMHA has been found to be similar in effects to another stimulant which has been removed from markets across several countries. In animal studies, octodrine has been found to increase heart rate, myocardial contractility, and pain threshold. currently there is no data on the effects of the stimulant on humans, seeing as how the data does not exist the use of this stimulant while exercising is very dangerous. DMHA is considered to be a substance that does not meet the statutory definition of a dietary ingredient and is an unsafe food additive.
You should stop using the recalled product(s) immediately.
Some consumers of these products have reported experiencing chest pain, chills, diarrhea, dizziness/lightheadedness, fatigue, headache, high blood pressure, high heart rate, jitters, nausea, nervousness, rash, stomach pain or upset, sweating and vomiting.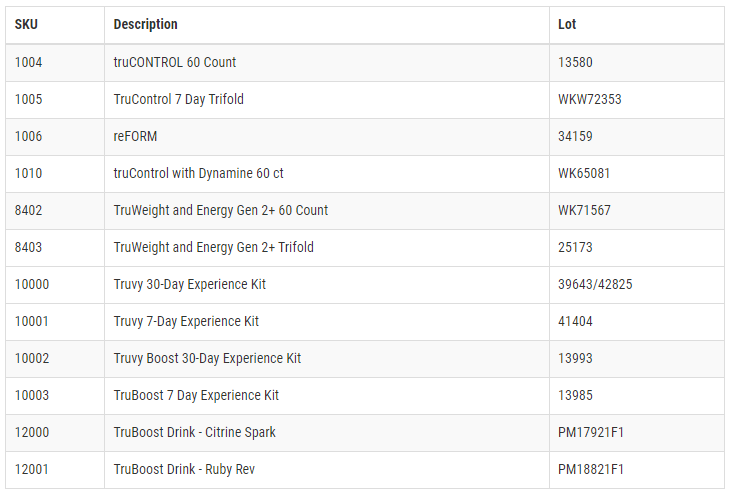 Consumers who have purchased these products should stop using them immediately and they are urged to return them to TruVision Health LLC for a full refund (return shipping is paid by the consumer), an exchange, or they may discard the product. Consumers with questions may contact Truvy Customer Support by calling (855) 213-8788, Monday-Friday from 7:00 am – 6:00 pm MDT.
This recall is being made with the knowledge of the Food and Drug Administration.