Sulphur Springs High School Wildcat Band members gathered around the courthouse steps this week to receive special recognition from Hopkins County Commissioners Court. Then, later that night, band leadership was also recognized by Sulphur Springs ISD Board of Trustees for the Wildcat Band's achievement at the state marching competition.

Sulphur Springs High School Wildcat Band gather for the reading of a proclamation recognizing them for placing fourth in the State Marching Contest.

Hopkins County Judge Robert Newsom presents SSISD Director of Bands Spencer Emmert with a frame copy of the proclamation signed by the Commissioners Court in recognition of the Wildcat Band for placing fourth at state.

SSHS Wildcat Band and instructors gather for a photo with Hopkins County Commissioners Court to commemorate the proclamation issued in their honor.
County Judge Robert at 10 a.m. Monday, Dec. 12, noted Nov. 9, 2022, was the first time in school history the SSHS Wildcat Band advanced to the State Marching Contest. Competing against 23 other bands, the Wildcats advanced from the preliminary round of competition to the finals. Overall, the SSHS Wildcat Band finished 4th among the top 10 bands competing at the state marching contest.
These results, Newsom read from the proclamation "show dedication, unity and the giving of their best." The county judge then appealed "to all citizens of Hopkins County to congratulate the great effort and success of the Sulphur Springs High School Band."
He presented a framed copy of the proclamation to Director of Bands Spencer Emmert, along with a photo of the Wildcat Band, which identifies each by name. Drum majors for the 2022 marching season included Jeremy Resendiz, Catherine Starzyk, Catherine De La Rosa and Lauren Maynard.
The 150 member strong band, with color guard, includes: Jakob Toland, Anaiya McGinnis, Jazmine Kelley, Logan McCain, Allan Tellez, Triniti Hill, Jocelin Garcia, Maria Garing, Celeste Hernandez, Melanie Ortega, Allece Johnson, Brooklynn Person, Charli Roden, Laney Bankston, Jaycie Arledge, Flor Gudino, Lisa Marin, Cadence Lester, Alma Abrego, Jessica Reed, Nataly Calderon, Makenna Jones, Jocelyne Yanez, Juan Santacruz; 2nd row standing: Daisy Nunez, Heidi Montoya, Asia Chen, Alexis Villarino, Adrian Escobedo, Janeth Rivera, David Verlander, Hannah Hughes, Evelyn Garcia, Sloan Biggerstaff, Avril Mireles, Kiersten McDonald; 3rd row standing: Juan Perez, Jencarlos Diosdado, Bryton Wies, Ronaldo Sanchez, Lucy McKenzie, Lakayla Taylor, Keira Clayton, Davin Ly, Dylan McKinney, Diego Perez, Mika Petty, Andrew Resendiz, Kate Hurley, Sara Voss, Valeria Garcia, Anna Petry, Miyani Frazier, Chase Maynard, Dixie Adams, Frances Yanez, Kayla Santana, Karmon Fitzgerald, Jadyn Allen, Kylee Anderson, Sadie Barnett, Carolina Alvarez, Landon Wies, Abbey Williams, Mattie McCord, Kami White, Yurem Guzman, Paige Batterton, McKenzie Hunter, Sienna Posey, Caroline Prickette, Jasmin Yanez, Clancy Mayo, Bernie Chavez, Rafael Flores, Andrew Galarza, Jackson Reed, Jonathan Pichardo, Keyla Herrera, Mason Maynard, Isaac Stanley, Conner Curtis, Grayson Wall, Cameron Davis, Jace Walton, Samuel Ramirez, Hannah Teer, Kyson Herriage, Isaac Riley, Cohen Elliott, Alexies De La Rosa, Justin Woods, Valentin Garcia, Matthew Brown, Alex Cortez, Josh Lopez, Charlie Bayless, Kannon Gibson, Wyatt Watson, Justin Chen, Peyton Willis, Jose Salas, Aydan Whittle, Brooks Burgin,Levi Caton, Austin Wantland, Ryan Mitchell; Back row: Aidyn Utt, Nathan Bilyeu, Ty Robinson, Anthony Small, Lucas Shirley, Paul Nowlin, Brody Emmert, Aubrey Williams, Alex King, Marcos Ramirez, Zach Clark, Trentin McKinney, Uriel Santacruz, Cameron Jefferson and McKenna Meskimen.
The proclamation was read on Celebration Plaza instead of in the Commissioners Courtroom during their regular 9 a.m. meeting Dec. 12 because of the courtroom isn't big enough to accommodate that many attendees.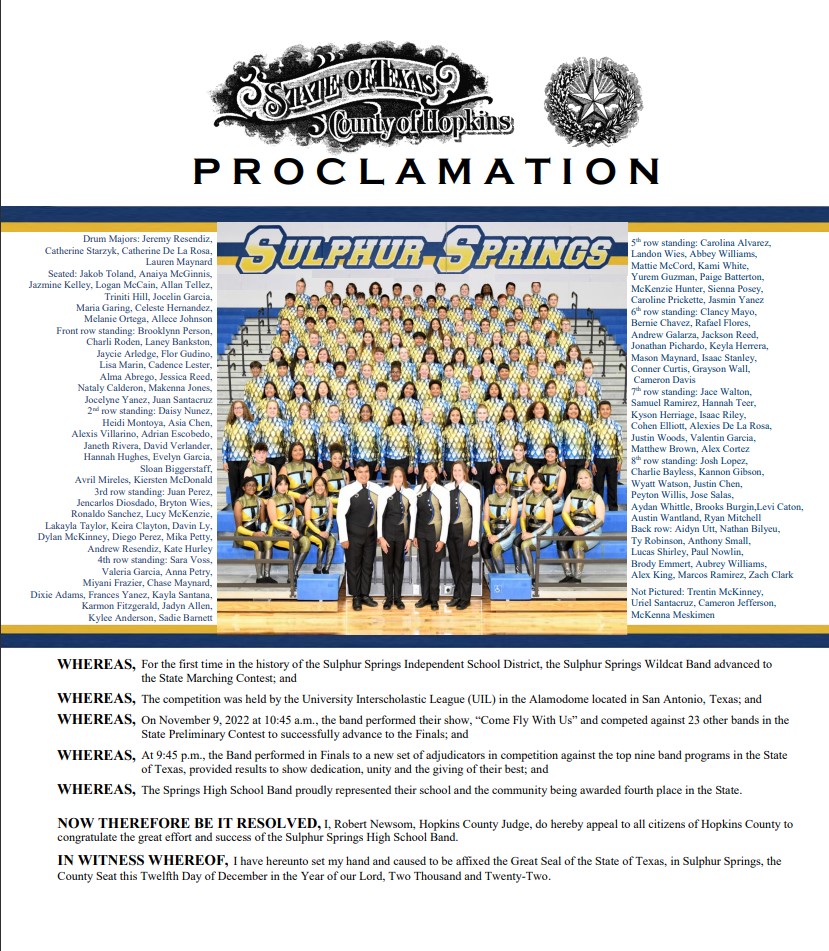 And, Hopkins County Commissioners Court wasn't the only group to honor the band on Monday. SSISD school board also invited band leadership to the regular Dec. 12 meeting to recognize the band for their history-making performance of "Come Fly With Me" at the state marching contest.
SSHS Trustee John Prickette had the honor of presenting a certificate of recognition to Emmert for the outstanding job he and his assistants did directing the band, about 150 great kids and the flag corps as well.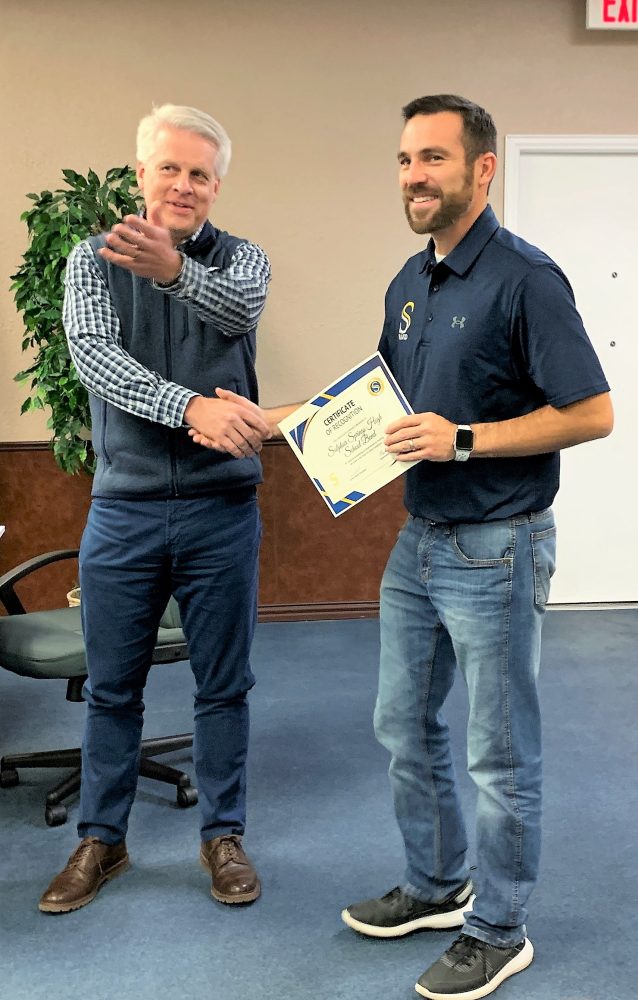 "On behalf of this board, we are extremely honored and proud to recognize the band for their accomplishments this year. Fourth place in state in 4A says a lot. It gives me goosebumps to say that this evening. So congratulations," Prickette said.
Emmert said after advancing to the state marching contest for the first time in school history, the SSISD Wildcat Band approached the contest with a goal of making the top 10. They "did an amazing job" which earned a fourth place state ranking, just one spot away from a medal. Next year, the marching band will strive to improve and earn a medal. For about 25 years, bands were only eligible to advance to state competition once every 2 years, a decision made by state superintendents. This year, the option to change that arose, and Superintendent Michael Lamb was on the committee that got to put to a vote the notion of keeping the marching band advancement rule the same or changing it so that bands who score high enough have the potential to advance to state marching competition every year. The superintendents voted in favor of giving top bands the potential to advance to state annual, provided they score high enough at lower level contests.
Lamb laughed, joking that vote was made before he realized how much it would cost to for bands to compete at state.
"We have felt such support and exciting momentum from our community. The kids have worked so hard for all of the work they have done to really have this opportunity to advance to state. And really, after this occurred, just outpouring of support from our community was amazing. The send offs and everything, the support of our trip itself, with help organizing and chaperoning, the financial support was absolutely amazing. It's not cheap to take 150 kids to San Antonio for several days, but it was amazing. The support of our school district and our administration is second to none," Emmert said. "We are so thankful to Mr. Lamb and the school board's support of our band program."
Emmert said he had 150 of the best kids in the band program, some who also have recently received recognition for their efforts in other academic, athletic, extracurricular and service areas.
"That's the interesting thing about band kids, they're pulled in other directions, because again we feel like they are some of the best kids in Texas. So every group wants those kids in their organizations. I think it's an amazing thing. We have some in just about every organization at Sulphur Springs High School represented. We've got state-level FFA officers. We've got varsity football players. We've got varsity basketball and volleyball players. We have drill team captains. We state-level academic champions, so we are really, really fortunate to get to see the students thrive in many ways. We feel like music, the things that music teaches are so beneficial. I know that Mr. Lamb and the school board agrees with us because we've felt that support," Emmert said. "That is not always the case across Texas and across this country. We certainly understand how lucky were are to teach here in Sulphur Springs and to go to school here in Sulphur Springs, to have this administration. But also, I'm extremely fortunate to have the staff and students that was have."
Emmert noted two of the assistant band director Elizabeth Bialecki and Steve Proctor, were present at the Dec. 12, 2022, school board meeting, and noted there are many others middle and high school directors that are an important part of the band program, including Cody Brown and Zachary Griffin.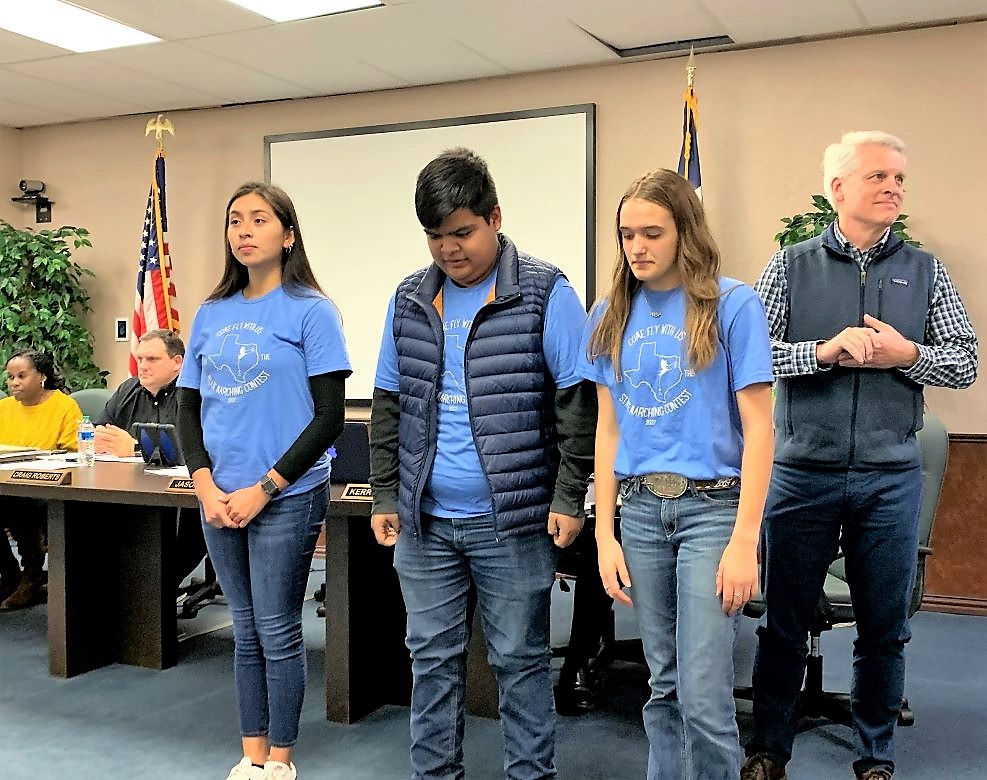 He then recognized the leadership team, who he invited to join them Monday evening, as the board room where the trustees meet is a bit small to comfortably and safely accommodate that many additional individuals. He recognized drum major Catherine "Cathy" De La Rosa; and junior drum majors Catherine "Cat" Starzyk and Jeremy Resendiz and Lauren Maynard. Emmert was then asked to have the other members of the student band leadership team to join him before the school board to be recognized and for photos.
Lamb and the school board also expressed praise to the Band Booster Club, which included some members who were present at the school board meeting to see the students and band directors receive recognition. The district has been very fortunate to have such great support for the band program.
"Oh my goodness, it has been just amazing our Booster Club," said Emmert. "Every year since I've been doing a head director position — this goes back about 10 years to when I went to Winnsboro — I think the current band booster president can't outdo the previous one. It's just been a stair step, and there have been just some amazing, amazing people in charge of our Booster Club. But this year, Gena and Wendy and Brian and all the boosters and booster officers have just been amazing."
The director of bands praised the Band Booster Club members who've been working tirelessly to raise the fund needed to fly the band to Washington, D.C., where they will perform at the World War II Memorial in May 2023. The trip will incorporate government and civic lessons for students. He offered thanks to the Band Booster Club and sponsors for all of their support.
The Wildcat Band, Emmert noted, was the largest coed organization at SSHS, if not the largest organization, so taking the group to do things such as contests is a hug undertaking.
"We know we wouldn't be able to do that without the support of our parents," Emmert noted.