Buxton Wins Engine Precision Measuring Station Part Of 2-Day Event
Sulphur Springs High School automotive technology students Austin Buxton and Matthew Brown participated in the 2022 North Texas Automobile Dealers (NTXAD) contest December 2-3, 2022, at Texas Motor Speedway. The SSHS automotive program partnered with Jay Hodge Chevrolet to provide training, diagnostic equipment, and temporary use of a new vehicle for the contest.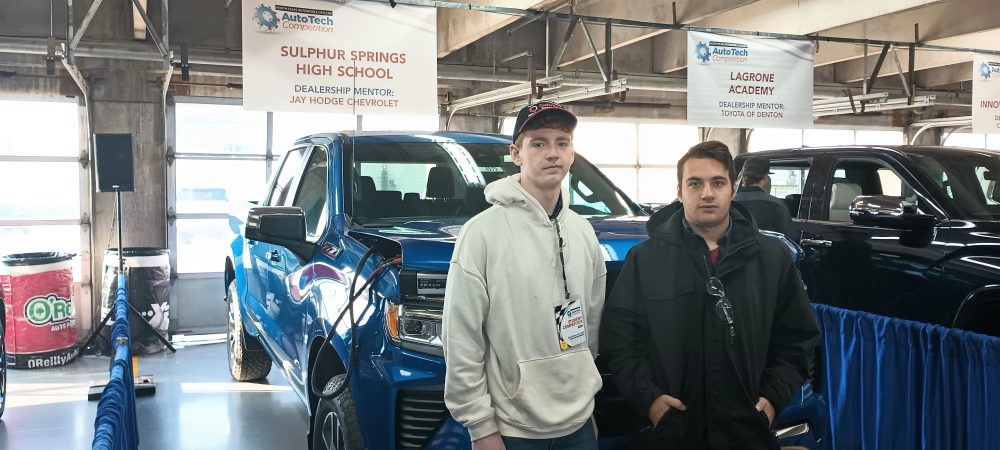 The students, instructor Michael Rhodes and Director of College & Career Readiness/CTE Director Jenny Arledge offer special thanks to Bill Owens, John Hall, and Jay Hodge Chevrolet for making this possible.
According to NTXAD, there currently is a need for 76,000 trained automotive technicians nationwide in dealerships, with many of these job openings in North Texas. Experienced, well-trained technicians will always be in demand and able to earn top dollar, however, achieving the highest level of expertise is a process.
With this in mind, the North Texas Automobile Dealers joined forces with educators, state and local government, and local dealerships to train, certify and employ students to work in the auto industry in North Texas.
The Auto Tech Competition gives high school seniors a high-profile stage to demonstrate their skills, measure of knowledge, and a race against the clock – all rolled into one. It features North Texas' best high school automotive education students competing for top honors, scholarships, and other prizes.
Teams are comprised of two students each and are selected based on preliminary ASE (Automotive Service Excellence) certification tests in maintenance and light repair, steering and suspension, brakes, and electrical. The final teams are then paired with NTXAD new-car franchised dealerships to act as mentors and help train them for the competition.
The contest consisted of 2 days full of tasks designed to test their knowledge and skills in the area of automotive repair. The first day consisted of 12 "stations," each designed to test the students in specific repair areas. The second day, the students competed in a 3-hour event to repair a new 2023 Silverado. The students had to diagnose, document, and repair the faults in accordance to the General Motors Service Information.
Over 40 schools and 120 students took part in the competition. This is the first time that SSHS has participated in this contest. While the students did not win the overall contest, Austin Buxton did win the engine precision measuring station, according to Arledge and Rhodes.