Franklin County Has Lowest Jobless Rate in 9-County Workforce Development Area; Hopkins Delta Counties Tied for Second Lowest Rate In Northeast Texas WDA Last Month
Franklin County's 3.5% unemployment rate was the lowest in Northeast Texas Workforce Development Area and even lower than the overall state jobless average of 3.7% for November 2022. While a 0.1% increase from October 2022, Franklin County's November 2022 jobless rate was still 0.1% lower than November of 2021, according to the latest Local Area Unemployment Statistics released Friday morning, Dec. 16, 2022, on the Texas Labor Market Information website for Texas Workforce Commission.
US, State and Region
Across the United States, unemployment has remained steady at 3.4% for the second month in a row, while the number of unemployed declined, so too did the overall workforce and the number employed across the nation. November 2022 marked the third time this year the US monthly unemployment rate has been 3.4%. The monthly unemployment rate across the country so far this year was highest at 4.4% in January, then dipped to 4.1% in January and has remained below 4% since March. In April and September of 2022, only 3.3% of individuals in the USA labor force were without jobs.
Unemployment dipped from October to November 2022 across Texas from 3.8% to 3.7% and across NETWDA from 4.3 to 4.2%. Joblessness over the last year dipped from 4.5 in November 2021 to 3.7 last month across the state and from 4.8% in November 2022 to 4.2% last month across NETWDA. As the labor force state-wide has grown from 14,393,136 in November 2021 to 14,630,713 in October 2022 and 14,704,535 in November 2022, so too have the number of jobs. That left 544,188 Texans without jobs in November 2022, down from 651,011 in November of 2021 and even the 5,357 in October of 2022.
"Texas continues to set employment records thanks to our growing workforce and world-class employers," said TWC Chairman Bryan Daniel. "The growth we've seen in the Lone Star State in the past year leads the nation."
Leisure and Hospitality led job growth in November with 20,200 positions added, followed by Education and Health Services, which grew by 5,400 jobs. Also of note, Mining and Logging employment added 3,800 jobs over the month and expanded by 22.7 percent since November 2021.
"The extraordinary job growth we've seen over the past years shows that Texas continues to be the best place for business," said TWC Commissioner Representing Employers Aaron Demerson. "In addition, TWC continues to be a support system for our Texas employers, large and small, by providing resources to keep our economy thriving."
Northeast Texas WDA
Across NETWDA, the labor force has shrunk from 124,863 in November 2021 to 124,754 in October 2022 and 124,628 in last month. The number of employed in Northeast Texas WDA has risen over the past year, from 118,873 in November 2021 to 119,376, causing jobless numbers to drop from 5,990 one year ago to 5,357 in October 2022 and 5,252 in November 2022.
Unemployment rates increased in only two of the nine counties in Northeast Texas WDA from October to November 2022. Although it had the lowest rate, Franklin County's unemployment rate was still 0.1% higher last month than in October. Lamar County's unemployment rate also rose slightly, from 4.1% in October 2022 to 4.2% in November 2022, with the overall labor force dipping from 24,196 in October to 24,167 in November. The number of people employed in Lamar County dropped from 23,193 in November of 2021 to 23,192 in October of this year and 23,156 last month. While the number of jobless in Lamar County dropped from 1,151 in November of 2021, seven more people were jobless in Lamar County last month than the month before.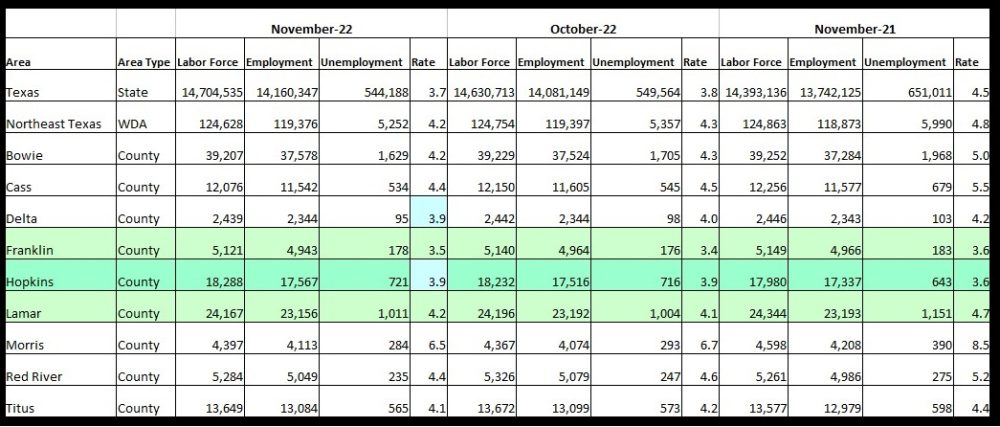 Hopkins and Delta Counties tied at 3.9% for second lowest jobless rate in NET in November 2022. While unemployment in Delta County from October 2022 to November 2022 declined from 4% to 3.9%, Hopkins County's unemployment rate has remained unchanged at 3.9 over the past 2 months. Compared to November 2021, Delta County's unemployment rate was down from 4.2% to 3.9%, while Hopkins County's jobless rate was up from 3.6% last year to 3.9% over the past 2 months. Delta County's civilian labor force has continued to decline slightly over the past year from 2,446 in November 2021 to 2,442 in October 2022 and 2,439 last month. While the overall labor force in Hopkins County has continued to rise of the past 12 months, from 17,980 in November 2021 to 18,232 in October and 18,288 in November 2022, so too has the number of jobless individuals in Hopkins County. In November of 2021, a total of 643 people were unemployed in Hopkins County; the number increased to 716 in October 2022 and 721jobless last month in Hopkins County.
Titus County also reported a small dip in joblessness, dropping from 4.4% in November 2021 to 4.2% in October and 4.1% in November 2022. The overall labor force in Titus County rose from 13,577 in November 2021 to 13,672 in October 2022, but dipped again last month to 13,549. The number of jobless has continued to dwindle over the past year in Titus County, dipping 598 in November 2021 to 573 in October 2022 and 565 in November 2022.
Bowie County had a 4.2% unemployment rate in November, a 0.1% dip from October 2022, and a 0.8% dip from November 2021. The overall workforce in Bowie County rose from 37,284 in November 2021 to 39,207 last month, which was 22 fewer than in October. The number of jobless in Bowie County has continued to decline from 1,968 last November to 1,705 in October and 1,629 last month.
Unemployment in Red River County dipped from 4.6% in October to 4.4% last month, which was 0.8% less than in November of 2021. Red River County experienced a gain in the overall workforce from 5,261 in November of 2021 to 5,326 in October of 2022, and although a month-over-month dip, at 5,284 the county's November 2022 workforce was still 23 people ahead of last year. Similarly, the number of Red River County individuals working rose from 4,986 in November 2021 to 5,079 in October 2022, only to dip slightly one month later to 5,049. That left 235 jobless last month, down from 247 one month before and 275 in November 2021.
The two counties with the biggest annual change in unemployment rates in the Northeast Texas Workforce Development Area are Cass and Morris Counties.
Cass County's unemployment rate dipped only 0.1% from October to 4.4% in November 2022, but one year before the county's unemployment rate was 5.5%. Cass County's workforce had declined over the past year from 12,256 in November 2021 to 12,150 in October 2022 and 12,076 last month. The number of jobless in Cass County has fallen from 679 last November to 545 in October and 534 in November 2022.
Morris County's jobless rate is the highest in the 9-county WDA. Morris County's unemployment rate declined from 8.5% in November 2021 to 6.7% in October 2022 and 6.5% in November 2022. Morris County boasted a civilian labor force of 4,598, 390 of which were unemployed in November 2021. In October 2022, 293 of the 4,367 member labor force were still without jobs in October 2022. Last month, 284 of the 4,397 member labor force were jobless, according to the Dec. 16, 2022 TLMI.