The Hopkins County community has once again come through for United Way and the 18 agencies it will help with funds from the 2022-2023 campaign. Hopkins County United Way officers and campaign workers extend heartfelt thanks to all for their contributions, which have helped make this another successful campaign year.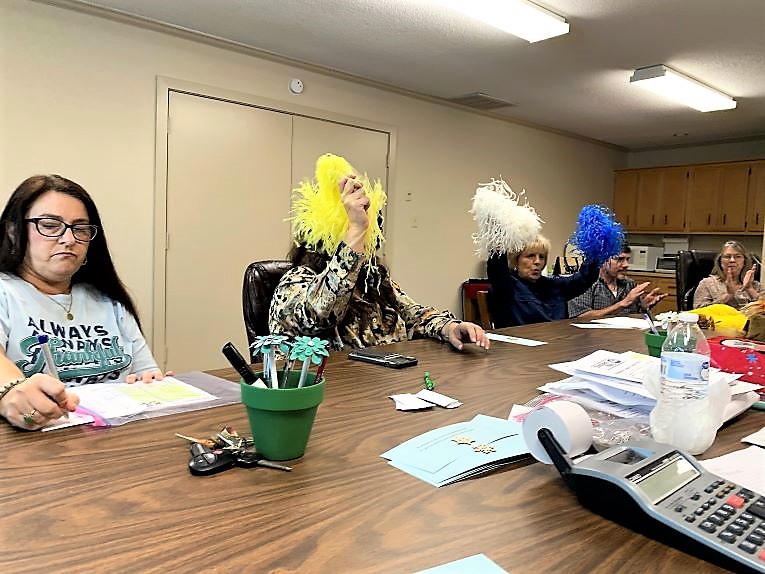 "Every penny truly is valued," Emily Glass, 2022-2023 HCUW campaign chair, said at the final campaign workers report meeting Wednesday, Nov. 9, 2022.
As campaign workers gathered around the table in Texas AgriLife Extension conference room, Glass noted that the campaign was well on it's way to successfully meeting the $150,000 goal. They started the day at $107,507.08, and as each new contribution was turned in, each was celebrated with clapping and cheering.
HCUW Executive Secretary Susan Berning handed out a blue card with a snowflake glued onto it. The Hopkins county community, HCUW campaign volunteers and contributors, like snowflakes, may not be able to do as much individually, but working together benefit thousands of Hopkins County residents of all ages and groups through the 18 agencies HCUW has allocated funding from the 2022-2023 campaign.
Berning offered thanks to Larry Crowson and the employees at Sulta Mfg, for faithfully putting up the campaign thermometer by the firehouse on Gilmer St., sometimes more than once each year if it is knocked down due to weather.
Among the industries and groups contributing to this week's total were Galyean Insurance; Alliance Bank employees and corporate office, which more than match their contribution; Robinson Bennet Construction, Dixon & Dixon Insurance; Sulphur Springs ISD employees, a new high total; Copy Products; Aerostar; Clarion Pointe Hotel; Cumby ISD, a new high total; Flip's Burgers; Hopkins County Sheriff's Office; Shing Investments; additional contributions from CHRISTUS Mother Frances Hospital-Sulphur Springs employees; Stefani's Hair Studio; a donation submitted by Hopkins County native in California, via PayPal.; Ocean Spray employees; FlowServe employees; GSC corporate and employees; Bright Star Floors; Bearing General Contractors; Cowboy Trucking; Coldwell Banker-Watson Company; another donation from Jay Hodge, part of the dealership's pledge from each car sold last month; D6, Inc.; Triple Crown Roofing; Yard By Yard nursery; Pioneer Memorial; April Showers; Magic Scoop; McKay Law; KSBR; A1 Auto Supply; Cross Motor Sales; Affordable Chiropractic; Barnes Chiropractic; Hill Family Chiropractic; iFocus Vision Care; Town Square Antique Mall; Sulphur Springs Livestock; Jason Tully Insurance; Highlander Trading Center; Bill and Charlotte Zahn; HSC Orthodontics; and City National Bank employees and corporate.
By the time the meeting was getting ready to wrap up, more than $48,400 in donations and pledges had come in. Just as the campaign total was reported, Glass spoke on the phone with a campaign worker who reported additional contributions, raising the HCUW campaign total to $167,459.08 and counting. (Glass and Berning said a few businesses have yet to get their donations in, but have faithfully given in the past and anticipated to continue their history of giving to HCUW.)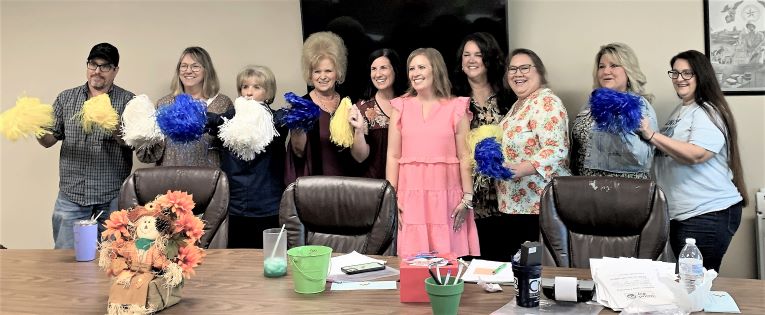 The donations given will provide a lot of help for this community through the 18 agencies allocated funding from the $150,000 campaign goal:
HCUW 2022-2023 campaign allocations include:
Bright Star Baseball, $1,500
CANHelp, $18,250
Circle Ten Council of Boy Scouts of America, $1,000
Community Players, Inc., $1,500
East Texas Council on Alcoholism and Drug Abuse (ETCADA), $1,500
Heritage Christian Counseling Center, $8,000
Hopkins County 4-H, $2,750
Hopkins County Christian Alliance on behalf of Community Cupboard
Hopkins County Community Chest, $40,000
Lake CASA, $10,000
Lakes Regional Community Center on behalf of Our Place, $4,500
Meal-A-Day, $8,000
Northeast Texas Child Advocacy Center, Inc. (NETCAC), $3,500
Shelter Agencies for Families in East Texas (SAFE-T), $5,000
Shadow Ranch Therapeutic Riding Center, 4,000
Sulphur Springs Symphony League, $1,000
Teen Court, $2,500
The Dinner Bell, $5,000
United Way Worldwide, $1,500
Administrative Expenses, $23,500