Eight personnel changes were approved for Sulphur Springs ISD by district trustees at the regular November school board meeting this week.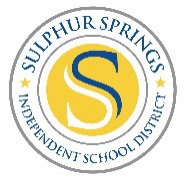 Four staff members, three teachers and an aide on three campuses submitted resignations. One replacement has been approved, and one hired to fill a new position. One aide also will be transferring to another campus.
Sulphur Springs High School lost health science teacher Lacie Stracener on Nov. 1 and Dec. 16 will be CTE teacher Heath Robinson's last day with the district.
Glennis Shannon Welch was approved to fill Stracener's position at high school beginning Dec. 7, 2022. A substitute will serve as the HST teacher until Welch begins her duties next month.
No replacement has been hired yet to fill Robinson's position; a substitute will fill the role until someone is found and approved to fill the CTE position full-time, according to school officials.
Karla Burnett also resigned as a third grade English language arts and reading teacher at Johnson Primary, effective Nov. 1, 2022. Campus staff are currently covering that class. Johnson Primary will be gaining a special education aide; Sarah Pence is moving from SSHS to Johnson Primary, where she will continue to serve as a special education aide.
Bowie Primary is losing a Title 1 aide; Gabriela Lopez resigned effective on Nov. 18, 2022, to accept a new job. All other resignations were reported to be for personal reasons.
Leah Redding was approved to join the staff at Barbara Bush Primary, where she will serve as a special education aide, a new position at SSISD. Redding's start date was not noted in school reports from the Nov. 14, 2022 meeting.
Other business
Also during the Nov. 14, 2022 SSISD Board of Trustees meeting:
The results of the Nov. 8, 2022 special school board election were canvassed. Proposition A was voted down by voters by less than 100 votes — 3,901 SSISD residents voted against (50.6%) and 3,809 voted (49.4%) in favor of the bond proposal. Proposition A would have authorized trustees to take out up to $81.5 million in bond funding to construct a new elementary school and facilities improvements throughout the district, as well as several new buses to replace those in the aging SSISD fleet.
Craig Toney reported on the Educational Performance of Bilingual/ESL Program for the 2021-2022 school year during Monday's regular November SSISD Board meeting.
And, trustees received copies of the October 2022 Head Start Director's Report, Policy Council Minutes and Financial Report.
The consent agenda, including the Tax Credits and Supplements, Delinquent Tax Collections; and Financial Statements and Bills Payable for October 2022 were approved.