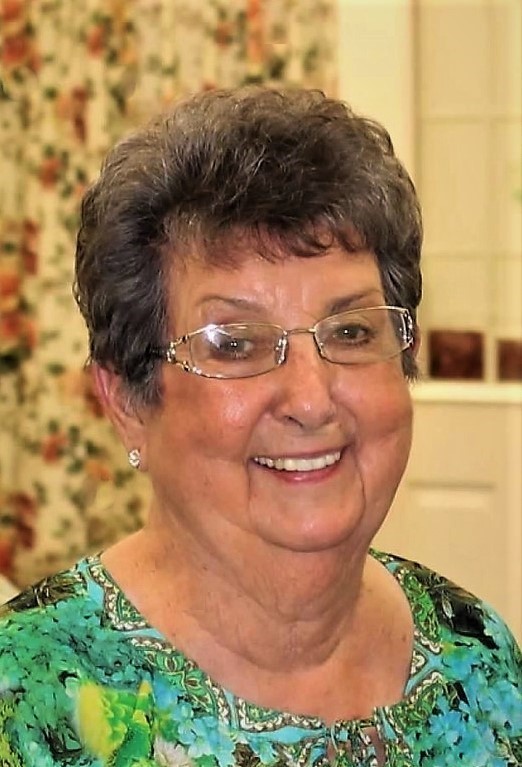 Jo Ann Castle Agee was born October 19, 1935, to James Aubrey and Hazel M. Poor Castle in Saltillo, Texas, and departed this earth for her heavenly home on October 11, 2022. In a life well lived, Jo Ann was a woman of faith, conviction, and love… and (1 Corinthians 13:13) the greatest of these, is LOVE.
The eldest of four Castle children, Jo Ann was raised in the Greenwood community of Hopkins County, Texas. She attended Chautauqua primary school until its closure, and then completed her education in Saltillo, Texas. She was active in school activities, including basketball, school play and FHA. She was also the Class Favorite of the Saltillo High School class of 1953.
On May 26, 1953, Jo Ann married E. Louis Agee of the Old Saltillo community, and the newlyweds moved to Madisonville, Texas, where Louis was employed as a roughneck for the Penrod Drilling Company. The couple would later welcome two sons into this world, Randy in 1954 and Joe Dan in 1956. Jo Ann and family would return to Northeast Texas, living and working in Mount Vernon, where she was employed by the Wells Lamont glove factory.
In 1958, Jo Ann and Louis moved to Garland, Texas, where they would raise their boys. Soon after, Jo Ann began her career with Texas Instruments. During her decades of employment with TI, Jo Ann worked across a host of departments and Dallas-area locations, supporting projects such as the first handheld calculator, the earliest production of silicon chips and a variety of government semiconductor contracts. She was also one of the first female managers in TI's quality assurance program and concluded her 32-year career with TI in 1990, serving in a quality assurance management role.
Thereafter, Jo Ann would join Louis on their Hopkins County farm, which the couple purchased in 1961. Their retirement came in the form of what most would classify as a second career, growing their cattle operation across three counties. During this period, the couple became active in Greenwood Baptist Church, where she taught Sunday School, coordinated and taught Vacation Bible School, and served as church secretary. She and Louis were active in the Rehoboth Baptist Association and supported various church committees and activities. Jo Ann (along with her sister, Joyce Weatherford) also served on the board of directors of the non-profit Greenwood Cemetery Association for many years, including several successive terms as board president.
By 2010, Jo Ann and Louis were twice retired, desiring more quality time with friends and family, especially their great-grandchildren. In the subsequent decade, Jo Ann would support Louis through his years-long struggle with Alzheimer's Disease, which further strengthened their bond and attested to their deep and abiding love for one another.
Jo Ann was preceded in death by Louis, her devoted husband of 68 years, as well as her parents; parents-in-law, Clarence and Jessie Caudle Agee; and brother, James Jerry Castle.
Jo Ann is survived by two sons, Randy (Patti) of Sulphur Springs and Joe Dan (Lorri) of Mount Vernon; three grandchildren, Ryan Agee (Trapper), Ginnifer Agee Doyle (Landon) and Daniel Agee (Amanda); and seven loving and adoring great-grandchildren, Aubrie, Avery, Lexie, Layton, Ellie Jo, Kabel and Andie.
The Agee family will host a come and go visitation on Friday, October 14, 2022, at West Oaks Funeral Home in Sulphur Springs from 4 to 7 p.m. Funeral services will be held on Thursday, October 20, 2022, at 1 p.m. at the Old Saltillo United Methodist Church, with Trapper Pace officiating. Attendees are invited to stay afterward for refreshments and fellowship in the Woodrow Kirby Memorial Center of OSUMC.
In lieu of flowers, the Agee family requests memorial contributions to one of the following cemetery associations, both dear to Jo Ann and Louis:
Old Saltillo Cemetery Association, P.O. Box 123, Saltillo, TX 75478
Greenwood Cemetery Association, P.O. Box 153, Saltillo, TX 75478
Arrangements are under the direction of West Oaks Funeral Home.