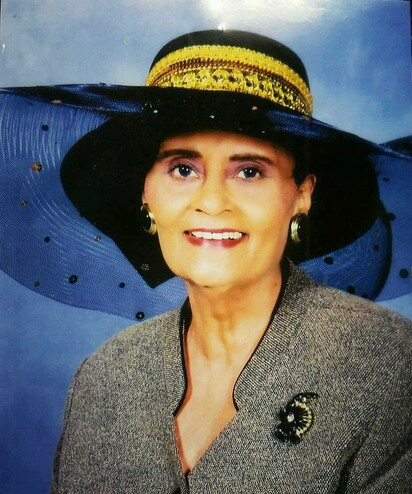 Beloved wife, mother, grandmother, great-grandmother and outstanding woman of God, Wyvonne Ford passed away June 29, 2022, in Sulphur Springs, Texas. Wyvonne was born November 26, 1938, in Sulphur Springs, the only daughter of Lillian Irene Jones Harrison and Benjamin F. Harrison.
Wyvonne excelled in academics, athletics and the arts, graduating 3rd in her class from Douglas High School in Sulphur Springs, where she played basketball and the clarinet in the school band. After high school, Wyvonne attended Paul Quinn College in Waco, Texas, leaving before graduation to marry her high school sweetheart, Eldon Ford, on December 23, 1956. Shortly after their marriage, Wyvonne and Eldon moved to Odessa, Texas, where they had two children, Tony and Renee. Her daughter Renee preceded her in death. She and her family were faithful members of St. James Baptist Church in Odessa, where Wyvonne served on the usher board.
Professionally, she was the Area Director for Planned Parenthood and also very active in the city's civic and social life. Organizations where she served as an officer and member included The Castanettes, the City Federation of Colored Women's Club, Stokes Parker District of Colored Women's Clubs and the Texas Association of Colored Women's Clubs. In 1980, she was honored by the City of Odessa for her many contributions.
In 1980, Wyvonne and Eldon moved from Odessa back to their hometown, Sulphur Springs. They joined Morning Chapel Missionary Baptist Church, where Wyvonne continued her tradition of service as an usher, assistant Sunday School teacher, as well as a member of the Seasoned Saints and the Mission department. Wyvonne was the manager of the JC Penney catalog store for many years. After retirement, she kept busy working for White's and West Oaks Funeral Homes, using her eye for decoration and personal touch to support and comfort families. She was also a substitute teacher for Como-Pickton Independent School District.
Wyvonne loved her family and travel. She wouldn't hesitate to get on a plane for vacations in Palm Springs, San Francisco and Los Angeles; and weddings, holidays and graduations in Chicago, Oklahoma, Washington DC, and Atlanta.
Always loving and encouraging, Wyvonne was known for her faith that never wavered. She had a gift for kindness and understanding that endeared her to all and earned Wyvonne a special place in the hearts of so many who considered her as a mother, valued confidant, and treasured friend.
She is survived by Eldon Ford, her husband of 65 years; her brother, Paul Harrison (Delores) of Dallas Texas; half-sister, Bobbie Reese of Sulphur Springs, Texas; son, Tony Ford (Pamela) of Chicago; son-in-law, Darrell Shepard Sr. of Grand Prairie, Texas; grandchildren, Takeyha Stewart (Marlon) of Grand Prairie, Texas, Darrell Shepard Jr. (Danya) of Oklahoma City, Oklahoma, Michael Ford (Sarah) of Chicago, Christina Ford of Chicago, David Ford (Shonnie) of Chicago and Olivia Ford-Parr (Christopher) of Reston, Virginia; great-grandchildren, Drake and Tatum Shepard, Logan and Kingston Ford, Paisley Stewart and Aubrey Parr; and a host of family and friends.
"Favor is deceitful and beauty is vain; but a woman that feareth the Lord, she shall be praised. Give her of the fruit of her hands; and let her own works praise her in the gates."

— Proverbs 31:30-31
Funeral services will be held at 11 a.m. Saturday, July 9, 2022, at Morning Chapel Missionary Baptist Church. Interment will follow at North Caney Cemetery. Visitation will be held from 6 to 8 p.m. Friday, July 8, 2022, at West Oaks Funeral Home.
Arrangements are under the direction of West Oaks Funeral Home.
---