A wanted man was arrested after deputies caught him discarding a bag of methamphetamines during a traffic stop, resulting in two additional charges, according to arrest reports.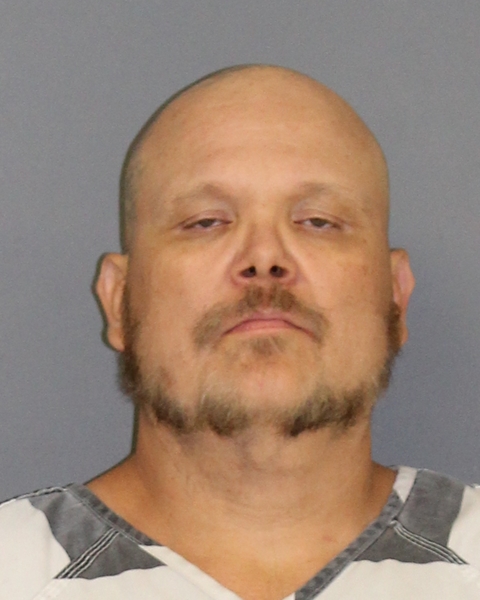 Hopkins County Sheriff's Office Sgt. Scott Davis conducted a traffic stop on a maroon Chevrolet Silverado on FM 1537 at FM 3236 at 10:36 p.m. Monday, July 11, 2022. Upon initial contact, Davis noted the driver had rapid speech and displayed signs of bruxism (the involuntary grinding, gnashing or clenching of teeth, often associated with recreational drug use). When a records check showed Rocky Monell Lockaby to have an outstanding warrant, Davis asked him to stand in front of his car while he waited on confirmation on the warrant.
When the warrant was confirmed, Davis asked the 45-year-old Sulphur Springs man for permission to search the truck. When Lockaby refused, Davis requested a police canine at the location, according to arrest reports.
In the mean time, Davis went to have the passenger step out of the vehicle as well. As he did Deputy Justin Wilkerson arrived to assist as well. Wilkerson reported seeing an object thrown from the area where the driver was standing to the roadside ditch. Wilkerson reported finding a small cellophane wrapped bag containing suspected methamphetamine. Both Lockaby and the passenger denied knowledge of the suspected meth, Davis alleged in arrest reports.
Deputy Colt Patterson and then arrived with his canine partner, Chiv. The police dog conducted an air sniff around the vehicle. K-9 Chiv alerted to the odor of a controlled substance. A search of the truck, however, revealed no contraband, Davis wrote in arrest reports.
Davis and Wilkerson transported Lockaby and the passenger to the sheriff's office for further investigation. When video from the traffic stop was reviewed, Davis said it was clear Lockaby threw the item they suspected to be a bag of meth from in front of Davis' patrol vehicle into the ditch. At that point, the passenger was released in the truck, and Lockaby was escorted into the county jail.
The suspected meth was weighed, photographed and field-tested. The substance and packaging weighed 1.629 grams and tested positive for meth. As a result, Lockaby was booked into Hopkins County jail at 12:33 a.m. July 12, 2022, on the Austin parole warrant as well as new charges for possession of 1 gram or more but less than 4 grams of a Penalty Group 1 controlled substance and criminal attempt-tampering with evidence.
The 45-year-old Sulphur Springs man remained in Hopkins County jail later Tuesday, July 12, 2022. He was held on the parole warrant. Bond was set at $10,000 on the controlled substance charge and $5,000 on the tampering charge, according to jail records.
If you have an emergency, dial 9-1-1
The Hopkins County Sheriff's Office is located at 298 Rosemont Sulphur Springs, TX 75482. You can reach them for non-emergency matters at (903) 438-4040.