Hopkins County Commissioner Court resolved to submit a hazard mitigation assistance grant application and to support state funding to match competitive federal rail programs. Approval was also given for a county property to be leased, a new software program for the county tax assessor/collector's office, printer/copier contracts, a holiday calendar and a couple of budget amendments during Friday's regular Commissioner Court meeting.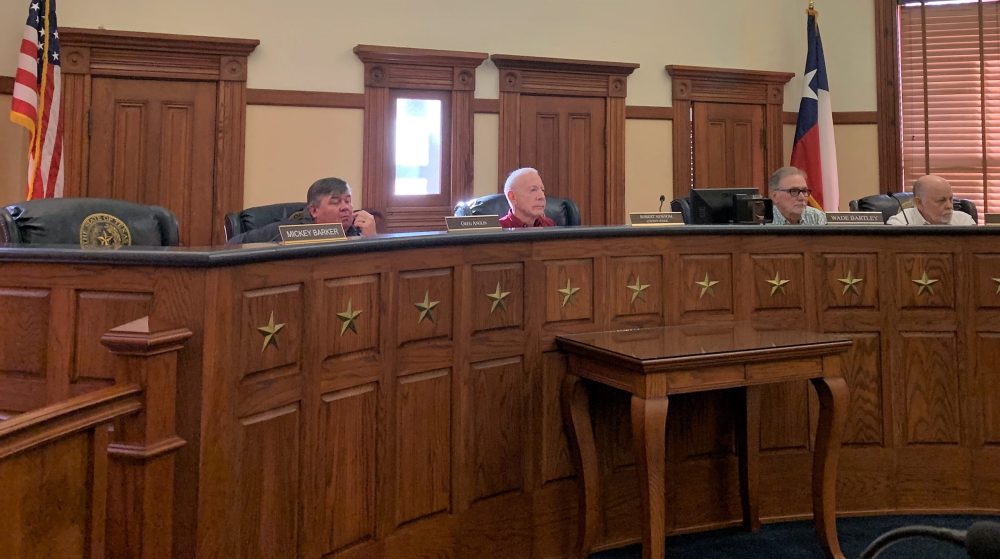 Land Lease
Hopkins County Commissioners Court agreed to delegate to Precinct 3 Commissioner Wade Bartley the selling/leasing of a county property from the courthouse steps since he is an experienced auctioneer by trade.
The 1.2 acres is located in Precinct 4. The county the property around Rushing Cemetery and can lease it out for oil and gas purposes. Bartley is to auction the oil and gas lease to the highest bidder, after the requisite notices have been posted, on the courthouse steps.
Financial Matters
County Auditor Shannah Aulsbrook recommended a budget amendment moving the $5346.32 raised by selling old equipment at auction to the Precinct 3 equipment fund, $36956.25 into the Precinct 4 repair budget, and $3,424.40 sold at an earlier date into the Precinct 3 equipment line.
Contracts with Datamax for printer/copiers for the Justice of the Peace Offices and district Clerk's Office were also approved by the Commissioners Court.
New software
Tax Assessor/Collector Debbie Mitchell asked the court to consider approving a contract with Spindlemedia for her office. She noted the proposed system is one county officials discussed during a past work session.
Spindlemedia deals only with tax collections and their software provides more support and more options for tax payers. With so many preferring not to come into the office, this will give taxpayers an option that doesn't require doing so.
Spindlemedia is a Flower Mound company that specializes in cloud-based tax collection software, custom-crafted for Texas. The company website boasts about its "complete software suite" designed to "automate virtually every task in the office." Among the products offered are a tax suite designed to make "even the most complex collection processes" seamless, general ledger with "total accounting package," special inventory tax processing as well as beer, wine and liquor permit and renewal processing.
Precinct 3 Commissioner Wade Bartley said the current company being used does not deal solely in taxes, which has lead to a few hiccups.
"I think it would benefit everybody to make the move," Bartley said, when making a motion to go with the proposed contract with Spindlemedia.
The company plans to begin doing some work behind the scenes this summer and early fall but won't bill the county until the start of the new budget year on Oct. 1, 2022.
Resolutions
The Commissioners Court approved a resolution "in support of state funding to match competitive federal rail programs. The court hopes submitting this to State Legislator will influence them to consider allocating additional funds to short line railroads, especially NETEX (Northeast Texas Rural Rail Transportation District) which spans through many counties and is in need of a lot of money to fund a lot of needed repairs to the rail.
The railroad is "of vital importance to Hopkins County and other counties, but could certainly be an even better resource for freight delivery, according to Bartley, who served on the NETEX board a few years ago. Currently, due to the condition of the rail, trains are only able to run at a maximum of 10 miles per hour.. Many large businesses depend on it, especially Farmers Coop and another local business that makes plastics. Improving the rail would allow cars to travel it at faster speeds, up to Class 2, which would get product to and from businesses faster and more reliably.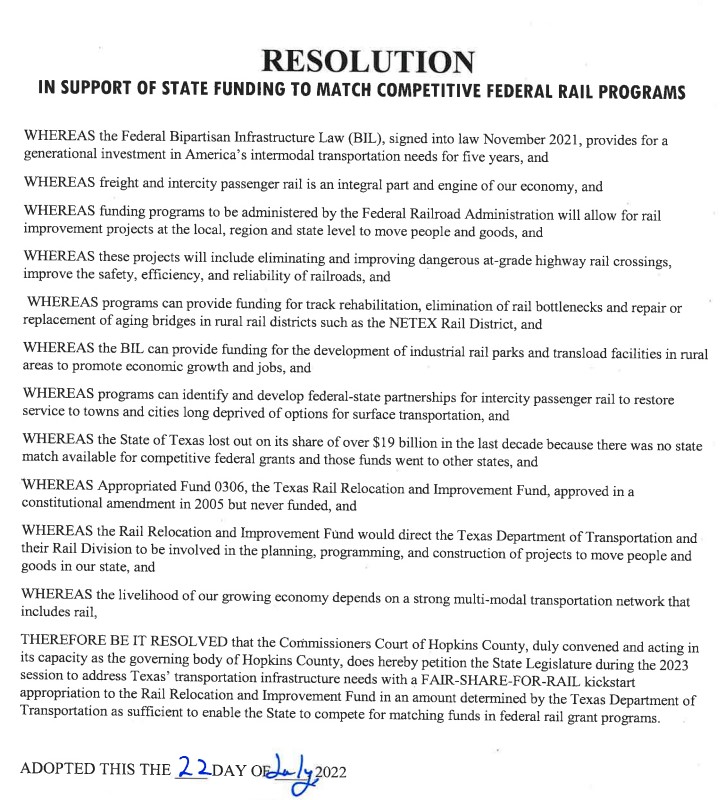 A resolution too was approved designating the county judge to represent the county in all matters in connection with submission of a Hazard Mitigation Assistance Grand application for DR-4486. In it the county agrees to provide 10% in local matching funds to secure and complete a FEMA mitigation grant.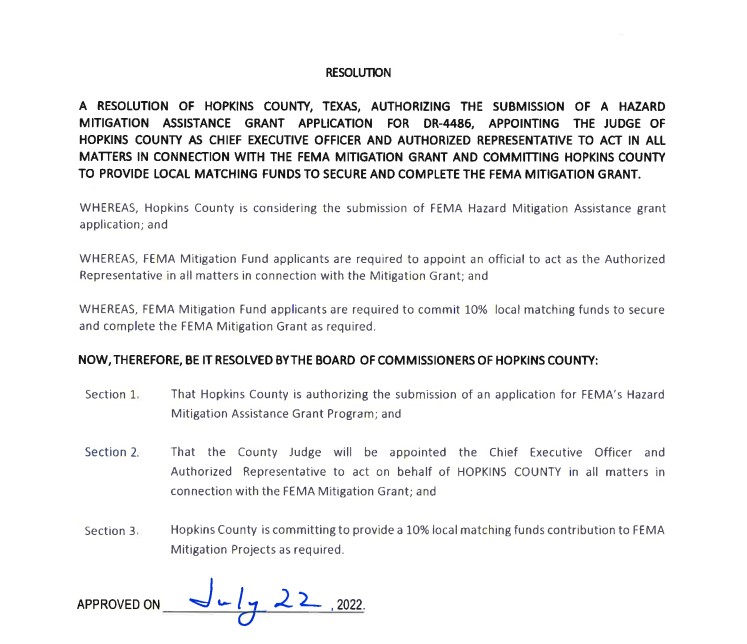 Other Business
The Commissioners Court approved a holiday calendar for 2022-2023 with the same holidays to be observed, including Juneteenth, which was added for 2021-2022.
Two requests from Farmers Electric Cooperative to construct electric distribution facilities across a county road in Precinct 1 and another in Precinct 3 were approved as well.