The ribbon has yet to be cut on this year's Hopkins County Dairy Festival, but one favorite among kids and the young at heart is back for a four-night stint. Triple T Amusement is all set up on the Hopkins County Civic Center grounds Wednesday evening, gearing up to offer fun, thrills, delights, games and prizes.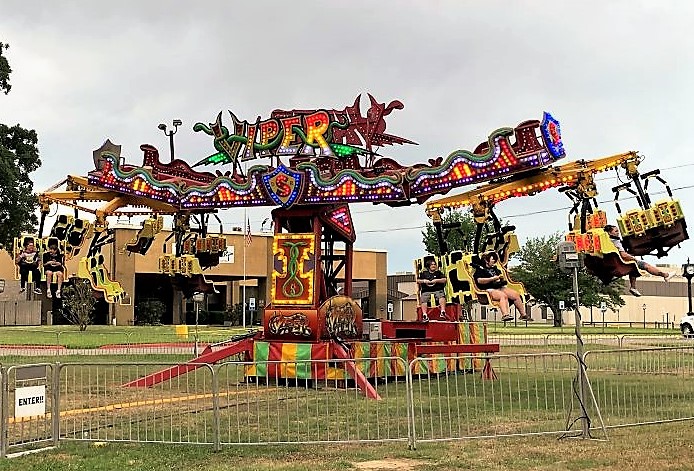 The Tripe T Amusements Carnival is open from 6 p.m. until about 11 p.m. Wednesday, June 1, and continuing through Saturday, June 4, 2022 — barring inclement weather. Wristbands are available for $20 each Wednesday and Thursday nights and for $25 Friday and Saturday from the booth at the carnival.
The carnival offers quite a few rides, ranging from a helicopter and elephant swings for young kids, to the more traditional Ferris wheel for those a little older, and for those a little more daring, Triple T Amusements offers the Viper, Hurricane, MagicMaze, "Scooter" (bumper type cars) and Blizzard.
Triple T Amusements Carnival – June 1-4, on the Civic Center grounds

Tickets available at the Control Room- June 1-4, on the Civic Center grounds

Triple T Amusements Carousel

Triple T Amusements Hurricane

Triple T Amusements games and prizes

Triple T Amusements games and prizes

Triple T Amusements rides, games and prizes 6-11 p.m. June 1-4, 2022,
There are several games that can be played as well, for chances to win prizes such as stuffed animals. Among them are Pick a Lucky Duck, shooting and tossing games as well.
And to wet your whistle in the early summer heat or grab a snack, there are concessions offering everything from cool snow cones and drinks to fries, nachos, funnel cakes and other cool or deep fried treats.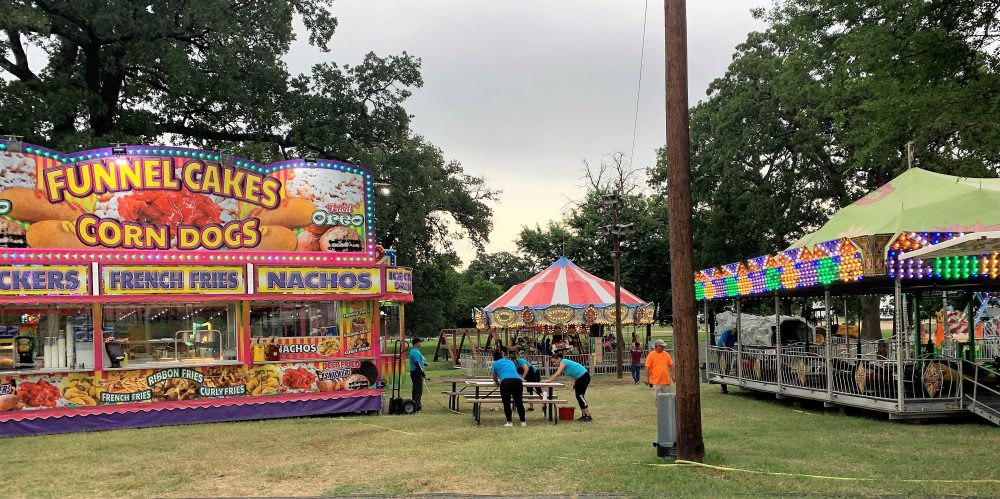 Although a week ahead this year, the carnival is hosted in conjunction with the Dairy Festival, which kicks off Friday, June 10, at noon for the opening ceremonies ribbon cutting at Celebration Plaza. Then, at 6 p.m. will be the Hot Air Balloon and Glow at Shannon Oaks. The Dairy Festival will continue Saturday, June 11, with a Hot Air Balloons and Flight at Shannon Oaks, followed at 10 a.m. by the parade which departs from Buford Park and the Junior Dairy Show at the Civic Center. Also June 11 will be the Dial Club Cow Patty Bingo at the Civic Center at 2 p.m., cow milking contest featuring the Dairy Festival Queen's Coronation Pageant contestants and their parents at the Civic Center Arena starting at 3 p.m., and another Hot Air Balloon Rally and Glow at Shannon Oaks Church grounds.
The Dairy Festival will culminate on Saturday, June 18, 2022, with the Coronation Pageant in the SSISD Auditorium starting at 7 p.m. This year's pageant will feature 12 young ladies from the community, who will strut their stuff and show off their talents. Contact any pageant participant for tickets.