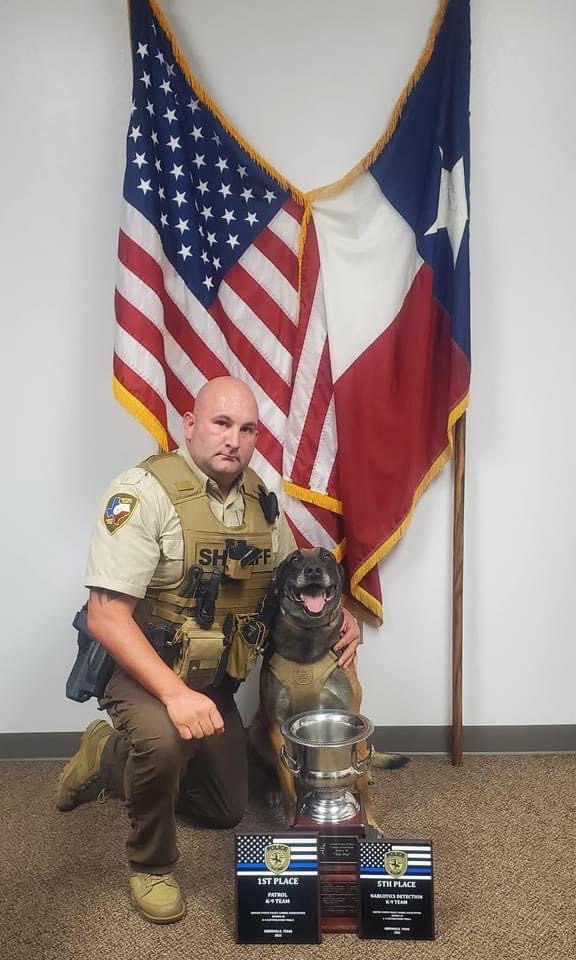 Congratulations to Hopkins County Sheriff's Office Deputy Colt Patterson and his canine partner, Chiv, who came home with the trophy for Top Dog at the recent United States Police Canine Association trials held in Greenville.
In addition to the trophy for having the overall "Top Dog," Patterson and Chiv earned recognition as the first place Patrol K-9 Team and the fifth place Narcotics Detection K-9 Team at the USPCA Region 20 trials May 22-26, 2022.
"Deputy Patterson is very dedicated to his assignment and family. We are proud of their accomplishments this year," Sheriff Lewis Tatum stated June 6, 2022.
Patterson has over 10 years experience as a peace officer. Patterson first partnered with Chiv, who'd had a previous handler, in 2019. The pair completed a two-week, 150-hour Advanced K-9 Handler Course with emphasis on narcotics as well as suspect tracking on various terrain, building clearing, suspect apprehension and integrating a K-9 into most aspects of the sheriff's department patrol division. The specialized training certifying the pair to work together was obtained in Hattiesburg, Mississippi in the fall of 2019.
Patterson work regularly with Chiv to keep the police K-9's skills sharp. Chiv has been used in the past few years to conduct open air searches to sniff for narcotics and other contraband, and has been utilized during manhunts and searches for missing individuals.
If you have an emergency, dial 9-1-1
The Hopkins County Sheriff's Office is located at 298 Rosemont Sulphur Springs, TX 75482. You can reach them for non-emergency matters at (903) 438-4040.