Austin Academic Center hosted a commencement service Monday afternoon for the Class of 2022.
Sulphur Springs ISD Superintendent Mike Lamb welcomed the gathering of family and friends who filled the Board Room of the SSISD Administration Building May 23, 2022. Hopkins County Military Coalition presented the colors, and Danette Lovelady sang the National Anthem.
Class member Stephanie Zuniga gave an invocation, a prayer of thanks and for the class as they continue to the next phase of life. Dr. James Payne, Austin Academic Center Principal, presented the graduates. SSISD Board President Robert Cody certified each of the 15 members of the Class of 2022 met all requirements for graduation.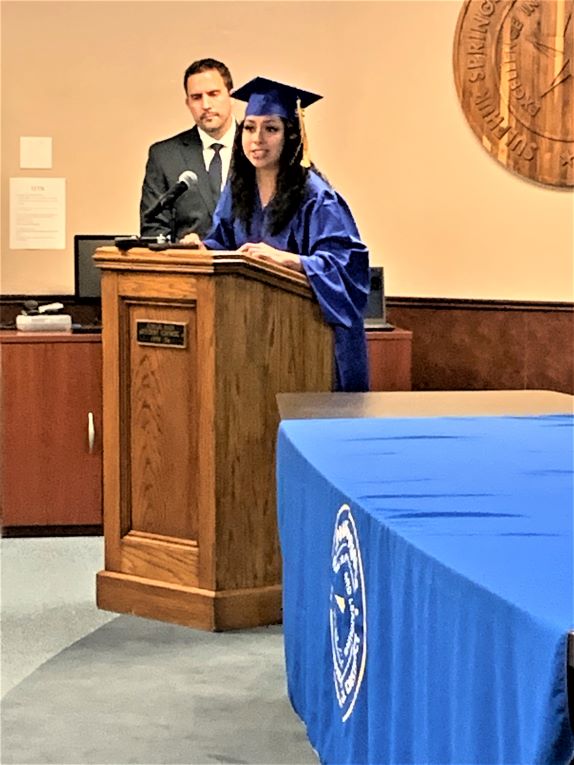 Sulphur Springs High School Counselor Leslie Harred called the names of the 13 members of the Class of 2022 who opted to participate in the graduation ceremony, while Dr. Payne offered congratulations as he presented each with their diploma.
The Austin Academic Center Class of 2022 includes Rylie Brooke Arrington, Victoria Desirae Brooks, Jade Elexus Fanks, Aubrey Nicole Giles, Harley Jean Gordon, Aimee Michelle Harris, Nicholas Alexander-Joseph Joy, Trayvin Lee Newmann, Lizabeth Olguin, Fernando Montes De Oca Jr., Amarie Brion Snowton, La Khysh'ya D'Aunzanae Waterhouse, Audrey Rheann Wilemon, Trevor Aiden Wooden and Stephanie Judith Zuniga.
Afterward, the students participated in the school song one last time, joining pinky fingers across the aisle.
Stephanie Zuniga then offered the benediction and Dr. Payne dismissed the Austin Academic Center Class of 2022. While the traditional hat toss that often symbolizes the conclusion of that level of schooling wasn't as widely observed, the rush of family and friends with flowers, hugs and congratulations in these students achievement in completing high school and earning their diplomas was heartfelt.