Sulphur Springs City Manager Marc Maxwell presented the following report to the City Council during the regular monthly council meeting on Tuesday, April 5, 2022.

COVID-19 RESPONSE
We have 0 patients in the COVID unit at the hospital.
CLAIMS
We had a fleet accident in March involving a truck from Water and Sewer Distribution Division. There were not any injuries. The other driver has not filed a claim with TML yet.
We had one other small claim involving a tire and rebar that was protruding from a driveway approach. TML denied the claim.
SENIOR CITIZENS BUILDING
It looks like we are going to get the $2.4 million in grant funding that we applied for. It won't be official until later this month, but we scored well above the cut-off line.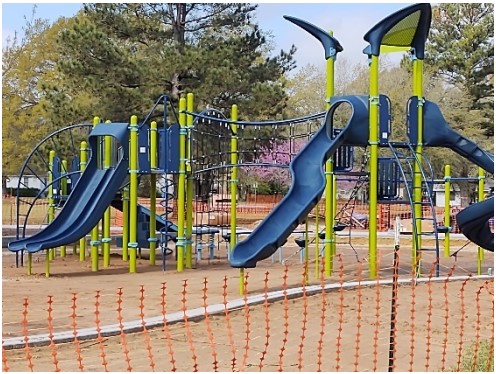 PACIFIC PARK
The playground is under construction. I expect it to be completed this week.
The Capital Construction Division in installing a concrete walking path around the park.
COLLEGE STREET
The water/sewer/drainage is nearly complete for phase 1 from the plaza to Patton. Next, Highway 19 Construction (the contractor) will build the road and the Capital Construction Division will continue to the east with utility construction on Phase 2 (Patton to Como).
REVENUES AND EXPENDITURES
Finance Director Lesa Smith will present a report of year-to-date revenues and expenditures.
STREET IMPROVEMENT PROGRAM
Texana Land and Asphalt has begun the SIP program with work on Lee Street. Work will continue later this month with some of the projects that do not require cement stabilization, and then in June/July they will go full-steam and get the remainder of the projects done. Portland cement is in short supply these days, but should balance out before summer.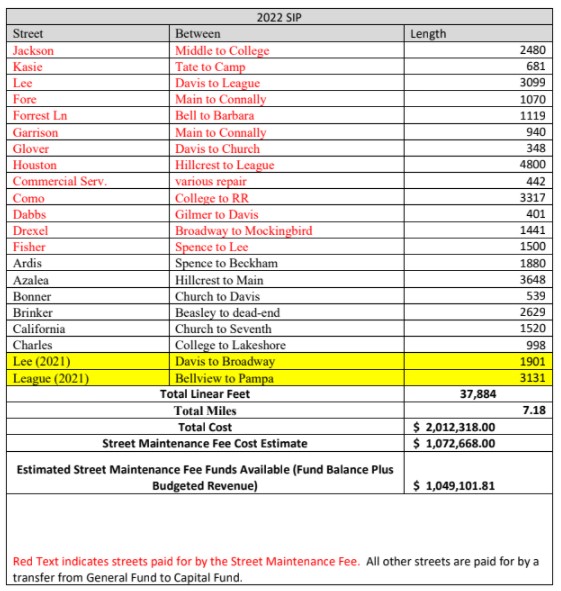 MISCELLANEOUS
Elsewhere around the city, employees:
Repaired 400 potholes.
Cleaned storm drain inlet boxes 3 times.
Replaced various traffic control signs around town.
Made 13 significant street repairs following utility repairs.
Cleaned and prepared the Hopkins County Veterans Memorial and the interactive fountain for the season.
Held grand opening event for the National Fitness Campaign fitness court at Pacific Park.
Prepared sports fields for the season.
Responded to 205 fire/rescue calls including 4 structure fires and 1 vehicle fire.
Performed 35 fire inspections.
Performed preventative maintenance on 90 fire hydrants.
Responded to 182 calls for animal control, and achieved an 81% adoption rate.
Made 3 felony arrests in the special crimes division.
Responded to 35 accidents, wrote 606 citations, made 46 arrests and recorded 53 offences in the patrol division.
Sold 3,797 gallons of AvGas and 11,037 gallons of JetA fuel.
Had 1,605 operations (take-offs or landings) in March.
Repaired scoreboard at Buford Park.
Ordered parts for new electrical service at Pacific Park.
Treated wastewater to a daily average total suspended solids reading of .27 mg/L
Replaced waterfall pump at Lake Coleman.
Checked out 3,232 items from the Library
Conducted 37 building inspections, 24 electrical inspections, 21 plumbing inspections, 51 mechanical inspections and issued 37 building permits.
Repaired 10 water main ruptures.
Unstopped 33 sewer mains.
Repaired 9 sewer mains.
Washed 75,000 feet of sewer mains.
Treated 133 million gallons of potable water.