April 10, 1993-April 21, 2022
…..Too soon he left this earthly road
Riding beyond where we could see
But It's all about the endless journey
Now Forever riding free…..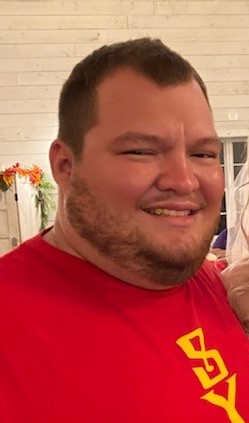 John Kaleb Mund, 29, of Como, Texas, passed away on Thursday April 21, 2022. He was born on April 10, 1993, in Grapevine Texas the son of Michael and Elaine Mund.
Kaleb graduated from Como-Pickton High School in 2011. He loved playing football and participating in FFA. He went on to pursue a technical career as a diesel mechanic obtaining his certification from U.T.I. Kaleb was the lead mechanic at Moo-La Transport where he "kept the trucks always rolling!"
Kaleb was in his element when he was hunting, fishing, working cattle or being outdoors. Kaleb loved his family very much and was very protective of everyone he cared about. Kaleb found his true freedom and joy when riding the open roads with his MC brothers.
Kaleb is survived by his father, Michael and wife Vanetta Mund of Como, Texas. His mother Elaine Mund and Glenn Cooper of Burleson, Texas. Sisters, Cassie Mund-Burns and husband Will of Como Texas, Tami Brown of Anna, Texas, as well as 3 stepsisters and 1 stepbrother. Kaleb had three nephews and numerous aunts, uncles, cousins, and close friends.
Kaleb is preceded in death by his grandparents, Kumler "Gangie" Mund and wife Joan "Grandmama" Mund, Bennie "Pa" Cummings and wife Frankie "Meenie" Cummings, His beloved dogs Rough and Hallie.
Kaleb will be especially remembered by those closest to him for his loyal and protective nature. He was kind, generous and giving to all who knew him. He will be forever in our hearts and missed by all who knew and loved him.
Honorary Pallbearers include Daniel Gregg, MC Club members, Will Burns, Zach Anderson, Antonio Clayton, Jeff Byrnes, Dillon Cooper and Trey Williams.
Visitation will be held Tuesday April 26, 2022, from 5 p.m. to 8 p.m. at West Oaks Funeral Home, 500 Hillcrest Drive, Sulphur Springs, Texas 75482
A Celebration of Life Service for Kaleb will be held on April 27, 2022, at 2 p.m. at West Oaks Funeral Home, 500 Hillcrest Drive, Sulphur Springs, Texas 75482.
Memorial donations may be made to St. Jude Children's Hospital. This charity was close to Kaleb's heart.
---