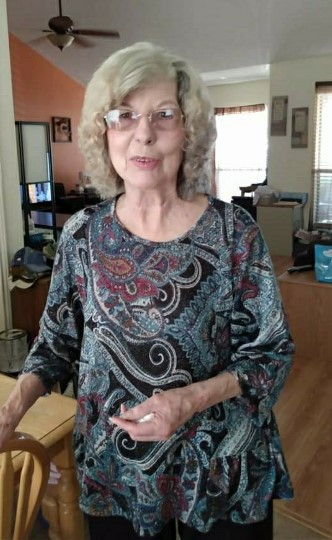 Dimple Griner passed away on April 21, 2022. She was born on October 15, 1938, to Charlie and Dottie Mae Patterson Walker. She married Art Griner on July 14, 1956. She was a member of Weaver Baptist Church.
Dimple is survived by her daughters, Bonnie Pettigrew (Ronnie), Teresa Cotton (Tim), Diane Fite (Jeff), and Edie Watts; Also, her son, Jay Griner; Her grandchildren, Jeff Pettigrew, Ronnie Pettigrew, Jr., Destiny Simmons, Kinsy Ball, Krissy Cotton, Kay Lee Wood, Zack Williams, Ericka Harris, Amber Stewart, Megan Knight, Graycie Hodges, Brandi Skeen, Shelby Hodges, Tristen Griner, Jewely Deckar, Seth Griner and Shayden Griner; also, 24 great-grandchildren; and 6 great-great-grandchildren. Dimple is also survived by sisters, Mary Lou McCoy and Cathy Tully, and by her sister-in-love, Jerry Ann Walker.
She was preceded in death by her parents; husband, Art; daughters, Janie Williams and Judy Hodges; Grandsons, Shad Griner and Benjamin Goforth; And great-granddaughter, Tessa Skeen; and Siblings, Earnie Lester, Edger Rayford, Royce Merrell, Lester, Rex, Carry, Billy Troy, Toyce, Ludie Jewel, Violet, Lila, and Gloria.
Funeral services will be held at 11 a.m. Monday, April 25, 2022, at West Oaks Funeral Home with Bro. Butch Carraway officiating. Interment will follow at Caney Cemetery with Jason Tully, Matthew Peyton, Johnny Walker, Tristen Griner, Travis Williams, and Trevor Williams. Honorary pallbearers will be Al Roberts, Roy Walker, David Walker, and Ronnie Walker. Visitation will be held from 6 to 8 p.m. Sunday, April 24, 2022, at West Oaks Funeral Home.
Arrangements are under the direction of West Oaks Funeral Home.
---