Hopkins County Commissioners Court is scheduled to honor Dr. I.L. Bakcom IV, then consider appointing a new Local Health Authority for Hopkins County, as well as a number of other items during the regular court session Monday morning.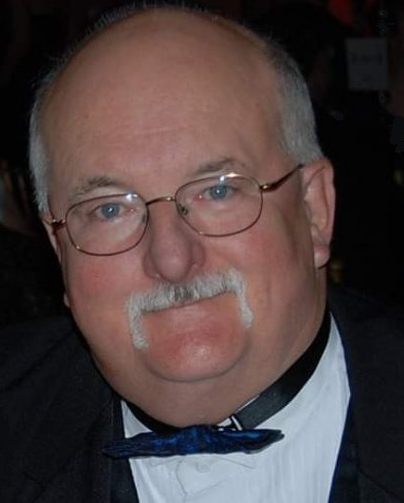 Dr. I.L. Balkcom IV is slated to be honored for his service to Hopkins County, which has included filling the role of Local Health Authority, a position appointed by the county government to provide support services in the absence of a county health department. Dr. Balkcom has served as Hopkins County's LHA in the absence of a state health department for a number of years. The court reappointed Balkcom as LHA on March 26, 2020; he has been the LHA for both Hopkins and Delta counties throughout the pandemic.
Afterward, the Commissioners Court is scheduled to consider appointing Dr. Darrell Pierce as the Local Health Authority for Hopkins County moving forward. Pierce has practiced family medicine as a primary care physician with CHRISTUS Trinity Clinic.
Texas AgriLife Extension Agents are scheduled to give their quarterly report on activities of Hopkins County Extension Office.
The March 28 agenda also includes submission of bids received for six new 4×4 model 2021-2022 model half-ton pickup trucks by the March 24 deadline. The bid packet specifies units should be four full door, half-ton pickups, with four barrel or fuel injection carburetor, heavy duty rear wheel drive and transmission coolers, 120 AMP capable of use during severe conditions, electronic ignition system sufficient for two-way radio hood-up, five conventional tires and four alloy non-steel wheels. The trucks are to have heavy duty front and rear shock absorbers, exhaust system, suspension, seat cushion springs radiator. Preferred items specified in the bid package include a full center console with captains seats; and white, gray or silver exterior; and dark interior.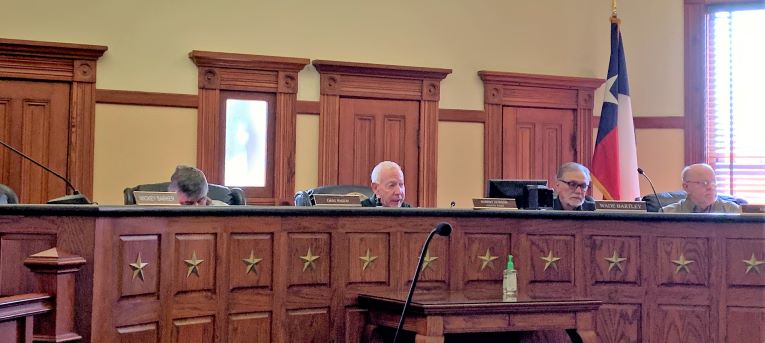 Bids received by the March 24, 2022 deadline for a used John Deere 324L High Lift for Precinct 4 will also be presented for Court consideration Monday, March 28, 2022.
That's not the only item on Monday's agenda for Precinct 4. A letter from Precinct 4 Commissioner Joe Price concerning land division in his precinct, is to be submitted for the record.
The Court is slated to consider approving a construction contract with Sedalco to build a new trusty housing facility, to be paid with federal funding and that will be located on county property across from the current jail facility.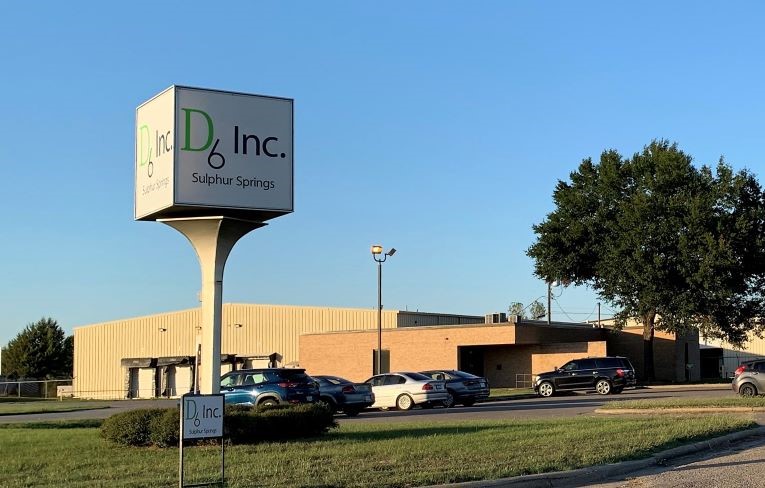 The March 28 regular Commissioners Court agenda too shows submitted for consideration a Chapter 381 agreement for D6, Inc., the business opened a branch in Sulphur Springs over a year ago and is now looking to move it's headquarters and main operations from Portland to Sulphur Springs.
A contract with Lexis Nexis for legal research and a request from Spectrum/Charter to be allowed to construct and place a meter base bole or ground mount base on County Road 3525 in Precinct 3 also are on the agenda.
The Commissioners Court will convene at 9 a.m. Monday, March 28, 2022, in the Commissioners Courtroom on the first floor of Hopkins County Courthouse, 118 Church St., for the regular court meeting.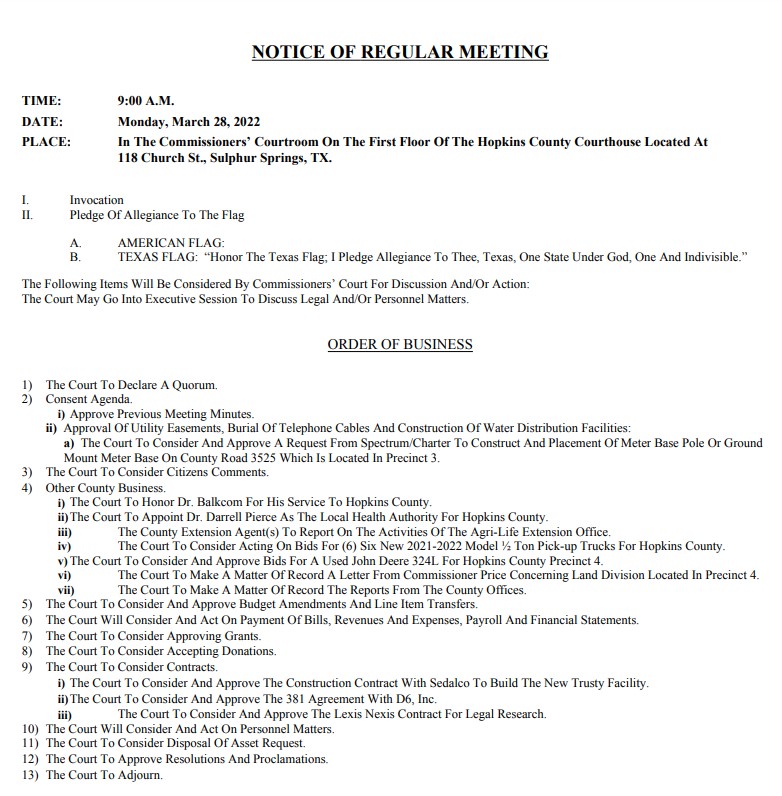 Immediately following the regular court session, the Commissioners Court is slated to move to the third floor meeting room inside the courthouse for a work session.
County Fire Marshal Andy Endsley and Sheriff Lewis Tatum are slated to meet with the Court during the March 28 work session to discuss with each operations, review revenues and expenditures, and any proposed improvements and repairs in their departments.
Events, repairs and improvements are slated to be discussed, and revenues and expenses reviewed with Civic Center General Manager Lonnie Fox during the work session as well.
Environmental concerns are scheduled to be discussed with the environmental inspector during the work session. The agenda also calls for a budget work session.