A search for a Winnsboro man accused of stabbing a man in the hand with a steak knife concluded a few hours later, when the suspect returned to the residence where the altercation reportedly took place, according to arrest reports.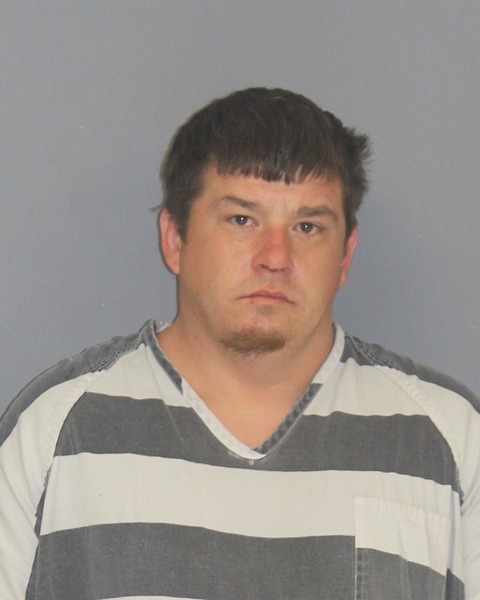 Hopkins County Sheriff's Office communications operators around 5:15 p.m. Monday, Jan. 17, dispatched deputies to a County Road 2403 residence, where an active disturbance had been reported. Deputies Isaac Foley and Drew Fisher responded. Upon arrival, Foley spoke to a man and the man's girlfriend, who were located beside the road at the address. The man's hand bled, Foley noted in reports.
Deputies were told Christopher Pyron had been dropped off at the CR 2403 residence to gather up his belongings. Pyron and the man with the injured hand reportedly became embroiled in an altercation. Pyron allegedly stabbed the other man in the hand with a steak knife, and attempted to stab him in the neck, during the altercation. Pyron then fled, deputies said they were told.
A records check by dispatchers showed 32-year-old Pyron to be wanted on a violation of probation charge. Deputies entered the residence to locate Pyron. When it became apparent he was not there, deputies began searching other locations is known for staying at or being associated with.
While HCSO deputies, including Deputies Foley, Fisher and Aaron Chaney were searching, Winnsboro Police advised a person was seen walking down State Highway 11 east. Deputies responded but were unsuccessful in contacting the pedestrian.
Deputies surrounded the area and set up a perimeter within which to launch a search, and requested Texas Department of Criminal Justice's search dogs to respond at the location to assist with the search. While waiting for the dogs to arrive, deputies were informed Pyron had returned to the CR 2403 residence and could be found on the back porch.
Deputies also returned to the CR 2403 location, where Pyron was indeed located and taken into custody at 8:25 p.m. Jan. 17, 2022. The Winnsboro man was transported to jail, where he was booked just before 10 p.m. not only on the warrant for violating probation, which he was on for an April 2019 controlled substance charge, but also on an aggravated assault with a deadly weapon charge for allegedly stabbing the man with a steak knife, according to arrest reports.
Christopher Evin Pyron, who is also known by the alias Chris Ervin Pyron Jr., remained in Hopkins County jail Tuesday morning, Jan. 18, 2022, on both felony charge, according to jail reports.
---
The Hopkins County Sheriff's Office is located at 298 Rosemont St., Sulphur Springs, TX 75482. Non-emergency calls can be made to (903) 438-4040.